In this comparison, we explore two Roomba models. Roomba i3+ Evo is a dedicated robot vacuum, while the Roomba i5+ stands out for its ability to simultaneous vacuum and mop function.
But is this the only distinction? Have a quick overview of the differences between:
Roomba i3+ Evo
Roomba i5+ Combo
Mopping Functionality: No
Mopping Functionality: Yes (Comes With Mopping Bin)
Cleaning System: 3-Stage
Cleaning System: 4-Stage
Simultaneous Mopping: No
Simultaneous Mopping: Yes
Automatic Dirt Disposal Base: Yes *Similarity
Automatic Dirt Disposal Base: Yes *Similarity
Bottomline: Roomba Combo i5+ offers dual cleaning with mopping and vacuuming, giving i5+ the edge as an all-in-one solution.
Check On Amazon
Check On Amazon
Roomba i3+ Evo Pros, Cons
i3+ comes with a HEPA Filter and tangle-free dirt extractors.
You can choose any particular room to clean.
i3 Plus Evo lacks the ability to set keep-out zones.
When we tested the i3 device, we found the model was noisy.
Roomba i5+ Pros, Cons
Swapping out the dirt bin and placing the mop bin is incredibly simple. The mop pad is washable for not less than 60 times.
i5 Plus comes with the targeted room cleaning feature.
Smart Mapping & Efficient Navigation.
Roomba i5+ can't avoid carpets when cleaning – a problem when set to vacuum + mop.
It doesn't support zone cleaning.
Full Comparison Table – All Specifications
| Product / Specification | Roomba i3+ Evo | Roomba i5+ Combo |
| --- | --- | --- |
| With Mopping Bin | No | Yes |
| Self-Emptying | Yes | Yes |
| Auto Recharge, Auto Resume | Yes | Yes |
| Height | 3.63 inches | 3.61 inches |
| Weight | 7.44 lbs | 7 lbs |
| Imprint Smart Mapping | Yes | Yes |
| No.Of Maps | 1 | 1 |
| Dirt Detect Technology | Yes | Yes |
| Suction Power | 10 Times | 10 Times (Than Base Models) |
| Cleaning System | 3-Stage | 4-Stage |
| Navigation Pattern | In Rows | In Rows |
| Dual Rubber Brushes | Yes | Yes |
| iRobot OS | Yes | Yes |
| Targeted Room Cleaning | Yes | Yes |
| Zone Cleaning | No | No |
| Keep Out Zones | No | No |
| No Mop Zones | No | No |
| Voice Assistants | Yes | Yes |
| App Connectivity | Yes | Yes |
Mopping with Roomba Combo i5+
In this comparison, the main difference lies in the mopping functionality.
The Roomba Combo i5 Plus comes with a mopping bin. The term "Combo" means vacuum + mop. This mopping bin features an underneath long-lasting mopping pad and a top container for clean water and cleaning solutions.
The process is straightforward: replace the attached dirt bin with the mop bin, and the robot transforms into a simultaneous cleaner. It vacuums and mops in a single run.
Conversely, mopping is not in the skill set of the Roomba i3+ Evo standard.
However, a feature with the i3+ Evo helps a small number. If you own iRobot mopping devices, such as the Braava Jet M6 or its lower-tier Jet counterparts, the i3+ Evo comes with Imprint Link technology.
This technology allows the i3 Plus to sync with the Braava. After the Roomba completes its vacuuming, the Braava automatically begins the mopping process. Not everyone has iRobot mopping robots in their homes, so this is rare to none in beneficial value.
Note: When the mop bin is attached to the Roomba i5 Plus, automatic dirt disposal, and dirt detection features will be disabled on their own.
Automatic Dirt Disposal
Throughout the entire comparison, there "+" sign in the product names. It says that both Roombas come with an auto-emptying base.
The "non-plus" variants do not include the auto-emptying bases in the box. However, they do support auto-emptying if you buy the dirt base apiece.
In non-plus, you will get the charging dock. In plus variants, it would be charging and self-clean linked to a single base.
When the robot's dirt bin reaches full or requires charging, it automatically returns to its docking station. At that time, with recharging, it auto empties itself and continues cleaning where it stopped.
These disposal bins have the volume to hold several day's worth of dirt and debris, lowering the need for daily cleaning of the robot's dirt container.
Height & Weight
When considering the Roomba i3+ Evo (Height: 3.63 inches) and the i5+ (Height: 3.61 inches), the height distinction of 0.02 inches is negligible. These heights generally do not have any trouble cleaning the challenging spaces under furniture.
In today's world, floor couches are common. We do not get the chance to compare the robots with height perspective.
On the other hand, weight difference holds minimal preference as these Roombas move on their own. However, it's worth mentioning that the Roomba i3+ Evo is slightly heavier at 7.44 lbs compared to the Roomba i5+ at 7 lbs. While this difference isn't notable, it's worth considering if you have a two-level house.
Are these i-series appropriate for multi-level houses? We will say they may not be the best option.
Here's why:
Imprint Smart Mapping
This advanced mapping feature is present in the Roomba i5 Plus and the i3 Plus Evo. When you set these Roombas for the initial clean cycle, this intelligent mapping technology enables the robots to understand and map the entire house layout. You can see the house layout in the app, which would be highly beneficial for cleaning customizations.
In the case of multi-level houses, the J-series robots are often a more practical choice. The point with the i-series is that they can only save one map at a time. If you want the robot to save the first-floor map, you need to delete the ground-floor map, which can be inconvenient.
Dirt Detect Technology – 10 Times Suction Power
Roomba i5+ and Roomba i3+ Evo come with competent Dirt Detect technology, where the robot scans your home and recognizes areas with more dirt load. Then, the Roomba models clean those areas more thoroughly until no dirt is visible to the human or robot's eye.
And speaking of the suction strengths, the i5 Plus and i3 Plus produce ten times the base series model's suction power. In relation to which Roomba series are we mentioning ten times the suction power?
The Roomba 600 series currently acts as the base, following the discontinuation of the earlier 500 series three years ago from the Roomba product lineup.
Noise Levels?
When it comes to how loud i3+ Evo and Combo i5+ are when they're cleaning, they're pretty much the same. However, whether you find them loud or not relies on how sound-sensitive you are.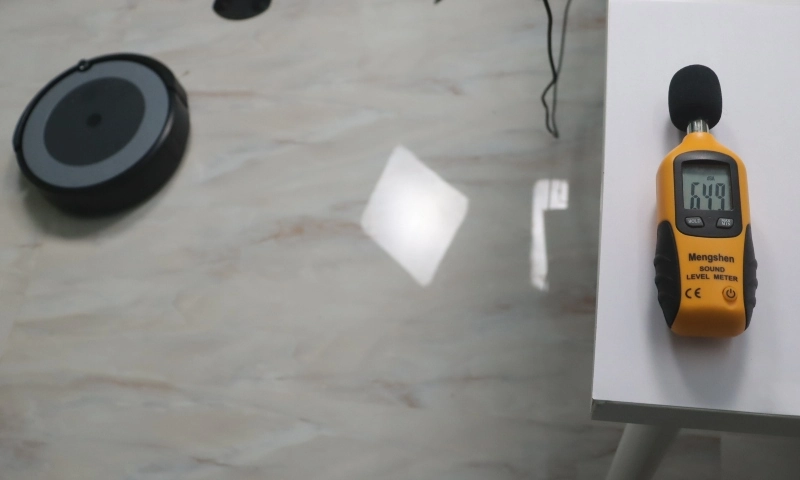 During our testing of the Roomba i3+ in a silent room, our noise meter showed 65dB at a one-meter distance.
Navigation + Cleaning System
When it comes to navigation, it's worth stating that Roomba models, except for the base 600 series, operate in an even approach. They navigate row-wise, ensuring thorough coverage and minimizing the possibility of skipping any areas compared to random navigation. This row-row pattern uses less time and resources.
Now, let's delve into the difference in cleaning systems. The Roomba i3 Plus boasts a 3-stage cleaning system, while the j5 Plus takes it ahead with a 4-stage.
First, let's cover the 3-stages that are standard to both models: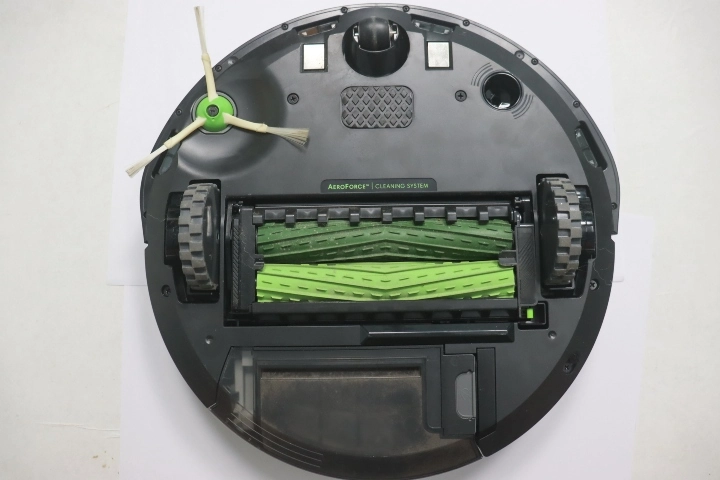 Sweeping Brush: The edge-sweeping brush rotates continually, ensuring all edges are spark-clean.
Dual Multi-Surface Brushes: These brushes work at maximum speed, effectively scrubbing the floor surface.
Powerful Suction: Simultaneous with the brushing, the powerful suction collects dust, pet hair, and debris.
In the case of the i5 Plus, parallel to the three stages, the robot also mops when you attach the mop bin in place of the dirt bin. The added segment makes Roomba Combo i5 Plus a comprehensive floor cleaning package.
Here, in both the Roombas, we wish to witness two side brushes in the design for effective edge cleaning.
Carpets & Pet Hair – Top Pick?
When cleaning pet hair, both i3+ Evo and Combo i5+ function likewise, boasting identical suction power.
It's important to emphasize that these rubber rollers are non-bristle, so hair tangling is out of the world.
Furthermore, The Roomba i5 Plus and Roomba i3 Plus Evo come with the AI-based iRobot OS. It is a brilliant operating system that assists in cleaning and offers valuable alerts and cleaning recommendations tailored to many factors, including pet shedding and seasonal changes.
If it is springtime and you forget that dogs usually shed more, don't worry. iRobot will remind you regarding that and guide you to schedule additional cleaning cycles.
The powerful suction cleans the carpet, extracting the deeply embedded dirt. And the above-shown non-bristle dirt rollers won't cause any damage to carpet fibers.
However, the story slightly differs in Roomba i5+ Combo when mopping is taken into the scene. The i5+ cannot avoid carpets when mopping is on. Additionally, there isn't an option to set specific "no-go" zones around carpets and rugs.
So, when you initiate the mopping function in i5 Plus, it is not a convenient approach to take the carpets out, correct?
Yes.
Note: If your carpets are mainly in one room, you have a workaround available. You can instruct the Roomba not to clean that room by operating the targeted room cleaning feature.
Room-Based Cleaning – Is it helpful?
Roomba i5+ and Roomba i3+ Evo both support targeted room cleaning. Is it worthwhile?
Yes. Without a doubt.
In general, one establishes a regular cleaning schedule for daily cleaning needs.
However, some situations like post-dinner spills on the floor in the kitchen room or unexpected guests make the kitchen room or guest room require a new cleaning cycle.
In these situations, you don't need to set the Roomba to clean the entire home. Instead, you have the flexibility to target specific rooms that require immediate attention – efficiency and swift task completion are at their finest.
Is Zone Cleaning Offered?
Zone cleaning is not featured in the Roomba i3+ Evo and Roomba i5+. 
For example, if you only need to clean a spilled powder mess in the dining room, you can pinpoint these zones for cleaning in higher-end Roomba models than the i5 Plus.
And to say:- neither of these models supports the creation of 'keep out' zones. When comparing the usefulness of zone cleaning and keep-out zones, the latter proves practical in everyday situations.
There would be countless scenarios where you might want to avoid cleaning certain areas.
For example:
Preventing the robot from entering a space with a pet's water bowls.
Avoiding spots with delicate decorations or obstacles.
Furthermore, as mentioned earlier, the Roomba i5+ has a mopping feature. Unlike its combo-mopping J-series counterpart, you can't set no-mop zones in i5 Plus.
What about the pet waste? Can these Roomba i5+ and Roomba i3+ Evo detect and avoid it?
No. The PrecisionVision navigation technology, which can detect and avoid pet waste, is exclusively available in a few Roomba premium models.
Zone cleaning, no-go zones, and pet waste detection are the features that let these Roomba models i3+ and i5+ diverge from their more advanced i-series, j-series, and s-series counterparts.
App Connectivity & Voice Commands
Connecting the Roomba to the app is a breeze:
Install the iRobot app from your app store.
After that, the app interface asks you to register.
After login, you have two options:
Either, scan the product QR code available in the box. Or,
Activate Bluetooth by pressing and holding the "Home" and "Spot Clean" buttons simultaneously for two seconds, then release.
That's it. We were surprised by how effortless the whole connection process is.
You can provide voice-based instructions to Roomba i3+ Evo and Roomba i5+ because both robots are compatible with Google Assistant, Amazon Alexa, and not to forget Apple Siri. When your hands are full, voice out the cleaning commands, and the Roombas will work dutifully.
Wrapping Up:
Considering the overall scenario, it is clear Roomba i5+ has the added advantage of mopping capability.
If your home mostly lacks carpets and you're okay with removing any when the robot is set to mop, then the Roomba i5+ provides a complete cleaning answer.
However, if carpets are a concern or inconvenience, the i5+ doesn't show any edge over the i3+ Evo model.
Recent Updates:
Sept 16, 2023: Formatted & Published By
Sam Y
Sept 15, 2023: Reviewed & Written By
Lingeshakumar