In this comparison, we put all the S5 series models, the Standard S5, S5 Steam, S5 Pro 2, and S5 Combo, and matched them up against the S6.
We've made this thorough comparison easy to understand.
Let's look at the main differences:
Tineco S5 Series
Tineco S6 Series
MHCBS Tech: No (Fixed Scraper)
MHCBS Tech: Yes (Floating Scraper)
Edge Cleaning: Single Side
Edge Cleaning: Dual Side
Suction Mode: Yes (Only S5 Pro 2)
Suction Mode: Yes
Electrolyzed Water Cleaning (Ultra Mode): Yes (Only S5 Pro 2)
Electrolyzed Water Cleaning (Ultra Mode): No
Steam Cleaning: Yes (Only S5 Steam)
Steam Cleaning: No
Screen Display: LCD (S5 Pro 2), LED (S5, S5 Combo, S5 Steam)
Screen Display: LED
Handheld Convertible: Yes (With S5 Combo)
Handheld Convertible: No
Cordless: Yes, No (S5 Steam)
Cordless: Yes
Bottomline: The S5 Pro 2 is impressive. But the S6's dual-side edge cleaning and floating scraper are more helpful than Pro 2's electrolyzed water cleaning and graphical LCD display.
Check on Amazon
Check on Amazon
Full Comparison Table
| Product / Specification | S5 Series | S6 Series |
| --- | --- | --- |
| MHCBS Technology | No | Yes |
| Scraper | Fixed | Floating |
| Edge Cleaning | One Side | Two Side (Enhanced) |
| iLoop sensor | Yes | Yes |
| Auto Mode | Yes | Yes |
| Max Mode | Yes (S5, S5 Combo, S5 Pro 2); No (S5 Steam) | Yes |
| Steam Mode | Yes (S5 Steam) | No |
| Suction Mode | Yes (S5 Pro 2) | Yes |
| Ultra Mode | Yes (S5 Pro 2) | No |
| Self Cleaning | Yes | Yes |
| Electrolyzed Self Clean | Yes (S5 Pro 2) | No |
| Steam Self Clean | Yes (S5 Steam) | No |
| Centrifugal Air Drying | Yes | Yes |
| Weights | 4.5 Kg Approx (S5, S5 Pro 2); 7.5 Kg (S5 Steam); 3.8 Kg (S5 Combo) | 4.5 Kg Approx |
| Self Propulsion | Yes (Forward) | Yes (Forward) |
| Battery Life | 35 mins; 20 mins (S5 Combo) | 35 mins |
| Clean Water Tank | 0.8 L; 0.75 L(S5 Steam); 0.5 L (S5 Combo) | 0.8 L |
| Dirt Water Tank | 0.72 L; 0.75 L(S5 Steam); 0.45 L (S5 Combo) | 0.72 L |
| Tineco App | Yes | Yes |
| Voice Prompts | Yes | Yes |
| Display | LED; LCD (S5 Pro 2) | LED |
| Handheld Convertible | Yes (S5 Combo) | No |
| Price | Check Price | Check Price |
Floating Scraper in S6 Series
The S6 series is with notable improvement compared to previous S5 series models. It's the Floating Scraper (MHCBS technology).
Before knowing how this floating scraper differs from the fixed scraper in the S5 series, let's understand what scrapers do.
When the clean water circulates onto the brush roller, for every wash rotation, it gets dirt, so there would be no point if that brush roller keeps cleaning without constantly removing the dirt water.
In both the S6 and S5 series, scrapers are fitted on the back side of the brush roller and affixed to press the roller. These scrapers squeeze the brush roller and pull out the dirt-water continually.
Now, the big difference: What is the advantage of the floating scraper?
The fixed scraper stays in one place. It can't adapt to the brush roller to the full extent. But the floating scraper is different. It can adjust to the brush roller rotations and press the roller evenly along its entire span, ensuring all the dirty water is squeezed out and only clean water is used for cleaning.
Edge Cleaning – S5 Or S6?
The S5 falls short in this factor because its front brush roller design cleans with a single side while the other side of the roller is sealed.
We think edge-capable cleaning on both sides should be in every vacuum model, as most homes have corners and edges that need attention (For example, furniture legs and closet corners). Tineco has included this feature only in their top-tier models.
The S6 stands out with dual-side edge cleaning – a superior choice. You need not think much about dirt accumulating on the edges.
It's not just the dual side. The brush design in S6 is enhanced – The S6 brush roller cleans close to the wall, leaving a gap of less than 0.2 inches. On the other hand, the S5 series leaves more space, with a gap of less than 0.39 inches between the roller and the wall.
iLoop Smart Sensor
The Floor One models are with iLoop sensor systems. These sensors detect the dirt level (low to high) and indicate it on the vacuum screen display or in-app or voice prompts.
But is that worthwhile? No.
The important thing is this iLoop sensor talks to the vacuum and tells it how to clean. It says, "Use this much suction power and this much water."
Why is this substantial? Well. Imagine the vacuum works with high suction and water, even when your floor isn't high on dirt level (like areas with less foot traffic). It would run out of battery quickly. On the other hand, if it uses too little suction force and water when your floor is dirt-crowded (like your pet's favorite spot), the Tineco won't clean effectively.
Now, get the point right? This iLoop sensor makes the vacuum performance Double E (effective and efficient).
Are there any options to adjust and control the suction?
Yes, with the cleaning modes.
Cleaning Modes – Electrolyzed Cleaning?
Here, regarding cleaning modes, there are several differences between these S5 series and S6 models.
The Standard Floor One S5 has two cleaning modes: "auto" and "max." Auto mode is the default mode – the suction and water flow adjust automatically based on the iLoop feature. And the max mode works with elevated suction and water release.
The S5 Combo shares the same modes as the Standard S5.
The S5 Steam, however, doesn't have a max mode. It has an auto mode like the Standard S5 and a special mode called "steam mode," which allows the vacuum to clean floors with steam, making it a helpful option for cleaning tough stains. But you consider this with its drawbacks like shorter 20-minute battery life and smaller tank capacities.
Also, we noticed a slight noise when using the steam mode.
The S6 comes with three cleaning modes: "auto," "max," and "suction." Suction mode lets you clean the floor without releasing water.
Overall, The S5 Pro 2 has more mode options than the whole list. Like the S6, it has "auto," "max," and "suction" modes, but it has a unique called "ultra." When you start this ultra mode, the S5 Pro 2 converts water into electrolyzed water and uses that to clean the floors.
Electrolyzed water cleaning is eco-friendly – no cleaning chemicals, and is effective at removing stubborn dust and stains, just like S5 Steam's steam cleaning.
| Aspect | Electrolyzed Water Cleaning | Steam Cleaning |
| --- | --- | --- |
| Floor Surfaces Compatibility | Yes | Effective for dirt, allergens, and particularly tough stains |
| Chemicals Usage | No (Eco-Friendly) | No (Eco-Friendly) |
| Cleaning Effectiveness | Effective for dirt; bacteria and viruses | Effective for dirt, allergens and particularly tough stains |
| Environmental Impact | Environmentally friendly | Environmentally friendly |
| Allergens Removal | Effective | Highly Effective |
| Dry Time | Quick | Slightly Longer |
But please remember that steam cleaning might not be appropriate for all hardwood floor types. The S5 Pro 2 doesn't have this limitation.
Self-Cleaning
All the S5 series vacuums and the S6 come armed with a convenient self-cleaning + air drying feature. With a simple press of the self-clean button, a powerful burst of water is onto the internal vacuum tube and brush roller. This water is then collected back into the dirt water tank. Afterward, the brush roller rotates at high speed to ensure that it is completely dry.
In S5 Pro 2 and S5 Steam, this gets much enhanced. You can set the S5 Steam to self-clean using steam and self-clean with electrolyzed water in Pro 2. Both options are renowned for their deodorizing capabilities.
The Weights
Yeah, when trying to compare or select between two vacuum cleaners, the weight matters.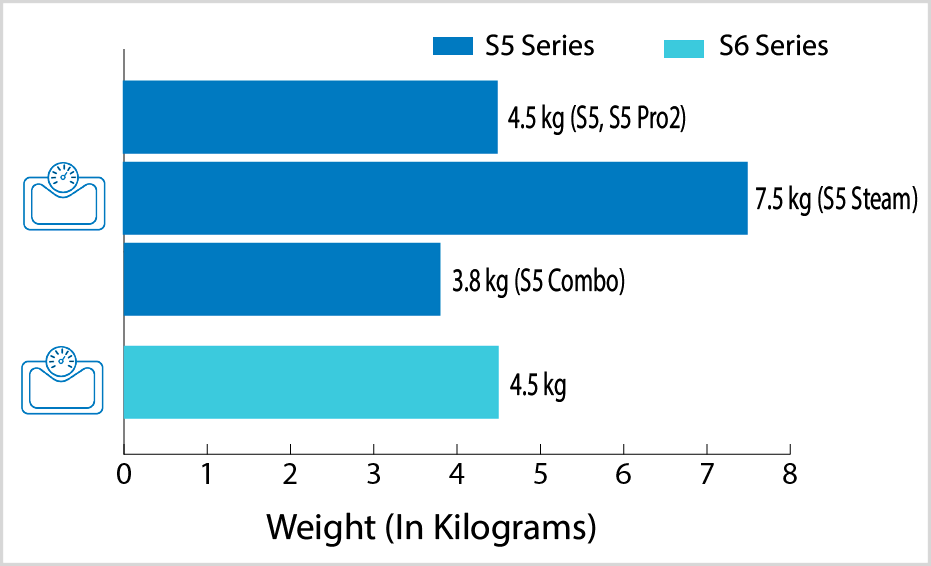 Here, there isn't much distinction in weight between the S6 and S5 series models. The S6, S5 Pro 2, and the S5 weighs 4.5 Kg (Approx).
However, if you look at the S5 Steam, it's heftier at 7.5 Kg, likely due to its steam functionality equipped near the brush roller. And speaking of the S5 Combo, it is lighter at 3.8 Kg because of the smaller battery capacity.
But overall, Tineco's are easy to carry and maneuver. When you compare the Tinecos to other wet-dry vacuum brands like Dreametech, Roborock, and Bissell, most of those weigh more than 10.5 Pounds.
Hey, wait. Another aspect worth mentioning in Tineco's ease of use topic is their self-propulsion system, a feature introduced in Floor One models.
Self-Propulsion
In these Tineco Floor One models, the wheel design is self-propulsion enabled. You won't need to exert 100% force to move the vacuum's weight; the wheels shoulder almost half of this effort, significantly reducing the strain.
Moving the S5, S5 Pro 2, S5 Steam, S5 Combo, and S6 wet-dry vacuums forward is effortless.
Yes. But there is a twist.
What about the backward motion during regular cleaning?
While this might appear as a substantial drawback for these models, We didn't feel much energy is needed to pull a tineco vacuum because of their ergonomic handle and lightweight design.
Battery Life (Run Time)
As we said before, the S5 Combo has a smaller battery capacity. So it has a shorter runtime of roughly 20 minutes compared to the main variants of the S5 series – the Standard S5 and S5 Pro 2, which operate for about 35 minutes on a full charge.
And the S5 Steam is different; it's not like battery-powered cordless wet-dry tineco models. It comes with a long 25-foot power cable. While it's good enough to cover the whole house, it is not as convenient as a cordless model.
Speaking of the Floor One S6, its runtime remains like S5 at 35 minutes. Tineco focused their battery upgrades on higher series, which boasts a runtime of 40 minutes.
Tank Capacities
Except for two to three contrasts, all design features are nearly identical between the S6 series and S5 top-ends.
Here's another similarity: the S5, S5 Pro 2, and S6 have the same clean and dirt water tank capacities, holding 0.8 and 0.72 liters, respectively.
However, things vary from small to big when you compare the models S5 Steam and S5 Combo with the S6. The S5 Steam has small water tanks, with the clean and dirt water tank carrying 750 ml.
On the other hand, the S5 Combo has even lower capacities, with a 0.5-liter CWT and a 0.45-liter DWT. We researched why and found this decline is due to the space taken up by the handheld part of the vacuum, as the S5 Combo is a handheld convertible.
Design – Screen Display & Handheld Options
Tineco vacuums are commonly known for their classy, premium-looking screen displays. These displays show details about device status, alerts, and real-time dirt detection.
In this comparison between the S5 series and S6, the S5 Pro 2 beats all with its advanced animated LCD display. While the other models, including the S5, S5 Steam, S5 Combo, and even the S6, feature LED displays.
This difference doesn't benefit much from an actual usage point of view unless you are more oriented toward vacuum looks while cleaning.
The S5 Steam and S5 Combo have slight variations in their display icons and patterns to indicate their specific functions, such as steam cleaning and handheld mode.
And the handheld option? Yes and No. Except for the S5 Combo, all remaining, including the S6, do not provide a handheld converting option. As its name suggests, the S5 Combo is a standard + handheld combo.
Accessories & Attachments
Usually, Tineco Floor One wet-dry cleaners come with a charging adapter, charging dock, brush rollers, filters, and cleaning solution. Yes, that's the norm.
However, there are exceptions with the S5 Combo and S5 Steam models.
With the S5 Steam, you won't receive Tineco's cleaning-deodorizing solution. That's because it uses steam to clean the floors and itself, so there's no need for an additional cleaning solution. Also, cleaning solutions with steam might cause damage to the roller material.
With the S5 Combo, you get two attachments suitable for the handheld part. These aren't accessories but attachments. There's a crevice tool for reaching tight spots, like window sills and car interiors. And a dusting brush for dusting and vacuuming surfaces like laptop keyboards, ceiling fans, and decor items.
Closing Thoughts
In the S5 series alone, there are many differences. And when each of those is compared with the S6, it's a list again.
Overall, we think that dual-side edge cleaning should be a standard. That way, we recommend the S6 model. But if edge cleaning isn't a concern for you, it becomes a more complex decision.
The S5 Pro 2 offers advanced features like an extra ultra mode (for electrolyzed water cleaning) and an animated LCD display. On the other hand, the S5 Steam is a good choice if you have a smaller home and you usually find it challenging with tough stains.
The S5 Combo is helpful when you need an adaptable vacuum that converts to a handheld.
Ultimately, the correct choice between these S5 and S6 models depends on your precise household needs and preferences, as we always say.
Recent Updates:
Oct 9, 2023: Visual Representations Added By
Tejaswini V
Oct 3, 2023: Formatted & Published By
Sam Y
Oct 2, 2023: Reviewed & Written By
Lingeshakumar