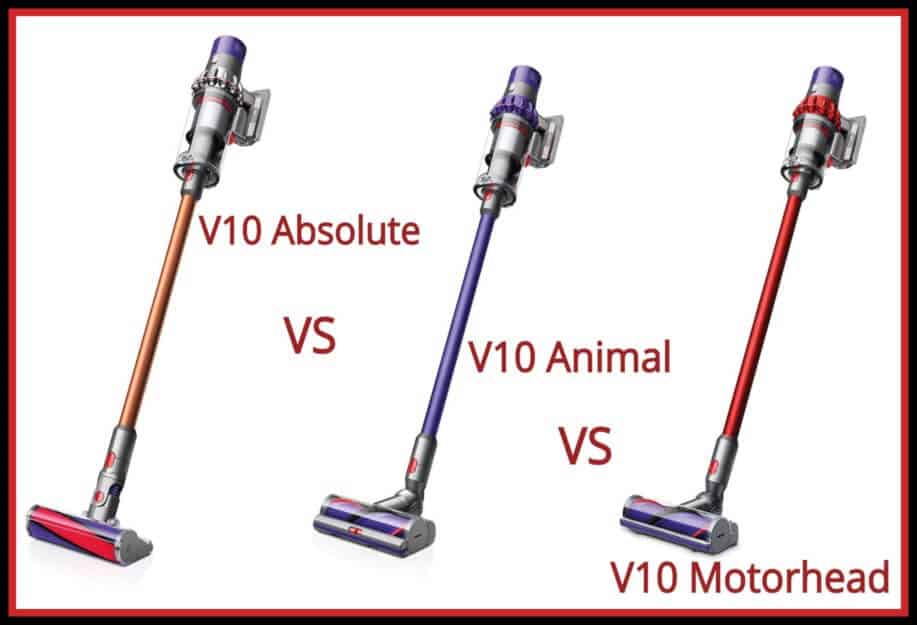 To be honest:
Anyone who deals with vacs knows about the name Dyson.
We are sure you are no different!
Of late, there have been a few models that have swept off the vacuum industry. Mention has to be made about the Dyson V10 series. It is all that you would like on a vac.
But What is the Best Variant For You??? Dyson V10 Absolute OR Animal Or Motorhead???
We will help you decide on what is right for you.
Quick Summary:
All three Absolute, Animal, and Motorhead deliver the same superior performance. The key differences to consider are the attachments and accessories that came with each variant and the dust bin capacity.
V10 absolute is the top-tier variant with max accessories and a bigger dirt bin size. If you are in a house with hard floors mainly or looking for a full-packed vacuum cleaner, get the V10 Absolute.
V10 Animal is nearly identical to the V10 Absolute. The soft roller cleaner head is the only attachment you can't get with the Animal. If your home is mostly with the carpets to be cleaned and also with other surfaces, go for V10 Animal.
V10 Motorhead is the basic variant with no extra accessories and also a smaller dust bin size. But considering the suction power, battery life is all similar to the other variants. It is recommended to go with the animal model as the prices are nearly identical.
What about the Expensive price tags?
Well, to cut things short, Dyson is a brand that has been dominating the market for years. They are well known to incorporate vast improvements in their products, and that is what has kept them ahead of their competition. Everything is good, but what about their high price tags?
Yes. Dysons are expensive. You may have to shell out a few extra bucks, but the truth is these products last for a long time and are undoubtedly worth buying.
Since you have heard about other names in the market, you may still be facing a tough time deciding on Dyson v10 Absolute vs. Animal vs. Motorhead. Check out the critical differences covered in brief below:
What are the differences? (Dyson V10 Motorhead vs. Animal vs. Absolute)
Three variants (Absolute, Animal, and Motorhead) are all alike. They all came up with a similar battery, engine, and deliver similar strong suction. It leaves us with very few instances of comparisons and differences.
Yes, there is a bit of difference that Dyson intentionally may have created. We have forked up a few pointers that help you decide further, like
Accessories
However, the most striking contrasts are the adornments that are incorporated with the capacity of the residue canister.
Also, the Dyson Cyclone V10 Absolute incorporates the most accessories and has a bigger dustbin.
The Dyson V10 Animal incorporates virtually the majority of equivalent attachments from the Absolute and has the equivalent estimated dust container.
The Dyson V10 Motorhead has fundamental accessories and is somewhat a smaller dust vessel.
Motorhead
There are just a couple of crucial contrasts that set the V10 Animal apart from the V10 Motorhead.
First off, while you'll get a mechanized cleaning head with both, the head that ships with the Motorhead are the fundamental direct-drive engine head while that included with the V10 Animal is Dyson's new torque drive engine head.
As per Dyson, it is 25% more grounded than this drive head.
While we can't evaluate the contrast between the heads as exactly as Dyson did, we do concur that it appears to be all the more dominant as estimated by how substantially less time it took to vacuum the dirt we tested on a hard floor.
Besides this, you get two extra apparatuses with the Animal than with the Motorhead. The smaller-than-standard delicate cleaning brush and the scaled-down mechanized instrument, nor are especially fundamental, albeit both are decent to have.
Cleaning performance
Quite frankly, you can consider the Motorhead to be a dark horse among all the models from the V10 collection. It certainly is the cheapest and not with too many attachments but is a workhorse for those that know how to utilize a vacuum. It is more suitable for low pile carpets for residential use.
On the other hand, Animal and Absolute are expensive in comparison to Motorhead. Absolute will work best inside homes with both hard floor and rug since it accompanies devices for such (soft roller cleaner head).
The animal with its drive cleaner head serves as the perfect choice for cleaning carpet, and the mini-motorized brush can be put to clean upholstery (made of fabric).
Again, if you have pets and your home has most of the floor covered with carpet, then the Animal will be a superior alternative. Nonetheless, the MotorHead will save you money, if you can do with the smaller bin and the lack of tools.
Bin Size (Dustbin capacity)
Both Animal and Absolute have a capacity of 0.2 gallons, but the Motorhead has 0.14 gallons of a bin. Those that vacuum daily may find this to be a more convenient feature.
Weight
The Absolute and Animal model weighs 5.9 pounds, and the Motorhead model weighs 5.5 pounds. You're probably not going to see this distinction while working with either of them.
Color
Dyson Cyclone V10 Absolute is available in two colors, copper and blue, whereas Dyson Cyclone V10 Animal can be found in purple, and Dyson Cyclone V10 Motorhead is readily obtainable in red color. Another difference that you may record.
Similarities (Absolute, Animal, Motorhead)
The three different models do not have much of a difference, and that is one of the primary reasons why people have difficulty in deciding which to buy. You should first study your preference and requirement as it will help you zero in. Here are some pointers that should show you the way.
Design
Dyson likes to maintain uniformity in its products, so these three vacuums do not look very different in terms of design.
They are made using sophisticated technology and are quite lightweight.  All three of them have great features that make the cleaning process so much easier.
Since these are cordless models, you do not have to worry about mobility and tripping over a wire. Dyson has removable wands for the models, and once you are done cleaning, you detach the wand and store them.
Portability
The good thing about buying a vacuum from Dyson is that they are incredibly portable, and these three models are perfect examples. The reason why buyers prefer this brand over other reputed brands.
Handheld– While selecting from Dyson v10 Absolute, Animal,  and Motorhead, you should know that all of them can be used as handheld devices. So this means you get to enjoy more freedom to clean around the house.
Cordless– All these three models are cordless, which means you can move around the house freely and clean whatever you like. These vacuums can be used like uprights; This is a significant improvement over the previous models.
Cleaning Performance
The Dyson V10 series is exceptionally versatile and is designed to work on any surface. This series has received a significant upgrade from the previous models, and the cleaning process has improved by leaps and bounds. With any of the three variants, you can clean upholsteries, stairs, and, hard floors.
If you have pets in the and there is a lot of pet hair lying around, you do not have to worry about it.
Torque drive cleaner head – This is typically used to clean the hardwood floors. The roller head not only removes dirt but also produces a polished effect on the floors. The cleaning heads are so good that they eliminate all chances of the floor sustaining scratches.
V10 motor– The motor in this V10 series is very powerful and not very noisy at all when the vacuum is used at the maximum, the performance increases by leaps and bounds.
Battery
The battery life on this vacuum is quite impressive; you can expect a full hour of non-stop usage. The battery reaches a full charge in just 3.5 hours, which is a considerable improvement over the previous models. The vacuums come with lithium batteries, which means you can get more out of this gadget.
The batteries can perform well irrespective of what the settings are. If you happen to be a moderate user, then you may need to recharge the device more often.
The good news is that Dyson provides a sturdy docking station for you to charge and store the cleaner.
Fully Sealed Filtration System
The vacuums have a very similar capacity to hold dust and debris. Only the Motorhead variant has a 0.53L. However, this is not a disadvantage at all. Do not be fooled by the tiny appearance of the container as it can clean a house. If the cleaning session is an extensive one, then the canister may be required to be cleaned.
HEPA Filtration
The good thing is that all three variants use the same filtration technique and can get rid of maximum germs from the surroundings. The Motorhead, Animal, and Absolute all use the same powerful Filtration. So, you see that when Dyson decides to incorporate improvements, it introduces the same in all the variants.
The filter performs the most important job of pulling in air and all the dirt particles with it. And the filters can be washed easily.
Power modes (Variable suction)
If you are looking for extra suction, then you should know that all three variants come with an optimum power mode. There is no doubt that it drains the battery, but it enhances the performance well.
Noise
Mention has to be made about the V10 series that makes a noise of 75 decibels when operating in low mode and can go up to 80 decibels when on maximum power. Oh come on, nothing is perfect, and this could be the only drawback for a high-end machine like the Dyson V10.
Maintenance
The good thing about these vacuums is that the maintenance is deficient. The canister holds the residue and can be cleaned out without any problems. The filters on the vacuums are washable. Dyson also offers a warranty for 24 months on the parts definitely a plus point.
Docking Station
Dyson is a brand that always provides good value for money. Not only are the vacuums of high quality, but you also get a docking station with them. It can be used to charge the vacuum and also store them when they are not in use.
Accessories
All three vacuum cleaners come with a host of accessories. The Absolute and Animal variant has the most number of accessories. The Motorhead variant has essential accessories, and the dustbin capacity is slightly smaller.
FAQS
What is the average lifespan of a Dyson V10 Battery?
The battery of the Dyson V10 can stand up to 4 years for small to medium-sized homes. And for homes with square footage and more dirt traffic, it stands for three years. If it shows slower performance and battery requirements even after short coverage indicates that the battery needs to be replaced. But always ensure to be safe unplug the power cord while checking the battery condition.
Is Dyson V10 good for carpets?
When you consider a vacuum cleaner Dyson v10 is the best in terms of everything, especially the suction power. This suction power grabs the deep hidden dirt and pet hair from carpets without any hesitation. A clever choice when rugs are clean is the top priority.
Conclusion
On any day that you want a potent vacuum cleaner, the Dyson 10 Absolute is a good choice. If you do not have a budget in the mind (as Dyson vacs are known for their high prices), then you may consider it for good. It is effortless to use, and if you want an array of accessories, then this is it for you. Also, If you live in a big house, then you could select the Dyson V10 Absolute model.
The Dyson V10 Animal is almost similar comes with fewer attachments, Dyson V10 Animal is for those that have more carpeted areas and Absolute if you have hard floors as well as surfaces with carpet.
On the other hand, the V10 motorhead is with no extra attachments compared to Absolute and Animal. But the best performer is similar to Animal, Absolute.
Finally, The right choice for you will depend on your requirement. So, you need to figure out what it that you want, and that will take out the confusion from this comparison.