We compare the two Roomba models, the mid-level Roomba i3 and the high-end Roomba j7.
One with the best all-around performance at an affordable price, the other with all the top-level features.
How do they differ?
Let's start with the major differences:
| Roomba i3 | Roomba j7 |
| --- | --- |
| | |
| Navigation: iAdapt 2.0 | Navigation: PrecisionVision |
| Detects Pet waste: No | Detects Pet waste: Yes |
| Hazard Detection: No | Hazard Detection: Yes |
| Specific Room Cleaning: No | Specific Room Cleaning: Yes |
| Zone Cleaning: No | Zone Cleaning: Yes |
| Keep Out Zones: No | Keep Out Zones: Yes |
| Personalized Cleaning Suggestions: Yes | Personalized Cleaning Suggestions: Yes (More Advanced) |
| Check Price On Amazon | Check Price On Amazon |
Roomba j7

BottomLine: Choosing one between these models entirely depends on your requirements. We believe j7 is an excellent option because of all the included and came along sophisticated features.

Considering long-run usage, j7 is worth every cent of your hard-earned money.

If you don't think that all these extra premium features are necessary for you, get the Roomba i3.

Looking for the additional auto dirt emptying feature, get the self-emptying variants of these models. Roomba i3+ or Roomba j7+.
Roomba i3 vs j7 – Full Comparison Table
| | | |
| --- | --- | --- |
| | Roomba i3 | Roomba j7 |
| Height | 3.63 inches | 3.4 inches |
| Weight | 7.44 lbs | 7.49 Pounds |
| Suction | 10 times (compared to 600 series) | 10 times (compared to 600 series) |
| 3-Stage Cleaning System | Yes | Yes |
| Navigation | iadapt 2.0 | PrecisionVision |
| Navigation Pattern | Rows | Rows |
| Detects Pet Waste | No | Yes |
| Hazard Detection & Avoidance | No | Yes |
| Auto Recharge | Yes | Yes |
| Auto Resume | Yes | Yes |
| Battery Type | Lithium Ion | Lithium Ion |
| Zone Cleaning | No | Yes |
| Specific Room Cleaning | No | Yes |
| Keep Out Zones | No | Yes |
| Equipped Camera | No | Yes |
| HEPA Filter | Yes | Yes |
| Cleaning Modes | Yes | Yes |
| Self-Emptying | No (but supports) | No (but supports) |
| Self-Emptying Variant | Roomba i3+ | Roomba j7+ |
| Tangle free Brushes | Yes | Yes |
| App Connectivity | Yes | Yes |
| Voice Commands | Yes | Yes |
| Amazon Alexa | Yes | Yes |
| Google Assistant | Yes | Yes |
| Washable Dustbin | Yes | Yes |
| Cliff Sensors | Yes | Yes |
| Carpet Boost | No | No |
| Carpet height adjustment | Yes | Yes |
| Personalized cleaning recommendations | Yes | Yes (Advanced) |
| Specialized corner cleaning | No | No |
| Price | Check on Amazon | Check on Amazon |
Roomba j7 vs Roomba i3 – In Detailed
Battle of Suction Power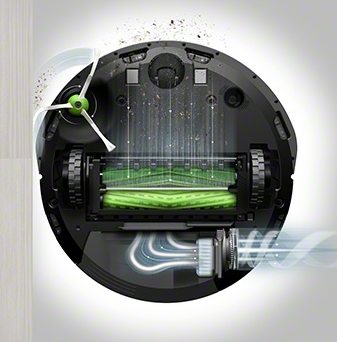 Roomba i3 and Roomba j7 are almost matched opponents when it comes to suction power. Both the models edge out by having 10 times more vacuuming force than the Roomba's baseline robotic vacuum cleaners.
On the other hand, the mid-level models offer 5 times the standard vacuuming pressure of a conventional Roomba.
Cleaning Comparison
The Roombas are decent cleaners. What differs between them is the cleaning technology.
The i3 adopts a 3-stage Cleaning System that employs the brushes, suction force, and exceptional airflow to lift even the toughest dirt from any travel surface. Even pet hair cannot escape the vacuuming intensity of the i3.
On the other hand, Roomba j7 features the same cleaning technology method that enables the Power Lifting Suction that deploys its turbulent vacuuming power to enhance pick-up performance, not missing anything on its path.
Who navigates more efficiently?
Roomba i3 falls very behind the j7 in terms of navigation as it relies on smart navigation. This means Roomba i3 maps while traveling your home thanks to its iAdapt 2.0 technology.
This feature activates the sensors underneath the i3 while it navigates your home, mapping an accurate layout for a more routine cleaning operation.
Roomba j7, however, takes it up a notch. The robotic cleaner features a built-in camera on top with the newest, more advanced AI abled PrecisionVision system.
It means Roomba j7 can create an exact floor plan for your home as it travels around your home.
It follows the row-by-row navigation pattern like the i3 but is guided by an advanced PrecisionVision system; the j7 can detect the things like pet waste and hazard seeming objects and avoid those when navigating.
Roomba j7 is the only model/robot vacuum at present that can detect pet waste.
Mapping
The i3 does not map your house but remembers the layout for the active session's cleaning. Roomba i3 uses this layout to clean your home methodically.
The j7 is on another level when compared to the i3. It is equipped with a camera to capture its environment and transform it into an accurate layout. This mapping technology is precise, so you can view the mapped floor plan using the iRobot HOME app.
Thanks to intelligent technology, Roomba j7 cleans more efficiently without repeating where it has gone unless directed to.
Whenever the Roomba j7 starts running during the first run, it saves every object in its memory.
Because of its AI technology, each objects j7 encountered will be checked for the close patterns of pet waste like things, electric cord-like things and avoids that area and asks for your input means your suggestions and follow those from the next cleaning cycle.
How long can they run & with how much battery power?
Roomba i3 capably cleans your home for 75 to 90 minutes (depending on the suction settings) before it needs to recharge.
However, the i3's cleaning duration varies, but when a low battery level is detected, the robot quickly circles back to the charging station for juicing up.
Like the i3, j7 is with a similar run time and also with the auto-recharge feature.
Roomba i3 and Roomba j7 are equipped with battery-level sensors. Once a low battery level is detected, the robotic vacuum cleaners are directed to return to their charging stations for a recharge.
The recharge time for both the Roomba models shuffles near 2 to 2.5 hours. To say, it's not a point of concern while comparing as both the models are the best at cleaning your home in quick intervals.
The batteries fitted in both Roomba models are lithium-ion types known for low self-discharge rate and low maintenance.
If you're using the iRobot HOME App, you can also view the battery statuses there. If there is still cleaning left to do post-charging, the Roombas will methodically return to the spots and resume cleaning.
Recharge & Resume Feature
Both Roomba i3 and j7 are competent robotic cleaners. They know when the battery is low and conveniently navigate to their charging stations for a quick recharge.
What is more interesting is that the Roombas remember the exact spot to return to and resume their cleaning duties.
Zone Cleaning & Specific Room Cleaning
Only Roomba j7 is fitted with an advanced vision system that allows the robot vacuum to clean only a specified room or selected zone using the app.
And you can set the "keep-out zones" to keep the Roomba away from the zone when cleaning. This feature is beneficial on many occasions.
Furthermore, the camera system prevents the Roomba from bumping into furniture and could even differentiate their sizes, allowing it to squeeze through any possible clearance.
Roomba i3, unfortunately, is not offered with these features as it lacks an onboard camera.
But for the same functions not complete but somewhat similar, like keeping the robot away from a specific zone or room, i3 supports a dual-mode virtual wall barrier, available separately.
Personalized Cleaning Recommendations & App Control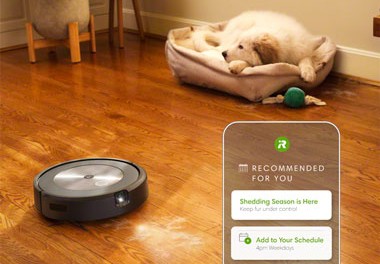 Another incredible highlight of the Roomba j7 models is the app with iRobot Genius technology. With its help, the Roomba analyzes your habits and suggests better efficient cleaning recommendations based on the seasons and things going around you.
With the app, you can control the Roomba j7 in however the way and whenever you want. Want the robot to run when you are not in the house? Yes, you can set it.
And as the intelligent camera system maps your entire house, the j7 will begin cleaning using the same layout; the robotic cleaner covers each area; you can see the mapped layout reflects the robot's traveled (cleaned) path.
This way, you know which areas are cleaned by Roomba j7 without getting up on your feet.
With the i3, the clean map reports are included as part of its features. You have to manually check if the robotic cleaner cleaned the room or kitchen. And even it suggests some cleaning recommendations, but overall, j7 is with more advanced app controls and features.
Effective Dirt Extracting Brushrolls
Both Roombas are fitted with efficient, Dual Multi-Surface Rubber Brushes that avoid getting tangled in pet hair.
Furthermore, the super resilient brushes are gentle on the floor but tough on dirt spots which means once the Roombas are done, you will have speckless floors and carpets.
Another excellent inclusion to the robotic cleaners is the Edge-Sweeping brush that takes care of the dust around the edges of the wall and corners.
Paired with the primary brush roll, the Roombas will ensure no dirt escapes their path when cleaning.
Dustbin Capacity
The dust collecting compartments in Roomba j7 and i3 models can carry more dirt than the Roomba low-end model's, thanks to its 0.5 L bin capacity.
The iRobot's or other manufacturers' base-level models don't pack that much dirt storing space as they only feature below 0.4 L bin. It means the j7 and i3 models can perform a few times more cleaning cycles compared to others (not the top-of-the-line models) before the dustbin needs to be emptied.
Identical Cleaning Modes
The cleaning modes on Roomba i3 and Roomba j7 are exact. Normal, Manual, and Spot Cleaning modes are present in both Roombas. However, the Repeat Cleaning and Edge Cleaning are not.
You can choose which type you prefer from the iRobot HOME app. Once the planned cleaning is executed, the robots will revert to their default cleaning mode, the Normal cleaning mode.
Integrated Technology
The Roombas are technologically advanced. The i3 and j7 models are offered with Wi-Fi connectivity, progress mapping, IFTTT compatibility, and voice control.
The robotic cleaners can be controlled using Google Assistant or Amazon Alexa. The Roombas do not support only Bluetooth protocol. But that's not a problem these days as we all look for either app control or voice control which iRobot supports at their best.
Thanks to its advanced mapping technology, scheduling cleaning is possible with Roomba i3 and j7. Using the iRobot HOME App, you can schedule the time and the type of cleaning mode you can easily use.
Self-Emptying – Roomba i3+ and Roomba j7+?
Both Roomba i3 and Roomba j7 are pre-equipped with a feature to support the self-emptying of the dustbin.
All you need to do is purchase the self-emptying base attachment separately, which is fixable to the charging station to enable the self-discharging functionality of the Roombas.
You only need to take out the dirt from the cleaning base every month or two. And for substantial traffic homes, we recommend emptying the clean base every ten days for optimal performance.
And if looking at everything in a single box without any extra attachments purchase, go with the self-emptying variants of these models, Roomba i3+ and Roomba j7+ (+ indicates the auto empty base add-on).
Other Key Features
Cleaning Characteristics
Roombas i3 and j7 also share specific cleaning properties. For example, both robotic cleaners are suitable for wet and dry cleaning. Still, it would be best if you had a separate attachment for the former.
Their HEPA filters trap pet allergens effectively up to 99.7% of pollutants.
Roomba i3 and Roomba j7 supports self-cleaning and features cyclonic action functionalities, and they come with a full-bin indicator.
Similar Cleaning Path Width
A 7-inch slot in the middle of Roomba j7 and Roomba i3 enables a large quantity of dust to be sucked into the cleaners. This means, even on one go, the Roombas can offer a wide cleaning path and complete an area in a much quicker time.
Dirt Detect Function
There is a Dirt Sensor present in Roomba i3 and Roomba j7, respectively. It allows the robots to recognize dirt on the surface the moment they pass over it. The sensor then triggers the i3 and j7 to clean the particular area more thoroughly until it is clean.
Auto Carpet height adjustment
Nearly all the Roomba models are designed for a better carpet height adjustment.
That means when the Roomba is navigating your home, and a carpet is in the mid-way, it automatically raises or gets down its height to easily navigates from hard floors to rugs and carpets to regular floors as well.
It ensures thorough cleaning without getting stuck or leaving the carpet from cleaning.
Conclusion – Which is Best?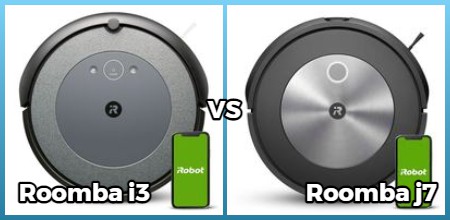 You need a robot vacuum that cleans a specific room like a bedroom or kitchen. You need a robot vacuum that identifies pet waste and avoids it without causing any mess throughout the house. You need a robot vacuum that cleans a particularized area as it got dirty because of a reason.
In all these situations, Roomba j7 helps.
Are you looking for a robot that delivers good suction power and most helpful features and cleans automatically every day on schedule?
And you can manage all the other instances; i3 is a wise selection then.