Roombas i-series models are known for their potent suction, all-around performance, and cutting-edge features.
Here we have i2 and i7. Find the differences between now.
| Roomba i2 | Roomba i7 |
| --- | --- |
| | |
| Cleans Room You Want: No | Cleans Room You Want: Yes |
| Zone Cleaning: No | Zone Cleaning: Yes |
| Set Keep-Out Zones: No | Set Keep-Out Zones: Yes |
| Auto Recharge & Resume: Yes | Auto Recharge & Resume: More Smarter |
| Check Price On Amazon | Check Price On Amazon |
i2 vs i7 – Comparison Table
| | | |
| --- | --- | --- |
| | Roomba i2 | Roomba i7 |
| Recharge & Resume | Yes | Yes (Smart) |
| Selective Room Cleaning | No | Yes |
| Zone Cleaning | No | Yes |
| Keep-Out Zones | No | Yes |
| Bin Size | 500 ml | 500 ml |
| Auto-Empty Dock Support | Yes | Yes |
| Self-Cleaning Variant | – | Roomba i7+ |
| Suction Pressure | 10 times the 600 series | 10 times the 600 series |
| Tangle-Resistant Brushes | Yes | Yes |
| Filters | HEPA | HEPA |
| Navigation Pattern | Rows | Rows |
| 3-Stage Cleaning System | Yes | Yes |
| Dirt-Detect Sensors | Yes | Yes |
| Mopping? | No | No |
| Height | 9 cm | 9.2 cm |
| Weight | 7 lbs | 7.44 lbs |
| Cleaning Routines | Yes | Yes |
| Personalized Suggestions | Yes | Yes |
| Alexa | Yes | Yes |
| Google Home | Yes | Yes |
| Washable Filters | Yes | Yes |
| Colors | Ash | Black |
| Price | Check on Amazon | Check on Amazon |
Roomba i2 vs i7 – Detailed Comparison
Auto Recharge and Auto Resume – i7 is smarter (Difference)
The Roomba i2 and i7 are decent robot vacuums that clean your house in 90 minutes on a single charge.
What if your house is with more sq. ft than normal-sized homes?
Are you apprehensive about a finished battery in the middle of cleaning?
Do not because two of these models operate without any problem till the confined battery life.
And then,
If the battery gets low, the intelligent i2 and i7 models automatically steer themselves to the charging dock to juice it up before continuing their cleaning commitments.
Here there is a difference between i2 and i7 models:
As said above, the robots go back, recharge, and resume cleaning the place they stopped before.
With i7, the robot recharges only for the battery level required to clean the remaining path where the i2 recharges till the full battery capacity.
That will be a waste of time with i2 to achieve an entire cleaning cycle.
This difference doesn't seem useful for small to medium-sized homes, but surely worth the time for big-sized houses.
And talking about the run time aspect, there are a few other models from Roborock, which are in another league.
Running those robots at home makes your entire home (even a large one) sparkle in a one-time run.
With i7, Clean the Room You Want (Difference)
There would be many situations, particularly in houses with pets and kids, where you want the cleaning only in specific rooms.
In those cases, only the Roomba i7 comes to help.
With imprint smart mapping, the i7 creates a layout map that perfectly knows which is a kitchen or which is a bedroom.
With i2, when you want cleaning in a specified room, irrespective of the request, it begins cleaning from the start – the whole cycle.
But with i7, when you assign a robot to clean the kitchen, it traverses directly from its dock to the kitchen and starts cleaning.
Once the kitchen looks dirtless, it drives back to the dock.
No intermediate cleaning.
It is a helpful feature and sadly, room-based cleaning comes with top-ends.
Set Zone Cleaning and Keep Out Zones with i7 (Difference)
Additional to the specific room cleaning, i7 is with zone-based cleaning.
Not on all occasions, you require the robot to clean the whole room or hall space.
Sometimes there would be cereal spillage or cat litter to be vacuumed.
In that cases, traversing the robot the whole room space makes things foul and time-taking.
It is not an issue with the iRobot model Roomba i7.
You can set the robot to clean the area you want by drawing a zone in the app.
And do you think about the opposite? You might find it more beneficial with the i7 model.
When you want the robot to skip cleaning any area, set the Keep-out zones through the app.
If you require a similar function in Roomba i2, a virtual wall barrier is an attachment you should have, available separately.
Bin Capacities + Auto Empty Dock Support
The Roomba i7 and i2 have a 0.5-liter built-in dirt bin devised to entrap dust and pet hair.
With considerable dust storing ability, you do not need to bother about a full bin whenever the robot vacuums perform.
Stepping one level higher, i-series models are compatible with an auto-empty dock that allows the robots to dispose of dust when the bins get loaded.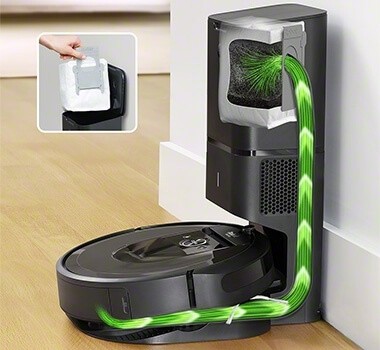 And these auto-empty docks hold 2.5L – 3L dirt. If you have a larger home, buy the auto-empty dock attachment or prefer the self-cleaning variant like Roomba i7+.
For i2, there is no self-cleaning model.
So obtaining an auto-empty dock extension assists you.
Both i2 and i7 work with the same potent suction
The Roomba i7 and i2 models are with formidable power-lifting suction that vacuums dirt ten times more intensely than previous Roomba 600 series models.
From fine dust to steel balls (bearings), nothing flees the vacuum slot of these i-series models.
You can also adjust the suction power that best serves you using the iRobot home application.
Roomba i2 and i7 suction power blow away any competition due to their 10X suction pressure.
Tangle-Resistant Brushes + HEPA Filters
On the Roomba i2 and i7 models, the brushes are made of non-bristled rubber brushes.
With no bristles in design, pet hair could not get trapped that need to be cleaned after every clean cycle.
These dual brushes are on set to stay in constant contact with different floor surfaces, be they carpet or hard floors, and continuously adjust their position.
Even the smallest particles like dust and hair are not missed by the i2 and i7 models.
The innovative side brush speed adjusts automatically according to wall corners or floor and cleans flawlessly as they make a pass.
Both the robot vacuum brushes work tremendously well during cleaning, and they are in a tie.
In Roomba i2 and i7, the filters are HEPA-rated filters, the best in the industry, and well-known for entrapping microparticles.
What is more convenient is the filters can be easily washed, detach the filter from the bin, shake off the debris, and rinse under running water.
But there is a limit, we advise changing the filters every three months or so relying on the number of clean cycles and regular dirt load in your home.
You cannot view the filter statuses using the iRobot app.
Both Roombas Navigate in Rows
The iRobot Roomba i7 and i2 have adopted a patented, navigational vSLAM technology that helps the robots move in rows around your house through decent scanning capabilities.
When the robot navigates in rows, it never misses any area compared to the robot that travels randomly.
On the i7 and i2, mapping of your home is done using a contrast camera.
The robot vacuum creates visual landmarks using its contrast camera while keeping track of the previously scanned route.
Its only shortcoming is when there is low light since the vSLAM camera needs light to function properly, in some cases, the robot vacuums do not perform well in low-light conditions.
In this case, the Roomba i7 and i2 struggle a little and bumps into furniture, which too very rare.
With Intense Cleaning Systems
The iRobot Roomba i7 and i2 are flawless for people with pets because their premium 3-stage cleaning system is unbelievably adequate when cleaning pet hair, dust, and non-visible allergens.
And the dirt-detect sensors with these models sweep more thoroughly when it is required.
What is more interesting is the Roomba i2 and i7 models come with an auto-adjust cleaning head, so you need not worry about the robot's difficulty traversing between carpets and hard floors.
Do these models mop?
On the Roomba i2 and i7, mopping is not feasible.
The robots execute cleaning by traversing across your home while cleaning dust and dirt systematically.
To compensate for the non-mopping capabilities, you can separately purchase the Braava robot mop from iRobot to scrub your tough stains multiple times.
Adding to that, i2 and i7 have an imprint link system that facilitates the robots to function synchronously with Braava.
But do you require two robot appliances for vacuuming and mopping?
No.
Roombas are forever the foremost choice when vacuuming is the target.
When it comes to overall cleaning competencies, vacuuming, and mopping in one machine, Roborocks stand tall in front of the Roomba models.
The majority of Roborocks are clever robot vacuums that not only extract dust but deliver thorough cleaning through their mopping features.
After vacuuming, you can schedule extra cleaning on the sticky floor utilizing Roborock's applicable mopping component.
They look the same
Both Roomba i7 and Roomba i2 are around 9.2cm in height, with the latter being narrowly shorter at 9cm.
Is height a buying aspect?
There are benefits to this, as the slimmer models can navigate and go through short furniture without any issue when cleaning.
All the specialties like smart AI mapping cameras and sensors are not devised on top of the robot as they make transiting under tough areas even more challenging.
In terms of weight, the Roomba i7 weighs 7.44 lbs, which is around 200g more than the i2.
The difference is not significant as you can pick both robot vacuums up without much effort.
And a word, unless you have multiple floors in your home, there would be rare instances to lift your robot.
The New iRobot OS
We never thought that the Roombas complete product line offer personalized cleaning suggestions till the new upgrade – iRobot OS.
With this, you will get suggestions based on the cleaning patterns and seasonal requirements.
If your dog sheds every once in a while, the Roomba recalls the time and implies you to schedule.
And putting clean routines moved much further, with all the Roomba models, you can set custom routines compared to the old only scheduling feature.
In i2 and i7, you can assign the robot to clean when you are not at home.
Both functions at the same sound level
Roomba i2 and i7 measure around 68dB when working at full capacity and quieter at around 60dB when traveling on carpets.
In terms of silent operation, both Roomba i7 and i2 take the medal.
Voice and Speakers
On these Roomba models, the voice and commands are not as effective though they still function to call out when stuck or done with the cleaning.
Roborocks are with more crisp voices and clear speakers.
Even when you are away from the robot vacuum, you can still hear the robot pitching its voice.
We talked about the voice output from robot devices.
What about the inputs?
Can we control these Roombas using our voice?
Yes.
If you have devices like Alexa or Google Home in your place, connect with the robots and begin giving the orders.
Final Words
The Roomba i2 and Roomba I7 are efficient robot vacuums for your household.
Both function exemplary and equally on carpets and hard floors due to their innovative drivetrain.
In terms of room-based cleaning, selected zone cleaning, and keep-out zones, the Roomba i7 outshines the Roomba i2 by a mile.