Only one. Yes. There is one significant difference between i-series models i1 and i3 EVO.
What is that?
Find out below:
i1 vs i3 EVO Full Comparison Chart
| | | |
| --- | --- | --- |
| | Roomba i1 | Roomba i3 EVO |
| Height | 3.6 inches | 3.63 inches |
| Weight | 7 lbs | 7.44 lbs |
| Selective Room Cleaning | No | Yes |
| Reactive Sensor Tech | Yes | Yes |
| Navigation Pattern | Rows | Rows |
| Self-Emptying Dock Support | Yes | Yes |
| iRobot OS | Yes | Yes |
| Cleaning Routines | Yes | No |
| Personalized Suggestions | Yes | Yes |
| Automatic Updates | Yes | Yes |
| Suction Power | 10 X(than 600 series) | 10 X(than 600 series) |
| Dirt Detect tech | Yes | Yes |
| 3-Stage Cleaning System | Yes | Yes |
| Carpet Boost | No | No |
| Multi-Surface Rubber Rollers | Yes | Yes |
| Anti-Tangle Rollers | Yes | Yes |
| Mobile App | Yes | Yes |
| Amazon Alexa | Yes | Yes |
| Google Home | Yes | Yes |
| Auto Recharge & Resume | Yes | Yes |
| HEPA Filters | Yes | Yes |
| Imprint Link Tech | Yes | Yes |
| Color | Light Bronze | Woven Neutral |
| Price | Check on Amazon | Check on Amazon |
i1 vs i3 EVO – Differences
Roomba i3 EVO Cleans Room You Want
Sometimes there will be situations where you want a particular room to be cleaned, not the whole house. Right?
Yes. Very Often. We will end up like that, and occasionally we want that function to assure better cleaning. Like in a kid's room, you might require double the cleaning cycles.
In both cases, i3 EVO helps. With i3 EVO, you can set the robot to clean whatever room you want to because of its cutting-edge imprint smart mapping.
This feature is not in the i1 model.
Colors Difference
Roomba i1 is in light bronze, whereas the i3 EVO is in a woven neutral color.
Colors don't play any significance in robots comparison unless you have that preference.
Their Dimensional Properties
The Roomba i1 is just a point inches short of 3.6 inches compared to its counterpart, the i3 EVO, which scales up to 3.63 inches.
With roborocks, the laser modules on top contribute much to their height and make it challenging to clean under low-clearance furniture.
That is not the issue with the Roomba models because there is no laser turret above the unit to prevent it from squeezing through tight spaces for better cleaning.
The Roomba i1 and i3 EVO weigh almost the same – at about 7 lbs, give or take a few.
They are lightweight, so relocating them between floors (if you have a multi-level house) is going to be manageable.
Similarities
Powerful Suction – Dirt Detect technology
Roomba i1 and i3 EVO use a potent vacuum motor that produces ten times the robust suction pressure compared to the 600 series vacuum models.
Their dirt detection technology enables the robot to recognize the dirt traffic locations and outcome more concentrated cleaning.
Roomba i3 EVO and i1 follow a matching cleaning method – the AeroForce 3-Stage Cleaning. First, it loosens the dirt, lifts it near the suction place, and suctions it.
How do these models function?
The powerful motor generates suction pressure for dislodging the debris, an efficient main brush to collect dust, and side brushes to sweep them into the suction chamber.
Besides the immense suction power, the Carpet Boost functionality is unavailable on the i3 EVO and i1 models.
Self Cleaning Dock Compatibility
Do you want to robot to self-empty its dustbin once it is loaded?
You need to buy a separate dock available for that.
It is an expensive attachment but beneficial if you want the cleaning process with less involvement.
i1 and i3 EVO are compatible with the cleaning base. iRobot released a respective cleaning dock for every series of products.
Recharge & Resume
When fully charged, the Roomba i1 and i3 EVO run for 60-75 minutes, sweeping your house thoroughly.
Do not think of them as low-capacity batteries. We said that keeping heavy-dirted houses in mind.
For a normal-sized home with good regular clean-up, both the models run for 75-90 minutes in a single charge and complete the whole clean cycle.
It takes around 2 hours to charge the i1 and i3 EVO models.
And talking about the master feature, recharge and resume, both i1 and i3 EVO will travel to their charging stations to recharge when a low battery is sensed midway through cleaning.
When the adequate charge is restored, the robots will automatically traverse back to the same area where they had left off and continue cleaning.
Navigation – State-of-the-art floor sensors
The navigation system for the Roomba i1 and Roomba i3 EVO is the same efficient one because of the intelligent sensors they came armed with.
Using that system, the algorithm within the robotic cleaners will path out how to efficiently clean your house and traverse that way in a row-by-row pattern, not some random or adaptive pattern.
Only row-wise cleaning can confirm that every inch is covered.
Brushes Comparison – Any Difference?
No. Both models are equipped with dual multi-surface rubber rollers.
The dual multi-surface rolling brush operates well on hard floors and carpets.
The rubber material of the main brush and stiff-side brushes will not scratch your floor surfaces and can sweep most debris even from grouted flooring.
On hardwood flooring, the side brushes gather hair (human and pet) without difficulty.
Combined with powerful suction, these dust-extracting rollers vacuum enormously on every carpet irrespective of the thickness factor.
The rubber rollers in both models are not with bristles. So they are pure tangle-resistant – A massive upside when upkeep and hands-free cleaning are taken in.
Personalized Cleaning Suggestions -iRobot OS
Every model coming from the iRobot warehouse is configured with iRobot OS, a very advanced and current-day requirement-based built system.
Every Roomba can start cleaning when you are away and stop cleaning when you are back. Just you need to set that feature on.
This feature is not in the high-ends as well till the last year.
And who does not want a cleaning suggestion based on the in-house factors and a few conventions?
Is it the day after Christmas? I think the iRobot OS is advanced enough to notify you through the app to start cleaning.
And is your pet shedding hair a lot? The AI-based iRobot OS will let you know that.
iRobot OS Updates
Roomba i3 EVO and i1 are featured with an over-the-air upgrade – allowing the seamless update of the robot's OS without any physical cable.
Firmware updates are done while the robots are docked and charging.
Then, connect the i1 and the i3 EVO with your home Wi-Fi and launch the app to initiate the update.
Depending on the connection strength and location of their docking stations, the upgrade may take somewhere between 25 to 35 minutes.
App Connectivity – Voice Commands
You can launch the same app for Roomba i1 and Roomba i3 EVO – the iRobot HOME app.
At your requirement, you can assign cleaning schedules, monitor the robots, target specific rooms (only with i3 EVO), and even view the statuses of the filters using the iRobot HOME app.
Roomba i3 EVO and i1 can readily link to Amazon Alexa or Google Assistant for voice-based commands.
Sensors + Reactive Sensor Tech
Cliff, collision, and dirt-detect sensors are functional in both Roomba i1 and Roomba i3 EVO.
The sensors are identical between the two robot vacuums, they dictate how the Roombas travel without bumping into walls.
And the new reactive sensor technology in these models provides that the robot will never get stuck by calculating the possible barriers before.
FAQs
What are their noise levels when vacuuming?
The Roomba i1 and i3 EVO measure up to 65-70 dB when operating normally and at length 3 inches away from you.
The noise resembles the same as a hairdryer. The extra decibels can be credited to the 10X powerful suction in both the Roomba models.
Do these Robots are with best-filtered systems?
An authentic HEPA-type filter is featured in Roomba i3 EVO and the i1.
Allergens and dust in your home are filtered and entrapped by the filter whenever the robot vacuums begin to function.
Do they work on high-pile carpets?
The powerful suction motors on the i1 and i3 EVO are deciders when it comes to cleaning carpets.
Roomba 600 series models drive low-pile and medium-pile carpets pretty well but struggle a little with high-pile rugs.
It is not an issue for the i-series, thanks to its advanced robust motor that produces higher suction pressure to get deep into carpets.
Do these models compatible in simultaneous working with braava jet mops?
Yes.
The i-series models with integrated imprint link technology let the robots work in sync with the braava jet robot mop from iRobot.
Once the vacuum stops cleaning, the braava mop initiates mopping automatically.
Summary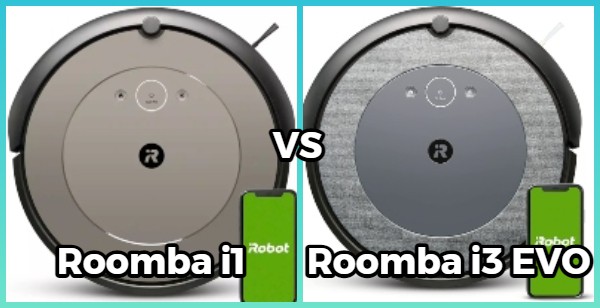 We covered every feature, every similarity, and every specification in this comparison.
iRobot unleashed many models gradually, resulting in high chaos – what to choose and what are the actual distinctions between two models like these a lot of queries.
Between some models, there will be very few ones to two differences making the situation worse.
Today's comparison is like that with a single considerable difference. I hope we did help you with that. Thanks.