In this article, we will cover the differences between Roomba's mid-level 981 and high-end i7 models. Before that:
What is the difference between Roomba i7 and i7+ (i7 Plus)?
i7+ is with the self-emptying dirt bin feature, where i7 doesn't. That's the only difference between the two.
To avoid any confusion, we used i7 instead of (i7 and i7+) in the whole comparison. Keep reading.
Let's dive into the quick summary (differences) below:
| Roomba 981 | Roomba i7 / i7+ |
| --- | --- |
| | |
| Navigation System: iAdapt 2.0 | Navigation System: iAdapt 3.0 |
| Selective Room Cleaning: No | Selective Room Cleaning: Yes |
| Carpet Boost: No | Carpet Boost: Yes |
| Dustbin Size: 450ml | Dustbin Size: 300ml |
| Keep Out Zones: No | Keep Out Zones: Yes |
| Self Emptying: No | Self Emptying: Yes (With i7+); No (With i7, but supports) |
| Check Price On Amazon | Check Price On Amazon Roomba i7, Roomba i7+ |
Roomba i7

BottomLine: Taking suction power and efficient cleaning, both stand in the same row. So it is all that you want. Check the above significant differences and find what is more beneficial for you.

We recommend the Roomba i7. If you can put a few bucks additional, you will find more value with the i7 model in the long run.

Don't think i7s features help much? Go with the Roomba 981 model, an equally powerful robot with almost every needed tech feature.
Roomba i7 VS 981 – Complete Specifications Table
| | | |
| --- | --- | --- |
| | Roomba 981 | Roomba i7 / i7+ |
| Height & Weight | 9.1 cm & 4 kg | 9.1 cm & 3.4 kg |
| Suction (Compared to base Roomba) | 10X | 10X |
| Navigation System | iadapt 2.0 | iadapt 3.0 (advanced) |
| Cleaning System | Aeroforce 3 stage | Aeroforce 3 stage |
| Selective Room Cleaning | No | Yes |
| Run time (In Single Cycle) | 120 mins | 75 mins |
| Anti tangle brushes | Yes | Yes |
| Auto Carpet Boost | Yes | No |
| App controlled | Yes | Yes |
| HEPA filters | Yes | Yes |
| Keep Out Zones | No | Yes |
| Dirt bin Storage | 450ml | 300ml |
| Auto Recharge | Yes | Yes |
| Auto Resume | Yes | Yes |
| Edge Cleaning Mode | No | No |
| Cleaning Modes | Yes | Yes |
| Voice Commands (Alexa, Google Home) | Yes | Yes |
| Smart Home Connected | Yes | Yes |
| Imprint link technology | Yes | Yes |
| Self Emptying | No | Yes (With i7+) |
| Mopping Feature | No | No |
| Price | Check on Amazon | Check on Amazon |
Every Similarity, Difference Comparison (981 VS i7)
Design (Dimensions)
Roomba 981 and Roomba I7 are capable robot vacuums that have identical heights at 9.1 cm – give or take a few millimeters.
Their compact size allows negotiating obstacles or low clearance furniture a breeze to handle.
That means both the robot vacuums can glide under your sofa for a comprehensive cleaning and save you a lot of work and time.
Roomba 981 weighs close to 4 kg, whereas Roomba I7 scales around 3.4 kg.
Since the latter is lighter, carrying it between two floors is much easier and convenient.
Furthermore, if the Roomba gets stuck, it takes little effort to release Roomba I7 compared to Roomba 981. 
Suction Power Differences?
The Roomba 981 performs well in both hard floors and carpeted areas in your home.
Thanks to Dirt Detect technology, the sensors in the 981 capably recognize high traffic spots in your house and commands the Roomba to exert maximum pressure when vacuuming said spots.
Additionally, with a Gen 3 motor, the robot vacuum is 10 times more powerful than normal Roombas in Performance mode or when it senses a carpet.
With the same suction force as 981, the vacuuming power of the I7 is credible, efficiently removes most of the dirt and grime when it works.
Navigation & Mapping Technologies Comparison
Roomba 981 uses iAdapt 2.0 navigation technology to move around your home while mapping its layout. The navigation system of the 981 is precise and allows the robot to move in a planned path correctly.
Taking it up a notch, the i7 is featured with iAdapt 3.0 navigation technology, provides the best guidance for Roomba i7 to move most methodically when cleaning your home.
Roomba 981 and Roomba i7 are designed with an advanced visual system for mapping purposes.
A built-in camera coupled with vSLAM technology gathers 240,000 data points.
It transfers the super-accurate layout of your home to an exact digital blueprint. This map will be used for path planning by the robots to clean every inch of your home without any collisions.
Self Emptying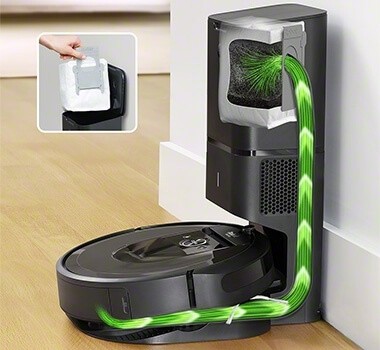 How great is it if your robot vacuum auto empties the dust itself without any human supervision? Yes, it is.
Roomba i7 Plus came up with an auto dust disposal cleaning base. When the dust reaches full, the robot navigates to the clean base and disposes of all the dust.
And the clean base can hold the dust of two months for a medium-sized home. In this span, you need not worry about dustbin cleaning.
But this feature is an expensive one that makes i7 plus non-affordable for the majority.
Cleaning Technology Comparison
The cleaning technology featured in Roomba i7 and Roomba 981 is the AeroForce 3-stage cleaning system.
Incorporating versatile rubber brush rolls, an impeccable suction force, and durable edge-cleaning brushes, the 3-stage cleaning system of Roomba i7 and 981 removes every speck of dirt, making sure your floors and carpets stay dirtless.
The first stage

is sweeping done by the side brush that pushes dust from the edges into the robot's cleaning path.
The agitation of the main brush is the

second stage

.
The dual brushes dislodge any debris trapped deep within carpets, and the

third stage

is for suction or the end for dust and dirt in your home.
Selective Room Cleaning – Advanced Feature
Thanks to the intelligent navigation and imprint smart mapping system, Roomba i7 can distinguish between rooms and other spaces like the kitchen and living room effortlessly.
This feature's massive advantage is that you can assign the i7 to clean only one room or area by selecting it from the digital blueprint saved in the iRobot Home App.
Roomba 981 lacks this feature.
Run time, Auto Recharge, Recharge-and-Resume?
With one cycle of charging, Roomba i7 can clean your home for 75 minutes. In contrast, Roomba 981 works (about 120 minutes) from the same charging cycle.
When compared with Roomba 981, the I7 has lower battery life per charge.
Roombas i7 and 981 are smart robotic cleaners.
When their batteries' level drops around the lower threshold, the i7 and 981 will pause cleaning and set course to their charging stations for a quick charge.
Upon getting enough charge, Roomba i7 and Roomba 981 will return to the same cleaning spot and resume their tasks.
So, battery life difference is not an essential factor.
Innovative Tangle-Free Brushless Rollers
Roomba i7 and Roomba 981 are fitted with dual multi-surface rubber brushes that work exceptionally well on carpets and hard floors.
The brushes bounce off the floor or carpet in a rhythmic motion to untangle dirt stubbornly stuck on the floor's surface or hidden in the pile of the carpet.
They remove dirt, pet hair, or even tough stains like dried mud prints.
The brushes are without bristles (tangle-free) and stay in constant touch with the floor surface ensuring every bit is covered.
Even creases between tiles or high traffic zones bound to get dirty are handled beautifully by durable rubber brushes.
The edge-cleaning brushes on the Roombas are durable sidekicks when the robots need assistance cleaning the corners and edges walls.
Carpet Boost in 981 or i7? Or Both?
Roomba 981 is equipped with carpet boost technology.
Whenever the robotic cleaner detects a carpeted floor or surface, the suction pressure automatically ramps up to the maximum level to remove every bit of hair, dirt, and crumb from the depths of the carpet.
Roomba i7, on the other hand, is not included with the carpet boost feature.
Everything App-Controlled Operations
Both Roomba 981 and Roomba I7 can be controlled remotely using the iRobot HOME App. You can even view the brushes and filter statuses from the iRobot HOME app.
This virtual remote control is featured within the app, and no additional download is required.
Got your Roomba 981 stuck under the couch? Just use your smartphone to get it out without even lifting a finger.
Everything same for Roomba i7. 
Blocks off Certain Zones using Keep Out Zones
You can even cordon off a room or zone with Roomba i7 using the app's keep-out zone function.
Be it the children's playroom or the pets' resting zone; you can block the entire area by placing virtual lines using the iRobot Home App.
Dust bin storage Comparison – Auto Dust Disposal?
The dirt storage compartment (with a bag) in Roomba I7 is 300 ml. On the other hand, Roomba 981 has a dust bin that could hold 450 ml of rubbish.
As a result, you don't need to clear out the dust from the 981 as frequently as Roomba i7.
However, you can only wipe off the dirt/debris in the 981, but with Roomba i7, the bin is entirely washable.
And if it is i7+, you need not worry about the dust bin size or cleaning it as it has an auto dust disposal feature.
Whenever the dirt bin reaches its maximum capacity, the Roomba automatically reaches the clean base and unloads it.
It means you can run the dirt compartment under tap water and give it a thorough rinse, ensuring a proper clean.
HEPA filters ensure a Pure home environment
Speaking of the allergens-free home:
Roomba i7 and 981 both are equipped with HEPA filters that are highly efficient at capturing dirt, pet allergens, and dust mites.
You no longer need to worry about a dusty environment or cough/sneeze-causing allergens as the HEPA filter screens up to 99% dust particles, keeping your home unpolluted.
An extra HEPA filter is included in the package as a maintenance spare. The identical filter is found in Roomba I7 too.
Seamless Integration With Google Assistant, Amazon Alexa (IFTTT)
Roombas i7 and 981 are future-proof robotic cleaners that have connectivity with intelligent home assistants like Amazon Alexa and Google Assistant.
You can schedule cleaning schedules, choose selective cleaning and connect with Amazon Alexa or Google Assistant easily for voice-based commands.
Furthermore, the smart vacuum cleaners are IFTTT and SmartThings compliant, allowing flawless connections to modern technology.
Conclusion
There is no such thing as the best robot vacuum or best Roomba model.
The reason why the manufacturer's release list of models is they want to cover every buyer's needs.
For example, I don't need a carpet boost feature. Still, some people look for this feature because of their household carpets cleaning needs.
And likewise, models vary by price as consumers look at products based on their budget range.
So there is no such product which suits everyone.
Speaking of this comparison between Roomba models 981 and i7, go for the model according to your needs.
Personally, we prefer Roomba 981 over i7 as it is powerful, affordable, and with nearly all high-end features. And go with i7+ if budget supports (and self-cleaning is required to you).