Last Updated: Nov 10, 2021.
Roomba 981 used to be the Irobot's top range model, but what now?
How does it compare with the newly released equally powerful i3 model?
What are the key differences and which one should you buy? Roomba 981 OR I3?
Let's find out. Have a quick look at these key differences:
| Roomba 981 | Roomba i3 |
| --- | --- |
| | |
| Navigation: Advanced (+ Visual Mapping) | Navigation: Advanced |
| Carpet Boost: Yes | Carpet Boost: No |
| Dustbin Size: 0.3L | Dustbin Size: 0.5L |
| Self-Emptying Support: No | Self-Emptying Support: Yes (Key Difference) |
| Check Price On Amazon | Check Price On Amazon |
Roomba i3

If you are intently looking for the best carpet cleaning robot vacuum between 981 and i3, Roomba 981 is the one for you, as it adds the carpet boost feature.
Find out all the similarities, differences, and specifications in the comparison chart below.
Comparison Chart – Roomba 981 VS Roomba i3
| | | |
| --- | --- | --- |
| | Roomba 981 | Roomba i3 |
| Height | 3.58 inches | 3.63 inches |
| Suction | 10X (compared to 600 series) | 10X (compared to 600 series) |
| Carpet Boot | Yes | No |
| Auto adjust cleaning head | Yes | Yes |
| Navigation Pattern | Row-By-Row | Row-By-Row |
| Self emptying base (Auto dust disposal) | No | Yes |
| Battery life | 120 Mins | 75 Mins |
| Recharge & Resume | Yes | Yes |
| Imprint Link Technology | Yes | Yes |
| Smart Home & Mobile App Connectivity | Yes | Yes |
| Ideal for Home with Pets | Yes | Yes |
| HEPA filter | Yes | Yes |
| Detachable dustbin | Yes | Yes |
| Full Bin Indicator | Yes | Yes |
| Dustbin Capacity | 0.3L | 0.5L |
| Virtual Wall Barrier (In Box) | Yes | No (Available Separately) |
| Cleaning Modes | Yes | Yes |
| Multi Surface Rubber Rollers (Tangle Free) | Yes | Yes |
| Entire level cleaning | Yes | Yes |
| Edge cleaning mode | No | No |
| Specific Room Cleaning | No | No |
| Keep out zones | No | No |
| Specialized corner cleaning | No | No |
| Price | Check on Amazon | Check on Amazon |
Roomba i3 VS 981 – Similarities, Differences [In Detail]
Immaculate suction force – Which is Powerful?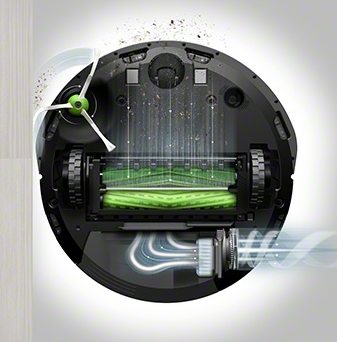 Roomba i3 introduces itself with its impeccable cleaning style with the 3-Stage Cleaning System, same as the 981. Both the models offer an edge in cleaning performance by incorporating their brushes and suction force dynamics as part of the cleaning system.
Their suction force is ten times the baseline of Roomba 600 series robots. Thanks to their intense vacuuming pressure, every bit of dust and the last strand of hair are lifted by the robotic cleaners. Not only are you left behind with squeaky-clean and sparkly floor, but also dust-free carpets and rugs.
BottomLine: Same powerful suction (10X stronger).
Navigation & Mapping Comparison – I3 OR 981?
Both Roombas can navigate your house methodically, but the 981 is more technologically equipped. Guided by the iAdapt 2.0 technology and a smart mapping system, Roomba 981 capably tracks the layout of your home with the built-in camera system.
The robot features the vSLAM navigation algorithm coupled with a highly sophisticated vision system. When Roomba 981 is activated, the entire surrounding is mapped using the camera, capturing over 230,400 data points per second. It merely means every angle of your home is recorded and translated into a precise blueprint for navigation.
On the other hand, the i3 lacks vision technology. It depends on smart sensors that guide the robotic cleaner to move around your house. Although not as precise as its counterpart, the i3 manages to navigate your home without bumping into walls or furniture.
The Reactive Sensor technology in Roomba i3 commands the robot where it should and should not go. It means the robotic cleaner will save more time figuring out if it could enter a space. Furthermore, the i3 will not easily be stuck under furniture while removing the dust there.
BottomLine: Both Roombas clean methodically. They travel purposefully without random movements and vacuum your floors in neat rows. The floor tracking sensors of the i3 and 981 allow them to clean an entire level of your home without much effort. But because of the advanced VSLAM navigation and visual mapping system in 981, it stands ahead in efficiency comparison with i3.
Automatic Carpet Detection
The Roomba 981's advanced sensors can effectively detect rugs and carpets from hard floors. It allows the 981 to perform deeper carpet cleaning by ramping up its suction pressure whenever the robotic cleaner travels over it.
The i3, however, is not offered with this feature. There is only a single pressure setting for all surfaces in your home.
BottomLine: At this powerful 10X strong suction of both I3 and 981 models, the carpet boost option is only an add up for homes where more carpet cleaning is required. Otherwise, i3's regular suction is more than enough.
Goes back where they left after charging – Recharge and Resume?
Roombas i3 and 981 are smart robot cleaners who remember their location while cleaning. Therefore, when the robots have exhausted their batteries, they will automatically navigate to their charging stations for a quick recharge. Upon receiving more power, Roomba i3 and Roomba 981 will return to the exact spot they had left to resume cleaning.
Battery Life?
The battery on Roomba 981 lasts for 120 minutes for every full charge, while Roomba i3 only operates for 75 minutes. It means the 981 cleans more of your house on a single charge. But as both work with the recharge-and-resume feature, battery life is not a point to consider.
BottomLine: When the battery gets low, both the vacuums recharge automatically and start vacuuming from where they stopped working.
Imprint technology (Braava Jet)
The Braava Jet is another device by iRobot that mops your floor. Both Roomba i3 and Roomba 981 are featured with Imprint Technology that integrates them with the Braava Jet.
It means, if you had purchased the Braava too, the i3 and 981 could command the former to start mopping the moment they are done vacuuming. All this will be done without you having to lift a finger!
BottomLine: Both 981 and i3 equip this technology.
Virtual Walls – Accessories Difference?
Roomba 981 comes with a virtual wall barrier accessory, a dual-mode one beneficial if there is no go zone for a robot vacuum. You have to place the dual-mode virtual barrier in areas you don't want the robot to enter.
The two modes of virtual wall you can configure for the 981; the Normal and Halo modes. The former is a standard virtual wall that places an infrared "wall" across any space you wish to restrict. The latter creates a curvature of 1 meter surrounding the boundary marker, which signals the 981 not to approach and take diversions.
Roomba i3, regrettably, does not offer this accessory in the box, which is quite sad because it is a brilliant cleaner. To say, i3 does support this function, but you have to purchase the virtual wall barrier separately.
BottomLine: Roomba i3 and 981 both support virtual wall barriers. But with 981, you will get it in the accessory box.
Shows when to empty the bin – Dustbin Capacities?
Both Roombas come with a full bin indicator that tells you when to empty the dustbin.
The dust compartment in Roomba i3 can hold 0.5 L of trash, where else the 981 only manages 0.3 L. It means the full-bin indicator in the 981 will go off more frequently than its counterpart and will require you to empty it often.
BottomLine: More supervision requires for 981 compared to i3. Also, for i3, another cool feature, the auto dust disposal, makes your life more effortless.
Self-emptying base
One of the cool features of Roomba i3 is its self-emptying base. That means once the dustbin is full in the i3, the robot will automatically navigate to the clean base station and "relieve" itself. But this clean base station needs to be purchased separately as it is not with the basic i3 package.
Unfortunately, Roomba 981 does not offer self-emptying capabilities.
BottomLine: Roomba i3 is a clear winner here. 
Tangle-free dirt extractors?
Roomba i3 and 981 both came up with Dual Multi-Surface Rubber brushes (tangle-free) pick up the last speck and push hair into the suction chamber effortlessly. Moreover, the Edge-Cleaning brushes work very well to dislodge dirt along wall edges and corners.
Each part of the Roombas is efficient in removing dust. The Roombas HEPA filters are incredible when it comes to trapping almost 99% of pet allergens. You can easily unclamp, wash and fit them back to the robotic cleaners.
Dirt Detect Sensors
Roombas i3 and 981, both the models are equipped with Dirt Detect Sensors. Whenever a stained area is detected, the robotic cleaners will rush to the scene and clean more thoroughly. The smart vacuums will focus cleaning on the dirtier zones until they are spotless.
BottomLine: Both are with dirt detect sensors, HEPA filters, and tangle-free dirt extractors.
Scheduling is easy – Mobile App
Preparing a customized vacuuming schedule for the robotic cleaners is super easy. All you need to do is launch the iRobot HOME App and organize excellent cleaning sessions. Interestingly, you can view the statuses of the filter and dirt compartment for replacement ideas.
Smart learning system – Customized Schedules?
One handy feature of Roomba i3 and Roomba 981 is the learning capabilities of the robot vacuums. By observing your cleaning habits (using the robotic vacuum cleaner), the 981 and i3 offer customized schedules.
More interestingly, they recommend additional cleaning during pet-shedding seasons, making it perfect for families with a pet and keeping your home spotless for the whole year.
BottomLine: Mobile app connectivity, yes. Both offer customized schedules but don't support specific room cleaning and clean reports like the high-end Irobot models.
Voice Control
Another cool feature in Roomba i3 and Roomba 981 is you can control them using your voice. With smart home assistants like Amazon Alexa or Google Home Assistant, you can pair them with the Roombas and start "shouting" your instructions away. Just speak, "Alexa, tell Roomba to start cleaning," and watch the i3 and 981 come to life and get working.
BottomLine: Both the models 981 and i3 are voice-controlled (Google Home and Alexa supported).
Conclusion
Key differences:
Carpet Boost Feature

: With 981, when a carpet is detected, it automatically raises the suction power for deeper cleaning. I3 lacks this.

Navigation System

: 981 is with a more advanced navigation system than i3.

Dust-bin size

: i3 is with 0.5L dustbin size, whereas 981 is with 0.3L size.

Self-emptying base

: i3 supports the self-emptying base (available separately), where 981 doesn't (Key difference).

Battery Life

: In a single run, 981 works for continuous 120 minutes, whereas i3 runs for 75 minutes (But as both the models are recharge-resume enabled, battery life is not a noted difference).
Speaking of the old times (two-three years back), 981 is like the expensive high-end model with more intelligent features and powerful suction ten times more than the basic Roomba model.
But slowly, Irobot decided that there is much more to focus on smart features other than the suction power. So these days, you are getting strong-suction robot vacuums with affordable price tags.
The recently released Roomba i3 is a clear example of that. Undoubtedly, with all the smart home required features, this Roomba model is the best choice for many.