Last Updated: May 10, 2020.
Are you looking for the best robot vacuum from the industry leader Irobot? Then:
No more research is needed to say.
That: Roomba 960 and 980 are some of the top priorities that deserved to be on your checkout list.
But there is a problem. What to go for (Roomba 960 OR Roomba 980)???
That is why we have created this "Roomba 960 vs. 980" comparison guide.
In this guide, we compared the two models with side by side comparison charts and, with key differences compiled in-depth, help you find the best Roomba for your home.
In a HURRY? If you are too busy so that you can't have enough time to read the entire article then here is the quick summary:
If cleaning carpets and rugs (exceptionally well) is your main concern, then Roomba 980 is the recommended one for you. (We don't recommend Roomba 980 NOW as it's costly and its higher-end model Roomba I7 became much more affordable compared to this model)
To say, we highly recommend not to waste your time and your extra bucks, go for Roomba 960. MOST RECOMMENDED FOR THE MOST. Check 960 price here.
Side-By-Side Comparison Chart :
Roomba 960 vs 980
You can quickly and easily compare the key differences between the Roomba 960 and the 980 using this comparison table:
| | | |
| --- | --- | --- |
| | Roomba 960 | Roomba 980 |
| Battery Life | 75 Minutes | 120 Minutes |
| Battery | Lithium-Ion | Lithium-Ion |
| Vacuum Suction | 5x Power | 10x Power |
| WI-FI connectivity | Yes | Yes |
| Carpet Boost Technology | No | Yes |
| Recharge & Resume | Yes | Yes |
| Navigation | Iadapt 2 | Iadapt 2 |
| HEPA Filter | Yes | Yes |
| Cliff Detection | Yes | Yes |
| Rollers | Brushless | Brushless |
| Edges & Corners Cleaning | Yes | Yes |
| Remote Control (Using App) | Yes | Yes |
| Accessories + Extra Filters | 1 Virtual Wall Barrier + 1 Extra Replacement Filter | 2 Virtual Wall Barrier + 1 Extra Replacement Filter |
| Price | Check on Amazon | Check on Amazon |
Key Differences between the Roomba 960 and 980:
On a full charge, the Roomba 960 runs for around 75 minutes (battery life), whereas the 980 runs for 120 minutes (battery life).
The Roomba 960 is with the same 800 series motor with

5x

?air power, while the 980 is armed with the advanced newer motor, with 10x more suction power.
Roomba 980 has an automatic carpet boost technology option, whereas the 960 does not.
Included Accessories: Roomba 980 comes with two virtual wall barriers, whereas the 960 comes with 1.
Features Comparison (In Brief)
1. Wi-Fi and App Connectivity (Smart Home Enabled)
Both Roomba 960 and 980 models have the same Irobot Home App. (With the identical features and user interface).
Note: For Multi-OS users, there are apps for both Android and IOS platforms.
The Best feature is the Wifi and App connectivity option for every robot vacuum. With the higher-end models like Roomba 960 and 980, you get Wi-fi and app support, so that you can control everything from your smartphone. Scheduling, Remote Cleaning, and changing any of the options all can be done with this app. Both 960 and 980 supports voice commands via Amazon Alexa and google assistant.
The app functionality is so cool. You can use the app to schedule cleanings, view logs, and change settings. And voice commands are used to start or stop cleaning, return the robot to its dock, and determine its status or location.
Using the app, you can make the robot vacuum run twice (or) thrice (or) more than that to make your home extra clean.
BottomLine: App functionality is the same for both the Roomba 960 and the 980.
Can You Use Roomba Without Wi-fi?
Yes.?We know how useless a question this is. Because this is the 21st century, Life is not possible without a High-Speed internet connection these days. But to surprise, this is one of the most asked questions by our visitors. That is why we included this. Here is the answer:
Roomba 960 and 980 work without a home wi-fi network. But most of the advanced user-convenient features like scheduling, customized preferences, Cleaned reports, performance mode, extra cleaning passes, etc., can't be used without an app and Internet (Wifi) connection. We strongly recommend making your home Wi-fi connected so that you can enjoy the best performance of these industry-leading Roomba models.
BottomLine: It wouldn't make sense to use a $$$ robot vacuum without Wi-Fi Connectivity, Right?
2. Battery Life Comparison:
Both Roomba 960 and 980 came up with the same Lithium-Ion Battery but with different charge capacities. Roomba 960 armed with the 2130 mAh Li-Ion battery runs over 75 minutes while the 980 is loaded with the 3000 mAh Li-Ion battery, which runs over 120 minutes (2 hours). One of the significant differences between 960 and 980.
Note: We know both 960 and 980 have a recharge and resume feature means when the battery gets drained out, the Roomba automatically recharges and continues with the job left to be done. So, to say, the battery life is not that much a vital difference to consider. However, for a larger house, Roomba 980 functions more economically.
BottomLine: Roomba 980 works longer (45 minutes) than Roomba 960.
3. Ease of Use and Maintenance
Keeping customers' needs and convenience in mind, Irobot is quite successful in designing 960 and 980. The massive cleaning buttons up top, and target clean buttons make these models easier for OneTouch use than previous Roomba models.
Speaking of the ease of maintenance, both these models came up with brushless rollers called aero force extractors that allows cleaning the floor to a great extent without those traditional brushes.
To say, this is the primary reason why we recommend 960 and 980 to the most, compared to the lower-end models. These brushless rollers require less maintenance. Like with the other lower-end models (i.e. 600, 700, and 800 series), you don't have to pick the dust and pet hair matted with the brushes.
And also, these tangle-free surface brushes work with dealing with all types of hair and ensure that the buildup of dirt will not damage the Roomba.
Maintenance Tips for Best Performance
Replace the HEPA Filter every three months. It makes sure your home is allergic-free.
Irobot advises emptying the dustbin when the app prompts. But we recommend emptying it after every use for the best performance.
Make sure your home is clutter-free. Replace all the path obstacles like cords, bar stools, etc., So that your Roomba doesn't have that 0.0001% probability of stuck out.
Bottom Line: Both are superior in terms of less maintenance needed. Both 960 and 980 models are designed to make your life easier.
4. Cleaning Power Comparison
No need to say that, suction and cleaning power will vary depending on what model of robot vacuum cleaner you go for with a variety of Roomba models available.
Considering the suction powers of these top-spec Roomba models, 960 and 980 costs the better part of the price. Roomba 960 uses the Aeroforce three-stage cleaning system, and the 980 uses the same cleaning system but with power boost mode.
Roomba 980 has a more powerful motor, which provides up to 10 times the air power and also automatically increases the performance of its 3rd generation motor on carpets and rugs.
Where the Roomba 960 features the same generation 2 motor as the old Roomba models provide up to 5 times the air power.
BottomLine: For standard floors like hardwood floors, the suction power difference between 960 and 980 is not at all a thing to check out. As both work identical. But to say, it is likely that the 980 will be a better buy for folks with lots of carpets in their homes.
5. For Pet Hair Cleaning
Both Roomba 960 and 980 are ideal for homes with pets and allergy sufferers. Both came up with:
HEPA Filter: Great for purifying the air.
Brushless Rollers: forget hair getting tangled inside the brushed dust extractors like with the older models.
But for homes with serious hair shedding pets, we recommend Roomba 980. It has 10x more potent suction, which helps the Roomba extract the pet hair to the maximum.
And also, the Roomba 980 has carpet boost technology with more suction force than regular floors allowing the Roomba to pluck the pet hair hidden deep inside the carpet more easily.
BottomLine: In this case, Roomba 980 beats Roomba 960.
6. Visual Mapping
Visual Mapping, what that means is both 960 and 980, have cameras and sensors such that they navigate by developing a map and then developing a cleaning routine, which is a very systematic, efficient, and very deliberate way of cleaning.
Older versions don't have this feature, whereas the older Roombas were more or less random in their approach to navigation. Simply, it makes the robot learn and adapt to your home as it goes to moves more effectively and efficiently.
Both models 960 and 980 came up with an up-top brand new camera that helps map your rooms, which keeps the Roomba from running full force into the objects.
BottomLine: 960 and 980 both have this feature built-in.
7. Multi-Room Navigation
As per Irobot, both these Roomba models 960 and 980 are designed to clean around 2000 square feet and more than that. With the help of armed visual mapping technology, both 960 and 980 are capable of cleaning multi rooms.
The only difference is time.
On average, talking about 960, the cleaning time for a 2000 square foot home was just under 3 hours total, including the charging time. Where the 980 takes much less time as its battery life is 45 minutes more than the 960.
BottomLine: Both can.
8. Recharge and Resume
"Set it to work, Forget it, and Let it CLEAN" – This is the main motto of robot vacuums. And to be honest, for the older Roomba models (800, 700, 600 series), some supervision is needed. But with these advanced models 960 and 980 (the big brothers), the motto got alive.
Speaking in detail if the Roomba (960 or 980) runs low on battery, it will go back, recharges itself, and vacuums the spot that is missed, ensuring that your entire house every square inch will be vacuumed everyday GUARANTEED.
To direct, this recharge and resume feature makes the Roomba completely independent, so that you do not have to worry about the recharging (i.e., plug-in, plug-out, and low battery issues) manually.
Bottom line: Both Roomba 960 and 980 came up with this feature.
9. Carpet Boost Technology
We all love to walk on a carpeted floor. At the same time, we all know that it is tough to clean the carpets. Especially if you are in the home with fuzzy pets, it is much more difficult. In that case, not all robot vacuums work like a pro. But Irobot has a solution for it.
Irobot released the Roomba 980 model, the only model with a carpet boost option.
Carpet Boost: Whenever the Roomba identifies the carpets. It automatically detects and shifts to the carpet boost mode for providing the best possible cleaning, vacuums with high power compared to a usual way.
It's a big deal for the carpet owners.
BottomLine: Roomba 980 beats Roomba 960 in this case. The 960 does not have a carpet boost option.
10. For Cleaning Hardwood Floors
If you have hardwood floors in your home, then this article will be your destination. The thing is it is easy to clean the hardwood floors as it is to clean the carpeted areas. And not all robot vacuums are best enough to pick up the dust and debris to the maximum extent.
Also, there is a huge chance of missing dust spots to be cleaned. But here is the good, worthy news for you: Both the Roomba 960 and 980 are mighty and brilliant, simply excels cleaning hardwood floors. Dirt, dust, and debris won't stand a chance against these powerful robot vacuum cleaners.
And also, keep in mind, if cleaning hardwood floors is the only criteria, then it is better not to go for 980 (As it saves $200 to you). The 980's Carpet boost option is also a useless feature for hardwood floor owners.
BottomLine: Both 960 and 980 are great working on hardwood floors.
11. Edges and Corners Cleaning Comparison
Every Roomba model will come up with side brushes that sweep all the corners, edges, and other hard-to-clean areas effectively.
To say, Roomba is round-shaped. Usually, D-shape-designed robot vacuums like Neato Botovac deliver better cleaning ability around edges and corners.
But no need to worry, Roomba's spinning side brushes will do the best work for you.
BottomLine: Every Roomba is identical to this feature.
12. Cliff Detection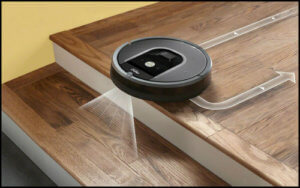 Another great feature of these Roomba vacuums is they know where the stairs are, which means on approach, it will stop itself from dumbling down.
The Cliff detecting sensors will prevent the Roomba from falling areas like stairs and other drop-offs.
Bottom line: All Roombas have this in common.
13. Included Accessories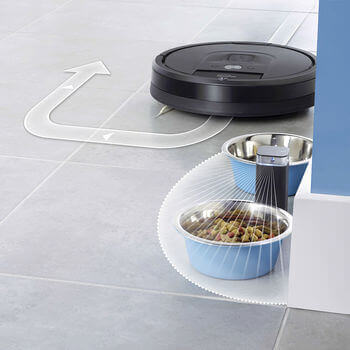 Both Roomba 960 and 980 came up with the virtual wall barriers; the number varies (Roomba 960: 1, Roomba 980: 2).
They have two modes.
One is the virtual wall mode. If you've got a room beating down the Roomba going into, put into that first mode, put it by the door of that room, and the Roomba will never go part of it.
And the second mode is a halo mode like a protective 2-foot radius mode. Talking about it, if you've got a valuable item (or) a place where you don't want to clean, put it into the second mode, and put it right where you want. Then you're safe in the knowledge knowing that the Roomba won't go within those two feet.
Bottom line: The Roomba 960 comes with only one virtual wall barrier, one less than the 980.
And also, for both, you will get one extra filter and one additional side brush.
What We Liked About the Roomba 960
Performance is nearly identical to its expensive brother Roomba 980.
It usually costs $200 cheaper than Roomba 980.
Wi-fi and App connectivity enabled (smart home connected).
Best powerful (5x more suction) Roomba with Google Assistant and Amazon Alexa Supported.
It requires less maintenance.
Overall positive reviews on Amazon.
What We Liked About the Roomba 980.
Running time (battery life) is 2 hours, 45 minutes more compared to the 960.
The only Roomba, not the only robot vacuum with a carpet boost option. It makes it the best buy for people with lots of carpets in their homes.
Roomba 980 comes with two virtual wall barriers, worth $50 each to buy separately.
Wi-fi and App connectivity enabled (smart home connected).
Easy to maintain and quieter compared to the Roomba 960.
Conclusion (What to Buy): Roomba 960 vs Roomba 980
Both models 960 and 980 have more standard and advanced features than any other robot vacuum on the market.
For the most, we highly recommend getting Roomba 960. As it works nearly identical to the Roomba 980 and also saves your hard-earned money, it is always the smart way of getting it Roomba 960 on Amazon.
And especially if you are in the house with hardwood floors, Roomba 980's carpet boost option and powerful motor (worth a few hundred dollars more) are entirely unworthy of cleaning. Merely the ideal choice for people with hardwood floors.