Do you want a clean residence? Yet, you are pushed for time and cannot do much about it? Still thinking where to start from, now that the weekend is nearby? Been there, done that, and it does not get old.
What if we told you there is a way out?
You must already have heard about the disc-like vacuum cleaners that can do a lot in your absence. Yes, in your absence and with a click of a button.
You can control from your office, while shopping, or simply while sipping a cuppa at a café!
What Are The Benefits? As mentioned, we will primarily focus on the advantages of bot vacuum cleaners in particular.
These cleaners are more than what they look like and are a workhorse of a unit. If you still think about why to invest in them, the following pointers will certainly help you.
Here are the benefits of using a Robot Vacuum Cleaner in detail:
Robot Vaccum Benefits
Efficient and Fast
There is no doubt that these are very efficient and fast.
The good thing about the technology of a robotic vacuum is that it gets updated, so it is quicker and more efficient. These gadgets can cover a massive area within a short time.
You also have to accept that people are busy with their professions, and cleaning a house takes time. Many working professionals do not have.
Note: Few advanced robot vacuums auto recharges, auto resumes, and auto empties as well—no human supervision.
The exceptional point is that you can program the device and do the job without any supervision, saving effort and time.
Time-Saving
With a busy schedule that most people have to keep up with these days, it is seldom an affair to clean the house. This is where a robotic vacuum can come in and save the day.
The machines are pretty quick and can cover vast areas of your living space.
They have very advanced sensors that guide the machine where to go. So, you moving around with the device is completely out of the picture.
All you have to do is switch the vacuum on before you leave home. You can relax while the vacuum does its job of cleaning.
After the vacuum goes through the entire cleaning program, it shuts down automatically. So, do consider buying this product if you are keen on saving time cleaning.
Small Compact & Easy to Store
Most of the robotic models are extremely small and lightweight, so once you finish. You can put it back in the box and store it. These are so lightweight that you can also carry them around.
These can also be used to clean swimming pool floors. So, you can also consider storing it in your garden shed with the rest of the tools.
Almost every robot vacuum in the market comes with a docking station for two objects – charging and storing.
Note: Few robots docks even support self-emptying.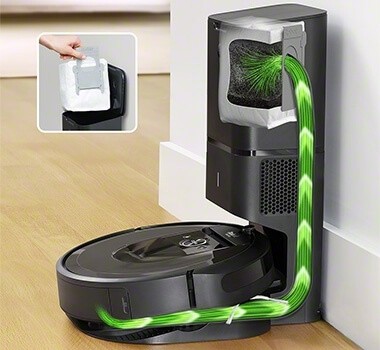 Some of the latest models come with covers for added protection; you can think about buying them. These are a much better option than the conventional vacuum cleaners found in the market.
Easy to Use
Suppose you have views about using this gadget because somebody told you they are complicated, well. In that case, this is the time to get rid of those apprehensions once and for all.
These gadgets are super easy to use. Nearly all of them come with a comprehensive manual that has all the instructions neatly arranged for you.
These gadgets do not need any installation; you can unbox them, and they are good to go. The machine will clean the whole space as per the program.
The more modern models have advanced features that let them change their settings depending on the surface that needs to be worked on.
Also, the updated versions have potent sensors that help the gadget navigate its way around. So if the vacuum moves close to the wall or stairs, it automatically changes its course.
These models also feature remote controls, so you do not have to keep moving around with the machine.
You can sit and relax and get the machine to do everything via remote control. So, you see that you can get the very best out of this technology quickly.
Low Maintenance
The remarkable thing about these devices is that they are very durable and hardy. To make sure that they last for a very long time, you should use them well.
The user manual has a complete section on how you should care for the machine.
Cleaning the brushes and filters regularly, replacing the filters and bag that collects dust regularly, and getting rid of hazard particles will ensure the vacuum lasts for a long time to come.
The robot vacuums do not require any other maintenance. Low maintenance is the biggest USP of the device.
Great for people with Mobility issues
This product is simply ideal for people who cannot move around too much or have specific health issues that restrict their movement.
If you are like that, then you should consider investing in these robot devices.
All you have to do is select a fitting program from its options and let the vacuum do its job. The controls on this gadget are pretty easy to understand, so you will not have a problem.
You do not have to supervise the machine while it vacuums the floors. This gadget will certainly make a great addition to any home as it makes the process of cleaning super easy.
And top robot manufacturers like iRobot come with much innovative technology that makes human guidance absolute zero.
Works on Different Surfaces
These gadgets are quite versatile, and they are manufactured in a way to work on different floors. So you can utilize irrespective of the floor surface.
Most of them have excellent sensors, so they automatically alter their settings depending on the surfaces.
Few robots have sensors that automatically sense the floor type and change its working mode for effective cleaning. And with some, you can change the way through the app based on the required suction.
You can use this to clean the floors of the swimming pool. You need to select a suitable program and let the machine do its thing.
There are some situations like thick carpets where only fewer robots are capable of cleaning.
Can Clean Challenging Areas Effortlessly
Since these gadgets are tiny, they can move around the room and furniture very well without any collision. So, they can also clean areas that a standard vacuum cleaner cannot reach into.
You can expect it to clean under particular furniture too that a conventional vacuum cleaner cannot.
These robotic vacuum cleaners also have specific attachments like side cleaning brush that help them reach difficult areas; these gadgets make such a fabulous addition to every home.
So do consider buying this incredible device and keep your home or office sparkling clean at all times. Most importantly, they are super quiet during any mode of operation.
Other Advanced Features
These fabulous gadgets can perform many tasks together, like:
Not only does a robot vacuum clean, but it can store a blueprint of the area. They certainly know their boundaries! So it can collect all the dust and then make its way to a charging dock.

Specific high-level models which have sensors can tell the difference between carpets and bare floors. Some of them change their settings automatically, but some of them need to be changed manually. You can download the app on your mobile device.

The programming of these devices allows them to clean the entire area systematically. So, every corner of the room is given a good cleaning. It can reach places that ordinary vacuum cleaners cannot. This is a huge USP of the device.

The good thing about these devices is that they can collect all kinds of dirt. These devices typically have good suction, so they can suck out all those layers of dust that have settled on your carpet for months.

The sensors in the gadget also indicate the intensity of cleaning that is needed in a particular area.
Disadvantages
As nothing is perfect, we can say the same about these robotic vacuum cleaners too. The fact that they cannot be utilized to clean a few surfaces makes it a predicament for people to invest in them.
Here is one such thing that we could think of:
Cannot Clean Stairs
The only downside of these gadgets is that they are not programmed to handle staircases. These have sensors that tell the device when a staircase is nearby.
So, when it comes close to one, it simply turns around and moves in the opposite direction. If you expect it to clean a staircase well, it cannot perform the job.
But there might be an answer for this as well. Leading vacuum manufacturer Dyson files a patent of robot that cleans stairs.
Conclusion
Other than that, the advantages of procuring a robotic vac outweigh its cons, making it a good buy.
That is very true, and you will see these are slowly gaining popularity owing to our hectic lifestyle. It is a boon, and soon this will be added to the must-have category of every household.
There is no point in thinking about the robot cleaners in tow. Just set the robot to work according to your needs and come back to a cleaner house! What is stopping you?
If you want to keep your home in top shape at all times, then buy these useful robot devices right away.
Useful Source: Robot Vacuum Buying Guide – What to Consider?