Updated: September 20, 2021.
Roborock S6 MaxV – released recently became quite popular in less time because of the advanced AI-based features and the highest suction power (2500 Pa) in the market.
What are its upgrades when compared to another top-of-line best-selling Roborock model S6?
Let's find out.
Key Differences:
| Roborock S6 | Roborock S6 MaxV |
| --- | --- |
| | |
| Suction Power: 2000Pa | Suction Power: 2500Pa |
| Battery Life: 150 mins | Battery Life: 180 mins |
| Intelligent Objects Recognition: No | Intelligent Objects Recognition: Yes |
| Multiple Maps Saving: Upto 3 Maps | Multiple Maps Saving: Upto 4 Maps |
| Mopping Technology: Advanced | Mopping Technology: More Advanced |
| Water Tank Capacity: 140ml | Water Tank Capacity: Approx 300ml |
| Check Price On Amazon | Check Price On Amazon |
Roborock S6

BottomLine: Considering significant differences, Roborock S6 MaxV is like all packed, advanced, efficient, and powerful model. If budget is not a problem, we recommend this. S6 MaxV is the best for you.

And for most small to medium-sized homes, S6 MaxV's advanced features are not necessary. Roborock S6 is a smart choice to go. S6's suction power (2000 Pa) and useful high-end features are good enough, to say.

If Roborock S6 is unavailable, go with the S6 Pure model (better than S6 with few improvements, available at a similar price).
We compiled everything like the key differences, similarities, faqs in detail. Want to know the differences and similarities without reading the whole article? Go through the comparison chart below:
Roborock S6 VS Roborock S6 MaxV – Full Comparison Chart
Here is the comparison table:
| | | |
| --- | --- | --- |
| | Roborock S6 | Roborock S6 MaxV |
| Height | 9.65 cm | 9.65 cm |
| Weight | 3.6 Kg | 3.7 Kg |
| Suction Power | 2000 Pa | 2500 Pa |
| LDS Navigation | Yes | Yes |
| Intelligent Objects Recognition | No | Yes |
| Multiple Floors (Maps Saving) | 3 Maps | 4 Maps |
| Selective Room Cleaning | Yes | Yes |
| Mopping System | Yes | Yes(Advanced) |
| Mopping Scheduling | No | Yes |
| Battery Life | 150 mins | 180 mins |
| Mapping | Yes | Yes |
| Washable HEPA filter | Yes | Yes |
| Auto Recharge | Yes | Yes |
| Auto Resume | Yes | Yes |
| Zone Cleaning | Yes | Yes |
| No Go Zones | Yes | Yes |
| Carpet Boost | Yes | Yes |
| Charging Time | 4 hours | 4 hours |
| Dustbin Size | 480 ml | 460 ml |
| Water Tank Capacity | 140 ml | 300 ml(Approx) |
| Four Cleaning Modes | Yes | Yes |
| App / Wifi Functionality | Yes | Yes (More App Controls) |
| Voice Commands (Amazon Alexa, Google Assistant Support | Yes | Yes |
| Release Date | May 2019 | April 2020 |
| Price | Check on Amazon | Check on Amazon |
The entire article is nothing, but the comparison chart is explained more thoroughly. Continue reading below:
Roborock S6 MaxV VS S6 – Similarities & Differences (In Brief)
Dimensions Comparison (Height & Weight)
The multi-purpose Roborock S6 is 9.65 cm tall and sharing the same properties as its counterpart, the Roborock S6 MaxV. Both robotic cleaners capably squeeze under your low-clearance furniture and remove dirt.
This comprehensive cleaning feature allows both Roborock's robots to get to the tiniest space in your home.
Roborock S6 weighs 3.6 kg, whereas its upgraded version, the S6 Max V, measures slightly heavier at 3.7 kg. Just short of 4 kg, carrying these robots between floors and from one to another is quite seamless.
Who has better suction power?
2000 Pa of Suction Pressure – S6
Roborock S6's powerful 2000 Pa suction pressure means only one thing the absence of dirt. Feel rejuvenated with a sparkling floor or dust-free carpet as the S6 does not leave behind trails.
A turbulent pressure is created underneath Roborock S6, which devours every speck of dirt on your brush and gets to the deepest region on your carpet. Roborock S6 absorbs even large debris like debris and accumulated pet hair.
2500 Pa on the S6 MaxV
With a tremendous and best-in-line upgrade, Roborock's S6 MaxV outputs a crazy 2500 Pa of pure pressure. The suction power is so strong that even tangled debris lodged deep inside your carpet is removed without a trace.
The S6 MaxV effortlessly cleans food crumbs, toddler specks, and tough stains on the floor in a single pass. What is more, you can easily manage spills or stubborn dirt by just assigning the S6 MaxV to clean using the intuitive app.
Who Operates Longer? – Battery Life (Run-Time) and Charging Time
Roborock S6's minimum battery life is 150 minutes. When configured to quiet mode, the robotic cleaner can work up to 180 minutes within a single charge.
Meanwhile, Roborock S6 MaxV starts off by giving you 180 minutes of uninterrupted cleaning or more with quiet mode.
Get more done using the S6 MaxV for the same amount of charging time and battery size, which is 4 hours and 5200 mAh, respectively.
Mapping Characteristics & Differences
LIDAR for the S6
Roborock S6 features a top-mounted laser module (LIDAR) for incredibly precise scanning of your home. With a 98% accuracy, the layout of the entire house is transferred using a Light Detection and Ranging (LIDAR) module to the Roborock HOME App.
Obstacles, furniture, and wall dimensions are remarkably captured by the high-precision lasers that also double as an anti-collision system for the S6.
Stereo Camera for the S6 MaxV
The incorporation of a Stereo Camera featured in the front of Roborock S6 MaxV notches up the mapping performance compared to all its predecessors. Two cameras see and precisely approximate the size and location of present obstacles.
Detailed 30 frames per second pictures are capture by the two cameras allowing seamless detection of small objects like toys, slippers, and sock in the S6 MaxV's path.
The mapped layout is then sent to the Roborock HOME app for various assignments.
How many maps can it save? – Multiple Floors Purpose
Roborock S6 saves three maps. That means if you have a bigger house or a multi-floor home, mapping them is a breeze, and you can individually customize cleaning schedules for each one of them.
Stepping up the game, you can save four maps in Roborock's S6 MaxV. Get every corner of your house and send the S6 MaxV for cleaning. Effective and Efficient Cleaning.
Navigation System Differences
LDS for S6
The S6 equips a rotating LIDAR module at the top of the robotic cleaner that continuously scans for ranging purposes. The Laser Distancing Sensor (LDS) system helps the S6 navigate your home efficiently and smartly.
No more mindless roaming and bumping into the wall as the S6 intelligently negotiates obstacles while traveling on a planned path.
ReactiveAI for S6 MaxV
The high-precision lasers on Roborock S6 MaxV adopt a comprehensive guidance algorithm for the robot. The LDS on Roborock S6 MaxV combined with a revolutionary Stereo Camera makes up the ReactiveAI, which sees objects along the robot's route and reconfigures a path around it all in real-time.
The ReactiveAI of the S6 MaxV detects even small objects like shoes and cables. What is more, the intelligent system can locate a common obstacle's size and position in your home.
There is no robotic cleaner that is smarter than Roborock S6 MaxV.
Sensors Comparison
Both Roborock S6 and Roborock S6 MaxV are equipped with precise sensors (14 of them) for guiding the robots while they clean. Instruments like an accelerometer, odometer, infra-red cliff sensors, and compass govern the motion of both the S6 and S6 Max V.
These and the laser sensors above the robot units guide both Roborock S6 and Roborock S6 MaxV without colliding with furniture or losing its path.
Stairs
While operating around stairs, the accurate cliff-sensors prevent the robotic cleaners from traversing too close and tumbling down.
How well they mop? – Mopping Comparison
Roborock S6
Roborock S6 does well mopping the floor immediately after vacuuming. A smart mopping technology regulates the amount of water dispensed to the mopping cloth depending on floor type or user configuration.
What is more interesting is you can drop in no-mop zones like the children's playroom using the Roborock HOME app. The mopping cloth included with the package does really well cleaning hard floors and removes stain effectively in one pass.
Roborock S6 MaxV addition to mopping
The S6 MaxV does everything the S6 is capable of. The wetness on the mopping cloth is evenly dispensed from the large water tank of the S6 MaxV.
With carpet detection technology, the smart robotic cleaner distinguishes standard hard surfaces from carpeted flooring and switches off mopping functionalities immediately upon detection.
On top of that, the S6 MaxV features a mopping scheduling function where you can set only mopping activity instead of both vacuuming and mopping. This efficient way allows you to clean a grimy kitchen floor without engaging the vacuuming operation.
Note: Roborock has base-line, affordable models which mop with good performance compared to other robot vacuum & mop combos at this range.
Objects Recognition (Intelligent Obstacle Avoidance)
Negotiating doorsills and obstructions up to 20 mm in height is no problem for both Roborock S6 and Roborock S6 MaxV. Stress not about your rugs and door platform in the way as the capable robotic cleaners easily cross them.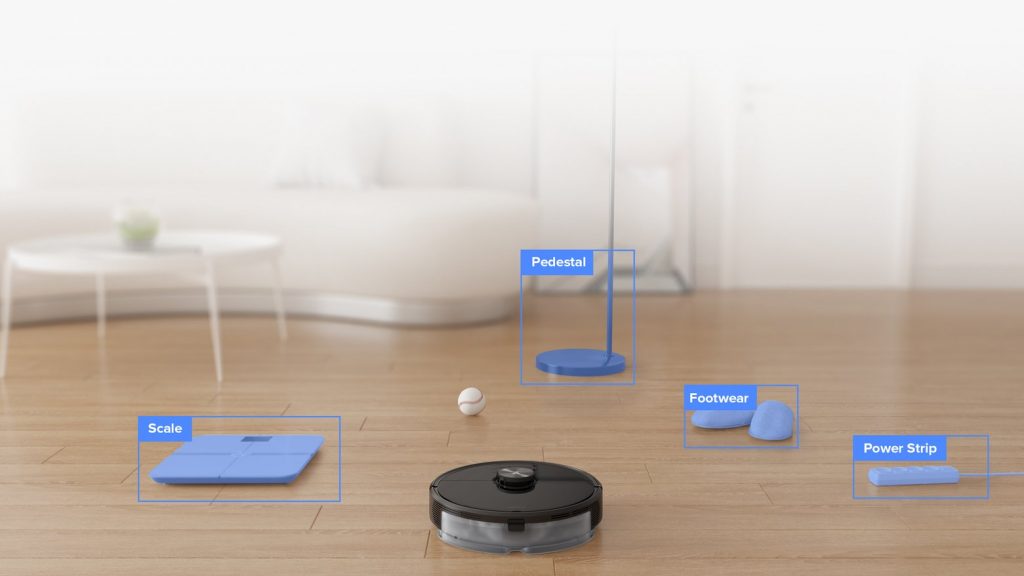 This is the advanced feature equipped with Roborock S6 MaxV models. Whenever the robot identifies objects on the path, it automatically checkouts its database of known things like cables, balls, food items, etc., and decides to reroute its cleaning path or not. So far, this is the only robot vacuum with this feature (AI-Based).
Dustbin & Water Tank Capacity Differences
Dustbin Size
Roborock S6 comes with a 480 ml dustbin that easily holds a decent quantity of rubbish. On the other hand, Roborock S6 MaxV is featured with a 460 ml dustbin and holds an almost equal amount of debris.
Water Tank Capacity
The mopping activity of Roborock S6 draws water from a 140 ml water tank embedded within the robot. The water volume is enough for gentle mopping a medium-sized house. Conversely, Roborock S6 MaxV equips a larger water tank with a rated volume of 300 ml. The S6 MaxV can clean more than half the space the S6 is capable of. Moreover, you do not need to refill the water tank regularly when mopping functionality is activated.
Which one is louder? – Noise levels
Quiet Mode & Balance Mode
Roborock S6 measures 55 dB when it cleans on quiet mode and 60 dB on balanced mode. That means you can still get about your daily activities without noisy interruptions.
Roborock S6 MaxV's acoustic measurements are identical to the S6. Your sleeping partner would not realize the robots passing next to them when they are working in quiet mode.
How much noise is too much?: For a vacuum cleaner, the max level is 70db. More than that, long exposure is not a healthy choice – Michigan Medicine.
Brushing Differences
Roborock S6
Roborock S6 is featured with a quick-release brush and redesigned with 250% more bristles means the floor is scrubbed more thoroughly, and carpets are cleaned intensely to remove dirt and hair.
What is more, the dynamic brush on the S6 spins at 1350 rpm to displace caked dust without leaving crumbs.
Furthermore, the side brushes on Roborock S6 are very capable sweepers, and they get every speck of dust and dirt on wall corners and edges. The dust is then pushed to the center of the suction path for absorption.
S6 MaxV's New Cleaning Brush
With the S6 MaxV, a new cleaning brush with similar 250% additional bristles work so well on hard surfaces yet do not scratch them.
The main brush agitates effectively to remove dirt, and the S6 MaxV's dynamic side brushes work wonderfully to sweep dust from wall edges.
HEPA filters – The better filter?
Roborock S6 and Roborock S6 MaxV are fitted with washable HEPA filters and E11 filters. Air that is exhausted from the robotic cleaners will be free of pollutants.
Moreover, the E11 filter captures allergens up to 0.3 microns and 95% of all contaminants. Whenever the robots get about the cleaning duties, you are ensured purer air quality when the cleaning is done.
Useful source (Is it good to Clean or Replace the filter?): How to clean HEPA filter? 
Cleaning Comparison – Zone Cleaning?
Zone cleaning is available in both Roborock S6 and Roborock S6 MaxV.
This feature allows you to configure the robot to clean specific zones by selecting them from the Roborock App.
Selective Room Cleaning
Furthermore, scheduling by room or room recognizing is another cool feature in both the robotic cleaners from Roborock.
This feature allows you to set a schedule for one or more particular rooms in your house.
Cleaning Modes
Silent, Standard, Strong, and Max are the four cleaning modes offered in Roborock S6 and Roborock S6 MaxV models.
The modes feature different pressure settings and mopping wetness of the robotic cleaners from Roborock. You can easily configure them using the Roborock HOME App.
Same app but different abilities
With the help of the Roborock HOME App, you can control, supervise, schedule, and organize the cleaning activities of both Roborock S6 and Roborock S6 MaxV.
You can simply schedule multiple cleaning sessions that are editable up to the pressure setting, mopping wetness, and repeat cleaning of the robots.
The difference with the S6 MaxV
With Roborock S6 MaxV, you can even set different suction and mopping intensities on different rooms of your house, not possible with Roborock S6.
With more flexibilities, Roborock S6 MaxV surpasses its predecessor by a mile.
Amazon Alexa & Google Assistant Support – Voice Commands
You can use voice commands to control Roborock S6 and Roborock S6 MaxV. The intelligent robots can be connected to Amazon Alexa and Google Assistant with ease, and all you have to do is command them.
Maintenance
Both the models are well designed keeping maintenance in mind:
Dustbins, water tanks, and dirt extractors all are easy to remove and replace makes the user experience a lot better compared to the worrisome robot vacuums, which take a lot of time and effort.
The HEPA filter which came up with these models is easily washable. No need for replacement.
The debris extractors which came equipped with both models are tangle-free. You need not worry about the hair tangling problem.
Everything the robot vacuum can do is controllable through the mobile app, even setting no-go zones.
FAQS
Are these Roborock models came with virtual barriers? (No go zones)
There is no virtual wall devices kind of things in Roborocks like with Irobot models, all you have to do is to tap the area you don't want to clean, select the zone on the high precision map in Roborock App installed on your smartphone. That's it.
Roborock starts its cleaning cycle and avoids cleaning that selected zone.
Are these models worth their premium price?
To say, it depends on your needs. S6 and S6 MaxV are definitely the top choices when you want that high-performance, all smart home-enabled advanced features.
But as I said, if you are in a small to medium-sized home and need a robot model that doesn't need to suction more, then going for lower ends is definitely a wise choice.
Where to buy and What is the warranty?
Roborock S6 MaxV and S6 both are available on so many shopping sites like Amazon, and others. Check the Roborock site for warranty information.
Conclusion – What is the BEST (Roborock S6 OR S6 MaxV)?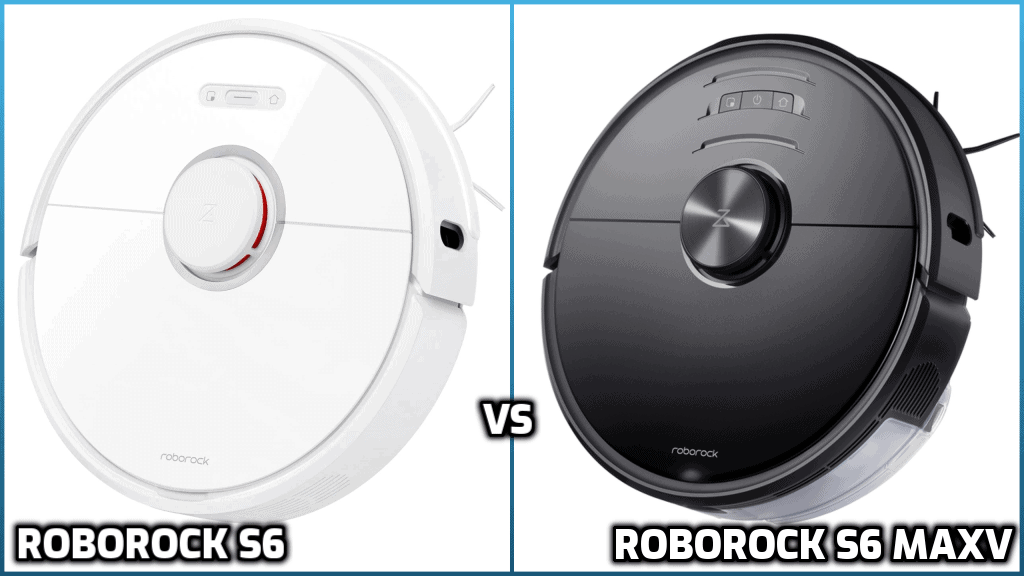 For Pet Hair Cleaning
No need to say that more excellent suction is needed for pet hair cleaning. Both these models are with top suction power. But what to pick?
It entirely depends on two factors:
Size of your house and Traffic in the house – For small to medium-sized homes with less shedding pets, Roborock S6 is a better choice.
And for large-sized homes (>250 m2) where pets shedding is a big problem and also concerned for carpets cleaning, then Roborock S6 MaxV is the ultimate option.
For Carpets, Hardwood floors Cleaning.
For carpets and hardwood floors cleaning, both the models are worthy of looking for as these are armed with the carpet boost system.
This automatically boosts up the suction power when a rug is detected and powerful suction navigates softly without leaving any scratches on hardwoods.
But what is the ideal option for you?
Roborock S6 – Roborock S6 is ideal for most households unless where there are lots of carpets to be cleaned and dirt and pet hair are a big problem in the house.