Updated: September 24, 2021.
Roborock S5 Max, S6 MaxV, both are newcomers with multiple high-level features.
But what are the differences? Roborock S5 Max OR S6 MaxV. Let's find out.
Before going for a detailed comparison, for people with less time or just stopped by to know the key differences, here is the quick summary:
| Roborock S5 Max | Roborock S6 MaxV |
| --- | --- |
| | |
| Suction Power: 2000Pa | Suction Power: 2500Pa |
| Navigation System: LDS | Navigation System: LDS + Stereo Camera |
| Intelligent Objects Recognition: No | Intelligent Objects Recognition: Yes |
| Water Tank Storage: 280ml | Water Tank Storage: 300ml |
| Check Price On Amazon | Check Price On Amazon |
Roborock S5 Max

BottomLine: If you are in a large-sized home and have no difficulty with the budget, S6 MaxV is the optimal pick for you.

And for small to medium-sized homes, S5 Max is the recommended choice. Its suction power of 2000Pa is more than adequate compared to the S6 MaxV 2500Pa.
Comparison Table Differences, Similarities (Everything)
| | | |
| --- | --- | --- |
| | Roborock S5 Max | Roborock S6 MaxV |
| Suction Power | 2000 Pa | 2500 Pa |
| Navigation System | LDS | LDS + Stereo Camera |
| Selective Room Cleaning | Yes | Yes |
| Mopping | Yes | Yes |
| Different Suction Setting & Cleaning Mode for Each Room | Yes | Yes |
| Multiple Floors (Maps Saving) | Yes (4 Maps) | Yes (4 Maps) |
| Battery Life | 180 mins | 180 mins |
| Dustbin Size | 460ml | 460ml |
| Water Tank Capacity | 280ml | 300ml (Approx) |
| HEPA filter | Washable | Washable |
| Zone Cleaning & No go Zones | Yes | Yes |
| No Mop Zones | Yes | Yes |
| Recharge – Recharge | Yes | Yes |
| Mobile App + Wifi Connectivity | Yes | Yes |
| Carpet Boost | Yes | Yes |
| Cleaning Modes | Silent, Standard, Strong, Max | Silent, Standard, Strong, Max |
| Voice Commands | Yes | Yes |
| Noise level (balanced mode) | 60 db | 64 db |
| App functionality | Yes | Yes |
| Wifi Connected | Yes | Yes |
| Mopping Schedule | Yes | Yes |
| Price | Check on Amazon | Check on Amazon |
Roborock S6 MaxV vs S5 Max Detailed
Comparing their physical properties (Dimensions)
Weight & Height
The multi-purpose cleaner, Roborock S5 Max weighs 3.5 kg, whereas its counterpart from the same manufacturer, Roborock S6 MaxV, sets the scales at 3.7 kg.
Both robotic cleaners can be carried easily between the rooms and floors in your house.
In terms of height, Roborock S5 Max and Roborock S6 MaxV each stand at 9.65 cm.
The main advantage of having not-so-tall robotic cleaners is getting them under low-clearance furniture.
Both Roborock S5 Max and Roborock S6 MaxV capably get beneath your living room coffee table and the short bench to clean dust and dirt effectively. 
Navigation Systems
LDS & LIDAR for S5 Max
A Laser Distancing Sensor (LDS) system is featured in Roborock S5 Max for precise path tracking and seamless navigation. The LIDAR module on the top of the S5 Max is capable of producing a very accurate map of the house.
It relays the information for unmatchable navigational performance.
The high-precision laser navigation of Roborock S5 Max allows the robot to follow a designated path that cleans your home in the most efficient routine. 
ReactiveAI for S6 MaxV
Using precise lasers and the innovative Stereo Camera, the navigation efficacy of the Roborock S6 MaxV is extraordinary.
While it deploys the LDS for ranging, the S6 MaxV relies on its Stereo Camera for path planning and mapping.
The LDS module and Stereo Camera make up the ReactiveAI of the S6 Max V that views objects in its path and negotiates them using real-time path alteration.
Roborock S6 MaxV is not only intelligent but also intuitive, allowing complete customization based on the rooms and floor plan.
Which is powerful? – Suctions
2000 Pa in Roborock S5 Max
The incredible suction pressure of the Roborock S5 Max contributes mainly to its vacuum system efficiency.
Whether on hard surfaces or carpeted flooring, the S5 Max removes every speck of dust without compromise. The turbulent suction pressure of Roborock S5 Max even lifts deeply lodged debris inside carpets that are probably there since day one.
Interestingly, you can regulate the pressure using the app in places where less pressure would suffice. Want light cleaning in the dining area? Just drop the pressure to 800 Pa utilizing the app, and the S5 Max will adhere dutifully.
2500 Pa in S6 MaxV
A massive upgrade in Roborock S6 MaxV yields an unbelievable 2500 Pa that dictates the robot's vacuum system. No visible debris, dust, or hair will be on your floors after the S6 MaxV makes a pass.
From toddler crumbs to food particles, deeply stuck rubbish to tangled hair lumps, Roborock S6 MaxV efficiently absorbs every fragment of it.
Similar to the S5 Max, you can use the Roborock app to control the suction pressure when sending the S6 MaxV to an area where only low-power vacuuming is needed. This carefree control makes using Roborock S6 MaxV a delightful experience.
Who is Better at Mopping?
Roborock S5 Max – Focus on Mopping
Compared to previous Roborock models, the S5 Max prioritizes mopping duties.
Even with dry or wet messes, the S5 Max does remarkably well with the various flow of water. It is configurable using the app.
The inclusion of a peristaltic pump governs the dispense of water on the microfiber cloth attached underneath the robot.
Roborock S5 Max easily cleans surfaces like tile and hardwood due to its reliable mopping feature.
Roborock S6 MaxV – Powerful Mopping
Roborock S6 MaxV mops in an efficient method similar but with better sensing technology compared to the S5 Max.
There is a mopping bracket detection sensor that identifies if the mopping cloth is attached, preventing involuntarily mopping activity.
With a large water tank, the S6 MaxV can mop a decently sized home at least once before the tank needs a refill.
Furthermore, complete customization is possible using the app, and you can set how you want each room to be cleaned and for how long.
For Multiple Floors – Who is Good?
Roborock S6 MaxV and S5 Max both support multiple maps (up to 4).
So for each floor, not like the random pattern they navigate considering its saved map making it more efficient when cleaning.
Also saves battery consumption makes it a better choice for large spaces. Both wins.
Differences in Operating Power
Roborock S5 Max is a multi-purpose cleaner that outputs 58 Watts from its 5200 mAh battery. Meanwhile, its counterpart, Roborock S6 MaxV, produces an operating power of 66 Watts with an identical battery capacity.
An innovative fan design, the Stereo Camera, and added multitasking functionalities of Roborock S6 MaxV contribute to the need for more power compared to the S5 Max.
Dustbin, Water Reservoir Storage Capacities
Roborock S5 Max stores dirt slurped in a large dustbin that capably holds up to 460 ml of rubbish.
Likewise, the S6 MaxV holds the same volume of trash in its integrated dustbin.
Both robotic cleaners can still exert maximum suction pressures even if their dustbins are full.
The in-built reservoir in Roborock S5 Max holds 290 ml of water at one time. It gently mops a medium-sized home without needing to refill the water tank.
Equally, Roborock S6 MaxV mops your house while drawing water from its 300 ml water containment unit. An indicator lights up in the app when water reaches a low level, which is a smart way to keep you informed.
Cleaning & Mopping Area Comparison (Sq.ft)
Roborock S5 Max sweeps and vacuums an estimated area of 250 m2 in a single charge where else the Roborock S6 MaxV achieves a larger location at 300 m2 with matching battery capacity.
In terms of mopping area efficiency, Roborock S5 Max and Roborock S6 MaxV skillfully mop an area of 250 m2 with a filled water tank.
You can forget about continually restocking water as most of the time, both the robotic cleaners achieve cleaning one floor within the tank's capacity.
HEPA filters?
Roborock S5 Max and Roborock S6 MaxV are featured with a HEPA filter that sits behind the dust cup. Allergens and dust particles are effectively screened and trapped by the filter.
What is more interesting, you can easily clean this filter without having to replace it when dirty or worn.
On top of that, both robots equip an E11 filter that captures allergens as small as 0.3 microns, allowing a dust-free environment and cleaner air in your home.
Runtime & Battery Dissimilarities
Roborock S5 Max and Roborock S6 MaxV clean continuously for three hours before they need to be charged.
Both robotic cleaners can clean your entire home within a single charge unless you have a large house.
If cleaning is interrupted midway, Roborock S5 Max and Roborock S6 MaxV intelligently dock themselves for recharging.
When enough battery power is stored, they travel back to where they had left off and completed the tasks.
Battery Capacity
The batteries in Roborock S5 Max and Roborock S6 MaxV are rated at 5200 mAh. The large batteries drive the robots to perform various duties, including vacuuming, mopping, and mapping.
Comparing their technologies
Laser-Guided AI vs AI Obstacle Recognition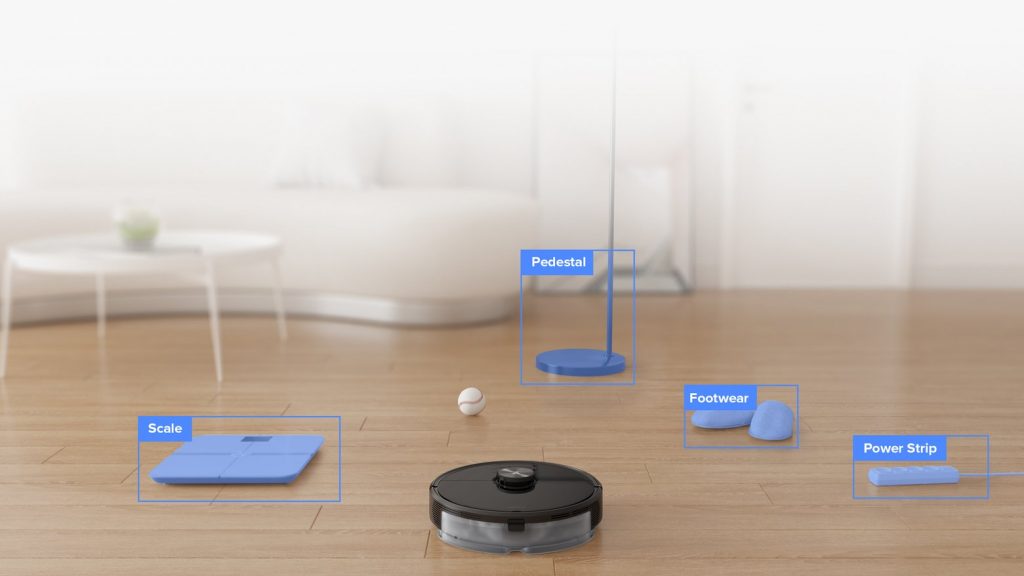 Roborock S5 Max deploys an AI-guided laser ranging system to calculate its cleaning path. Moreover, accurate laser scans help the robot to negotiate obstacles that come in the way.
Conversely, Roborock S6 MaxV uses lasers and its Stereo Camera to see precisely the size and location of current barriers. Its cleaning path is then altered in real-time to move around the obstacles like slippers and small toys.
Multi-level & Real-Time Mapping
Roborock S5 Max and Roborock S6 MaxV support multi-floor mapping and can store up to 4 floors. The saved maps are viewable from the Roborock Home App. Another similarity is both the robots use real-time mapping. It means the layout of your home is simultaneously built when the Roborock S5 Max and Roborock S6 MaxV are navigating.
Customizable Room Water Volume & Suction Power
Another exciting feature is you can customize the water volume for mopping and the suction pressure for vacuuming in both Roborock S5 Max and S6 MaxV models.
Comparing Their Sensors
Roborock S5 Max has an array of 13 sensors to guide the robot in navigation, climbing, balance, water and vacuum pressure regulation, infrared carpet detection, and others.
The S6 MaxV, on the other hand, has 14 sensors to govern its operation. It has all the sensors on the S5 Max with an additional wall sensor. In that sense, Roborock S6 MaxV does much better.
Wall Sensor
Roborock S6 MaxV equips high-precision wall sensors to guide the robot when traveling along with walls. Unfortunately, this advantage is missing in Roborock S5 Max. 
Roborock S5 Max and Roborock S6 MaxV climb obstacles up to 20 mm.
This means, even if you have slightly tall doorsills and thick rugs, both the robotic cleaners will easily negotiate them without difficulties.
Noise
Roborock S5 Max works at only 60 dB at balanced mode, whereas Roborock S6 MaxV measures 64 dB during its operation. Although there is no elaborate difference between them, the S5 Max does sound quieter.
Zone Cleaning & Selective Room cleaning
Zone cleaning and scheduling by room features are the same for both the Roborock S5 Max and Roborock S6 MaxV. Furthermore.
You can even schedule a mopping operation with both the robots.
Both robots use a dynamic z-shaped cleaning pattern when navigating your home, resulting in quicker and more efficient cleaning.
Different Suction and mode (4 modes) for selective rooms
Not just selective room cleaning, both the robot vacuums Roborock S6 MaxV and S5 max offers different suction and cleaning mode setting, which is an advanced feature not available with other roborock models.
Carpet Pressurization Mode
When a carpet is detected, Roborock S5 Max and Roborock S6 MaxV will engage higher suction pressure for thorough cleaning of stubborn dirt.
If mopping activity was ongoing, the robots immediately stop and proficiently get around the carpeted areas.
Maintenance
There are a few things which tell you everything about the maintenance.
Every function of the robot vacuum can be controlled all by the roborock app.
Dustbins, water tanks, debris extracting brushes, filters are easy to remove and rearrange. And the filters which came equipped are easily washable. As the brushes are tangle-free, you need not bother about the trapped hair inside the brush.
Robots with auto-recharge, recharge and resume feature outfitted.
Roborock Home App (Wifi functionality)
The Roborock HOME App is the platform for Roborock S5 Max and Roborock S6 MaxV.
You can easily set schedules, monitor cleaning, and check the statuses of the filters and brushes from the app.
On Roborock S6 MaxV, you can individually choose the suction pressure and mopping wetness for different rooms.
Do they support voice-based commands?
Roborock S5 Max and Roborock S6 MaxV are compatible with Google Home and Amazon Alexa, allowing complete hands-free and automated cleaning.
Some key features of these models
Spring Loaded Mopping
Roborock S5 Max and Roborock S6 MaxV are designed with a spring-loaded device integrated into their bodies.
The design ensures a constant pressure is distributed on the mopping cloth, so it stays in touch with different hard surfaces when mopping is done. 
Electronic Water Tank
On Roborock S5 Max and Roborock S6 MaxV, water is dispensed using calculated trickles and from an electronic water tank that is integrated into the robots.
What is more, you can easily control the wetness amount based on diverse hard surfaces in your home.
Floating & Detachable Main Brush
The main brush of Roborock S5 Max and Roborock S6 MaxV are the same type.
To get across different floorings, the main brush "suspends" underneath the robotic cleaners to get every speck of dirt from carpets and hard floors.
Moreover, the main brush is detachable and can be cleaned easily with running tap water.
Dynamic Speed Side Brushes
The new side brushes on Roborock S5 Max and Roborock S6 MaxV do away with bristles and have complete rubber construction.
The durable sweepers get dirt and dust from wall edges and corners into the suction paths of the robotic cleaners. 
Drawer Design for the Mop Panel
In Roborock S6 MaxV, the unique drawer design of the mop panel allows quick and easy installation without needing to dismantle the water tank. This feature is not available with Roborock S5 Max.
Conclusion
If anyone is watching for the best advanced, effective, and capable robot vacuums (that mops as well), these two are our top recommendations.
For Pet hairs, Carpets, Hardwood floors Cleaning, Large houses.
Both the roborock models are capable of cleaning large spaces and with multi-floor support.
Taking all the differences into count, there are very few matters in terms of overall performance. The suction power and the new advanced object recognition feature with Roborock S6 MaxV.
So if you are solely looking for pet hair and carpets cleaning, Roborock S6 MaxV's suction power (2500 Pa) will help.
But for most of the households, the 2500 Pa suction power is not required. We recommend Roborock S5 Max (saves extra bucks).
It works great on all types of floors and surfaces and nearly as advanced as the S6 MaxV. 
But if you want all types of bells and whistles and don't have any problem with the expensive price tag, go for Roborock S6 MaxV.