Today we compare two of the top-level Roborock models – Q5 Plus and S7 Plus.
One only vacuums. Other vacuums + mops.
Let's see the main differences:
Roborock S7+

If mopping is not on your requirement list, save your hard-earned money. Get Roborock Q5+.
Roborock Q5+ vs. Roborock S7+ – Comparison Table
| | | |
| --- | --- | --- |
| | Roborock Q5+ | Roborock S7+ |
| Weight | 7.05 lbs | 10.3 lbs |
| Height | 9.62 cm | 9.65 cm |
| Mopping | No | Yes |
| Mopping Scheduling | No | Yes |
| No Mop Zones | No | Yes |
| Water Tank Capacity | – | 300 ml |
| Suction Power | 2700 Pa | 2500 Pa |
| Mapping | Real-Time + 3D | Real-Time |
| Multiple Maps | Up to 4 | Up to 4 |
| Self-emptying | Yes | Yes |
| Battery life | 180 mins(max) | 180 mins(max) |
| Battery Capacity | 5,200 mAh | 5,200 mAh |
| Recharge & Resume | Yes | Yes |
| Navigation | LiDAR + SLAM | LiDAR + SLAM |
| Carpet Boost | Yes | Yes |
| Dustbin Capacity | 470 ml | 470 ml |
| No-Go Zones | Yes | Yes |
| E11 Filters | Yes | Yes |
| Washable Filters | Yes | Yes |
| Specific Room Cleaning | Yes | Yes |
| Voice Commands | Yes | Yes |
| App & Wifi Connectivity | Yes | Yes |
| Over the-Air Updates | Yes | Yes |
| Voice Packs | Yes | Yes |
| Personalized Cleaning Recommendations | Yes | Yes |
| Do Not Disturb Feature | Yes | Yes |
| Price | Check on Amazon | Check on Amazon |
Differences
Dimensions (Height & Weight)
At 10.3 lbs, Roborock S7+ is a hefty robot cleaner.
There is a valid reason for that weightiness – S7+ is a multiple-purpose cleaner (vacuums and mops). 
Meanwhile, the Roborock Q5+ weighs around only 7.05 lbs – because of this less weight, you can painlessly relocate the robots when (if) they get stuck or when you need to move them between the floors.
At 9.65 cm and 9.62 cm, Roborock S7+ and Roborock Q5+ are decently tall robotic cleaners.
But that does not prevent them from moving under low-clearance furniture like the coffee table and sofa in your living room.
With their just-nice sizes, the robots squeeze through and get to every speck of dust.
Mopping Functionality
Mopping operation is equipped in Roborock S7+ robot vacuum, not in the Roborock Q5+.
Q5+ is a complete robot vacuum cleaner. S7+ vacuums and mops one after other.
After vacuuming with a strong suction force, the robot gently wipes the hard floors with a moistened microfiber mopping cloth that picks up residual dust post-vacuuming.
Roborock S7+ is with sonic mopping technology that allows the robot to scrub surface 3000 times per minute (i.e. 50 times every second). And with each scrub, there will be 600g of harsh mopping pressure.
As a result, you end up with a sparkling floor – the best part is you can feel the floor with your hand, and voila!
No more dust and stains.
And with the S7+, there is no need to set separate mopping dampness because the robots intelligently distinguish a tile floor from hard surfaces and automatically deploy the mopping model.
And with this high-end Roborock model S7+, you can control the water flow to the mopping pad using an in-built switch within the robot body or through the app.
Mopping Scheduling?
With Roborock S7+, you can schedule the mopping process. Period.
Carpet in the path?
Think nothing of it.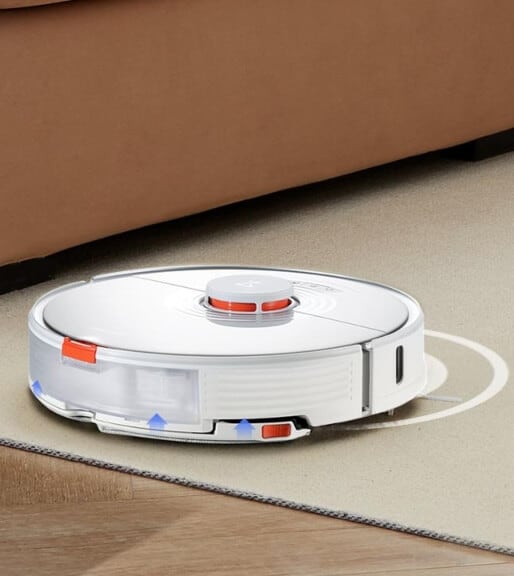 Roborock S7 Plus is with automatic mop lifting feature whenever a carpet is in its path.
And the mop bottom gets back when it is on hard floors.
No-Mop zones?
Yes, but only on Roborock S7+. 
When mopping mode is enabled, you can restrict the S7+ robot vacuum from entering a zone you had created from the app. 
This feature is not possible with Roborock Q5+ as it only vacuums – you can use no-go lines to block off the same zone if you do not want to vacuum there.
Drawback: With S7+, when you select a specific zone to restrict mopping, the robot also stops vacuuming in that zone.
Water Tank Capacities
The water tank in Roborock S7+ stores 300 ml of water for mopping, whereas there is no reservoir in Roborock Q5+ as it is not with that functionality.
The robot S7+ can mop the entire house at least once without reloading the tanks.
Moreover, the water tank doesn't rely on gravity to dispense water on the mopping pad.
It is electronic, and you can control it.
Suction Power Differences
Roborock Q5+ and Roborock S7+ are nearly on the same level as their vacuum pressure – a staggering 2700Pa (Q5+) and 2500Pa (S7+).
Q5 Plus is like a full-packed force for fierce cleaning. 
And to state the fact, 200Pa will not make much distinction unless you are in a large-sized house.
And talking it about, even the tiniest stain on hard floors (with S7+ as it mops) and most bottomless dirt within carpets are drawn by the aggressive suction forces of the S7+ and the Q5+ models. 
Fret not about food crumbs, cat litter, or even dried mud prints – Roborock S7+ and Roborock Q5+ have the suction force to lift all of them.
What makes them more impressive is you can modify the vacuum powers using the app alone when the robots are cleaning.
Mapping Technology
The LDS in Roborock S7+ and Roborock Q5+ guide the robots to navigate while mapping is done. 
Featuring a LiDAR module, generally found in aero-technology, the robots are subjected to a thorough mapping of your home using the lasers.
The size, shape, and obstacles in your room are registered while mapping.
On Roborock Q5+, things shifted ahead. Q5 Plus is with a 3D Mapping feature that produces the mapped output in the 3D form in the app, which helps guide the robot vacuum a lot. Also, you can add obstacles virtually through that 3D map.
Multiple Maps? Both the models save up to four maps.
Similarities
Self-Emptying
Roborock Q5+ and Roborock S7+ both are with self-cleaning dock stations. To remind, "+" suggests they are self-emptying models.
Whenever the dustbin gets filled, the robots navigate to the dock station and unload the dirt into the station's airbag.
The Q5 Plus airbag holds up to seven weeks of dust for a normal-sized home, whereas the S7+ robot vacuum holds up to 60 days of dust.
We call it hands-free cleaning.
If you are not in favor of the self-emptying option, go with the non-self-emptying variants Roborock Q5 and S7.
Battery life
In quiet mode, the robot models Roborock Q5+ and Roborock S7+ clean your home for 3 hours (max) without needing to recharge themselves.
And in normal modes, they stand together – their battery lives depend on a few aspects like your home environment, etc.
What happens when the battery reaches down while cleaning?
The robots will automatically navigate to the docking stations to recharge.
Generally, the fully-charged 5,200 mAh lithium-ion battery in the S7 Plus and Q5 Plus is enough to vacuum and mop your entire home. 
In the event, if their battery becomes low midway through cleaning, Roborock Q5+ and Roborock S7+ know how to return to their bases and perform top-up charging.
After recharge, the robotic cleaners will return to the exact spot they had left and continue cleaning – the job will be complete without leaving any tiny space.
Navigation – LiDAR + SLAM
Roborock Q5+ and Roborock S7+ feature a strong laser tower on top of their bodies that continuously scan your home with up to 2 cm accuracy while building a high-precise map.
Not only that, but the lasers also guide the robots, so they navigate across uncharted spaces in your house.
Both the Roborock models deploy a unique technology called Adaptive Route Algorithm before navigating your home. 
Based on your room's dimensions and obstacles present, the Roborock will calculate the most effective cleaning path.
When the mapping is finished, you can access the high-precision map of your home from the Roborock Home App.
Carpet Boost
The carpet boost feature on Roborock Q5 Plus and Roborock S7 Plus allows ultimate suction force to be engaged when the robots steer over carpets. 
While the S7+ and Q5+ are still vacuuming the carpet, the maximum suction pressure is maintained.
In this case, 2700 Pa for Roborock Q5+ and 2500Pa for Roborock S7+.
Interestingly when a hard surface is detected, both robots will revert to their configured suction intensity.
Dustbin Capacities
The dustbins in Roborock S7+ and Q5+ can store up to 470 ml of dirt.
Washable bins?
After a few rounds of cleaning, you can empty the bins manually and give them a quick wash under running tap water.
When dried, just fit the bin compartments back.
That is it.
As simple as that. 
No-Go Zones?
With Roborock Q5+ and Roborock S7+, you can specify various zones for cleaning.
Say you have a zone selected in the bedroom and another region near the porch – the robots will tend to them individually and alert you when cleaning is completed.
With Roborock Q5 Plus and Roborock S7 Plus, dropping virtual walls is effortless.
Whenever you need to block off a room or space, use the app to set the virtual boundaries, and the robots will not enter the zones. 
It becomes very advantageous when you need to block the robots from coming into the kitchen while you are cooking. 
Filters
Roborock Q5+ and S7+ models are with multi-stage filtration systems.
Both filters in the robots trap allergens as tiny as 0.3 microns and fine dust.
Furthermore, the E11 filter in the S7+ and Q5+ is entirely washable, so you do not need to bother about a replacement when the filter gets messy. 
Directly run it under tap water and give a few gentle scrubs to clean it.
How good are their brushes?
Roborock S7+ features a rolling brush with 250% more bristles.
The durable brushes scrub the dirt off the hard floor but keep the surface scratch-less.
On Roborock Q5+, there is the multi-plane floating main brush.
Even to uneven floors, tile floors to carpets, the cleaning brush stays nearer to whatever the surface it is to secure flawless cleaning.
It lifts dirt effortlessly from carpets and hard floors – ensures every last dust is pushed into the vacuum chamber. 
And not to forget, the side brushes on Roborock S7+ and Roborock Q5+ capably sweep dust from wall corners into the suction paths of the robots.
Specified Room Cleaning
From the Mi Home App and Roborock Home App, you can select any room or multiple rooms you want Roborock Q5 Plus and Roborock S7 Plus to clean. 
Just need the kitchen and living room to be more organized?
Choose them from the apps and launch the robots while you take a seat and relax.
Maintenance is simple
From the Mi Home App and Roborock Home App, you can view the conditions of the brushes, filters, and sensors of the Roborock Q5+ and S7+ robot vacuums. 
The apps tell you when to replace the brushes or if it is time to wipe the sensors. 
If too much hair is tangled on the brushes, you can use the removal tool that came along and clean the brush very easily.
You can even give the brushes and the bins a quick rinse before fitting them again into the robots.
App & Wifi Connectivity
There is an app called Roborock Home app that you need to install available separately for android and ios devices.
With the app, you can do everything. Set no-go zones, virtual walls, cleaning schedules, get personalized cleaning recommendations, maintenance, adjust suction power, and each thing the robot can do.
Connect Roborock Q5+ and S7+ to your home Wi-Fi network and start taking over the robots. 
You can remotely operate them, make firmware upgrades, read the user manuals, and set cleaning sessions.
Moreover, since both robots support smart home devices, you can connect them to Google Assistant and Amazon Alexa over Wi-Fi.
After that, throw some voice commands and watch how the S7+ and the Q5+ get to work.
Over-the-Air OS updates
The Operating System (OS) in Roborock Q5 Plus and Roborock S7 Plus need to be upgraded sometimes to guarantee the performance of the robots. 
Happily for the duo, an over-the-air upgrade is achievable. 
You do not need any tangling cables and computers for the update – connect the S7+ and Q5+ to your home network and execute the upgrade in the most suitable method.
Selection of Voice Packs
Roborock S7+ and Roborock Q5+ feature languages other than English like French, German, Spanish, and a collection of Chinese voice packs.
The robots are more versatile and tend to your commands in the language of your choice. Check here for the list of langauges.
Do Not Disturb Feature
You can enable the Do Not Disturb mode on these Roborock models.
It helps to prevent the robot from beginning a cleaning session or giving you voice updates.
The robots will hibernate as you enjoy a night of proper sleep.
FAQS
Do these Roborocks avoid stairs and collisions?
Yes. They do.
Two of these robot vacuums with anti-collision and cliff sensors – prevent the robot from dropping off the stairs or colliding with any objects in your house.
What about the thick carpets?
Going over small obstacles like doorsills and troublesome things like thick rugs is not an issue for these Roborock models – Q5+ and S7+.
Both the robots can climb over barriers of 2 cm because of their retracting wheels.
Summary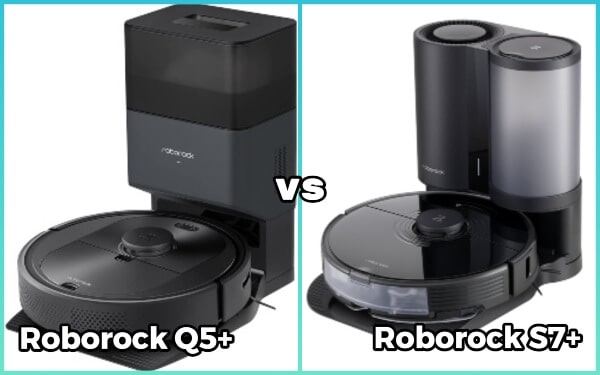 Straightforward. Both are most promising in what they do.
If skimming for a robot vacuum mop combo, S7 Plus is a prominent pick. Q5 Plus is the finest if you want a flawless robot vacuum.