Roborock Q5 Plus and Roborock Q7 Plus.
These two are the biggest names in Roborock's product line-up.
Which should you choose?
Let's uncover (with key differences first):
Roborock Q5 Plus vs Q7 Plus – Comparison Chart
| | | |
| --- | --- | --- |
| | Roborock Q5+ | Roborock Q7+ |
| Weight | 7.05 lbs | 7.50 lbs |
| Height | 9.62 cm | 9.65 cm |
| Colors Available | Black | Black & White |
| Mopping | No | Yes |
| Water Tank Capacity | – | 180 ml |
| E11 Filters | Yes | Yes |
| Suction Power | 2700 Pa | 2700 Pa |
| Carpet Boost | Yes | Yes |
| Navigation | PreciSense Precision LiDAR | PreciSense Precision LiDAR |
| 3D Mapping | Yes | Yes |
| Multiple Floors | Yes | Yes |
| Multi-level Maps | Saves Up to 4 Maps | Saves Up to 4 Maps |
| Run Time | 180 mins | 180 mins |
| Battery Capacity | 5200 mAh | 5200 mAh |
| Auto Recharge | Yes | Yes |
| Auto Resume | Yes | Yes |
| Wifi + App Connectivity | Yes | Yes |
| Voice Commands | Yes | Yes |
| Dustbin Capacity | 470 ml | 750 ml |
| Washable Dustbin | Yes | Yes |
| Self-cleaning Dock | Yes | Yes |
| Zone Cleaning | Yes | Yes |
| No-Go Zones | Yes | Yes |
| Invisible Walls | Yes | Yes |
| Anti-tangle Rubber Brushes | Yes | Yes |
| Custom Cleaning Routines | Yes | Yes |
| Room based cleaning | Yes | Yes |
| Area Coverage (single run) | 3000 sqft(approx) | 3000 sqft(approx) |
| Price | Check on Amazon | Check on Amazon |
Roborock Q5+ vs Q7+ – Comparison (In-depth)
Weight & Height
The weight difference between Roborock Q5+ and Roborock Q7+ is not that noticeable.
The former weighs around 7.05 lbs, whereas the latter steps barely more at 7.50 kg.
Both robots can be easily transported and moved between the rooms, given their compact sizes.
Heights, Roborock Q5+ measures 9.62 cm while the Q7+ squeezes about 0.03 mm more at 9.65 cm.
Their flawless heights allow the robotic cleaners to reach under low clearance furniture like the living room coffee table and sofas.
Not only that but also hard-to-reach areas are accessible by both robots for an even more thorough cleaning, appreciation to their convenient sizes.
Mopping Function
As a multi-purpose cleaner, Roborock Q7+ mops hard floors simultaneously with the vacuuming procedure.
This methodical approach guarantees dust, tough dirt, and stains are cleaned fast by the Q7+ in just one pass.
In a single run, Roborock Q7 Plus mops closely around 1600 sqft.
Moreover, the intelligent cleaner identifies carpets from hard floors and disengages its mopping operation the moment a rug is detected.
While mopping your hard floors, the Q7+ knows how much water to use because of its peristaltic pump that dispenses water like an IV line.
And, Roborock Q7+ also knows where it has been while mopping and turns off water dispensing when going over the same path again.
In Roborock low-level mopping models, regulating water that is dispensed onto the mopping pad is done using a switch.
In contrast, on Roborock Q7+, you can adjust mopping wetness from the app itself.
On Roborock Q5+, there is no mopping functionality like the Q7 Plus model.
Therefore, the Q7+ is a more suitable model – if mopping is in need.
Water Tank Capacity
The water tank in Roborock Q7+ can contain 180 ml of water.
Given its smaller tank size, Roborock Q7+ can mop the entire house only once and will need a refill before mopping again.
Having a big water tank allows mopping of your house a couple of times before refilling is needed.
That is not a problem if your space is near or less than 2000 sqft.
In contrast, there is no tank in Roborock Q5+ as it only vacuums.
E11 Filter that is washable
The E11 filters in these Roborock models entrap allergens and fine dust in the air driving your residence pollutant-free.
Moreover, you can easily detach the filter and give a thorough rinse under running tap water to clean it or when maintenance is due.
It assures the E11 filter has a longer life and saves you money from buying a new filter each time the filter is shabby.
Suction Power Comparison
The Q7+ and Q5+ both output 2700 Pa of suction pressure in maximum mode.
Every pinch of dust from the hard floor and deeply-lodged dirt within carpets stand no luck in front of the suction prowess of both robots.
When these models travel over carpets, suction raises to their maximum, which is discussed next in this comparison.
What is more convenient is you can regulate the suction pressure of the robots from the Roborock Home app.
Carpet Boost Feature
With an automatic carpet boost option, Roborock Q5+ and Roborock Q7+ will maximize their suction pressure when they get over carpets.
Results – every inch of the carpet is thoroughly vacuumed, which provides deep intense carpet cleaning.
When the hard floor is detected again, the Q5+ and Q7+ will return to their configured suction pressure.
Everything is automated – you ought not to assign anything to it. The sensors system does all these astonishments when sweeping.
Navigation
Both robots feature a PreciSense Precision LiDAR system for accurate navigation. Roborock Q5+ and Q7+ move around your house only in an organized manner.
In the case of having multiple floors, recharging the robots is required.
The adaptive route algorithm in these models governs the robot's travel path, so it is accurate and pre-determined.
The algorithm analyzes the shape and size of the rooms and produces the most efficient way for these models.
A laser turret is on the top of Roborock Q5+ and Roborock Q7+ for mapping and navigation purposes. The accurate lasers from the tower measure the distance between obstacles and the robots resulting in seamless navigation.
More interestingly, when a new obstruction drops in the robot's path, the cleaning path will alter in real-time to negotiate the obstacle.
3D Mapping
The prominent feature of Roborock Q5+ and Roborock Q7+ is their mapping proficiency using an LDS and LiDAR module.
While navigating your home, the LiDAR module produces a high-precision map as these models move around your home.
Information from the LDS and LiDAR gets registered on the map. You will find that perfectly built map accessible in the app.
Here there is a new feature with both models, which is not in lower-level models – the 3D Mapping.
When the robots conduct the mapping process, they deliver the map output in a 3D format in the app.
Not everything fancy also helps in adding objects to the map. So the robot knows where to traverse and what to avoid.
Multiple Floors – Multilevel Mapping
You do not think much about it.
Two of these Roborock models save up to four multi-floor maps.
The multiple maps are worth it for a bigger house with multiple floors.
It is an important feature a robot vacuum should with to ensure efficient cleaning on each floor.
For base-level models, which mostly save only a single floor map, it is demanding to create a new map for each floor again and again.
Run Time Differences
Roborock Q5 Plus can run for 180 minutes from a fully charged 5200-mAh battery.
Likewise, Roborock Q7+ operates for 180 minutes with the same configuration and same battery capacity.
Another likeness between the two Roborock models is when the battery level becomes low, they will automatically guide to the charging stations to recharge.
You do not need to gather up the robot and place them on the dock.
They will halt cleaning and travel back to their charging stations for recharging, and once pumped up, the robots will cleverly return to the spots where they had stopped and continue cleaning.
Wifi & App Connectivity
Roborock Q5+ and Roborock Q7+ can be easily connected to a Wi-Fi network.
Simple scan for your home network and connect the robots for wireless controls.
You can use the Roborock Home App to control the robot over Wi-Fi.
More importantly, you can connect the Q7+ and the Q5+ with Google Assistant, Amazon Alexa, and Apple Siri shortcuts for voice-based controls.
And these apps make maintenance much better.
Maintenance is a cakewalk with Roborock Q7+ and Roborock Q5+ because all details regarding the robots are in the apps.
From viewing the standings of the filters to inspecting if the sensors are calibrated, you can know all the wear parts conditions from the app.
Dustbin Capacities + Washable
The dustbins in Roborock Q5 Plus and Roborock Q7 Plus are washable, which makes for uncomplicated maintenance and care.
The dirt bin in the Q5+ holds 470 ml of dirt, whereas the Q7+ dirt bin holds nearly 750ml of dust – a big difference.
The Roborock Q7+ can store the trash a few rounds of cleaning more than with Q5+ before you need to dispose of them.
Self Cleaning Dock
Both the roborock models came attached with the auto-empty dock pure – that helps empty the bin automatically.
When the bin fills up, the robot traverses back to the dock and disposes the dust into the 2.5 L docks dirtbag.
So you can readily forget about cleansing bins for weeks.
Roborock took this even further by making that dirtbag an air filter to prevent dust particles from escaping the dock.
Remember, the self-cleaning dock works with only 100V-120V Voltage.
Using No-Go Zones & Invisible Walls
When you do not like Roborock Q7 Plus and Roborock Q5 Plus to join a room, you can effortlessly set the no-go lines from the app and draw them at places of interest.
These lines serve as invisible walls.
If you want any particular zone to get ignored vacuuming or mopping – draw that spot in the app. The robots will bypass all places with no-go zones while sweeping your home.
This feature is helpful in situations like cordoning off the child's playroom if you are not monitoring it or you do not want the robots to enter the guest area where there is an ongoing meeting. Otherwise, there might be slight noise disruption.
Want to set only a specific area to clean?
Yes. With these Roborock models.
The Zone Clean Up feature is available in Roborock Q5+ and Roborock Q7+. You no longer need to bother cleaning a whole kitchen for spillage because the Q5 Plus and Q7 Plus can work in zones.
Just launch the app and fix the zone to clean, and the robots will take care of the rest.
Cleaning Brushes Comparison
Roborock Q7 Plus and Q5 Plus robots – with long-lasting rubber brushes that stays close to the floor (smooth or irregular surfaces) to lift dirt off rugs and hard surfaces effectively.
And the rubber brushes are foremost designed with pet hair hardship in mind. The pet hair will not get entangled with the brushes, no matter how worse the shedding is.
Besides, the side brushes on Roborock Q5+ and Roborock Q7+ are more or less the same as both sweep the dirt off the wall edges and pull into the suction paths of the robots.
Custom Cleaning Routines
Not just personalized cleaning suggestions, with both these Roborock models, you can set cleaning routines of your own.
Want to clean the kid's room at specific time day-to-day?
You can set the routine like that.
Also, there is an option to regulate the suction power for every routine. Very advanced.
Sensors
Provided with an array of sensors, Roborock Q7+ and Roborock Q5+ utilize technology to traverse and clean your house.
Anti-collision sensors and cliff sensors are found in both robots that prevent them from slamming into walls and tumbling down the stairs.
Furthermore, the Q7+ and the Q5+ equip odometer, compasses, and accelerometer. They ensure the precise and balanced motion of the robots.
On top of that, there are water level sensors in Roborock Q7+ that inform us when the water level gets to the bottom.
Room Based Cleaning
Selective room cleaning is present in Roborock Q5+ and Roborock Q7+.
It says you can choose if you want to clean the kitchen or the living room by just accessing the Roborock Home App.
Noise Levels
Roborock Q5+ and Roborock Q7 Plus share the same loudness at 69 dB while working in quiet mode.
Nevertheless, you can still get about your normal home chores and conversations with family without being interrupted by the noise from the robots.
Cleaning Area Similarities
An area of more than 3000 sqft or a large-sized home can be effortlessly vacuumed and mopped by Roborock Q5+ and Roborock Q7+ without a recharge.
All glory goes to their efficient navigation and long-lasting battery life.
FAQs
Can you schedule mopping?
Yes, for Roborock Q7+.
You can separately set the Q7 Plus to only mop without vacuuming using – a mopping schedule.
Need extra wiping in the living room? Just schedule mopping with Roborock Q7 Plus.
Can you set room-based mopping wetness?
Configuring room-based mopping wetness is found only in Roborock Q7 Plus. This feature on the Q7+ edges its counterpart- the Q5 Plus.
If you need to mop a room or zone in your house with a precise cleaning configuration, the former can pull it off. Q5 Plus can not mop.
Summary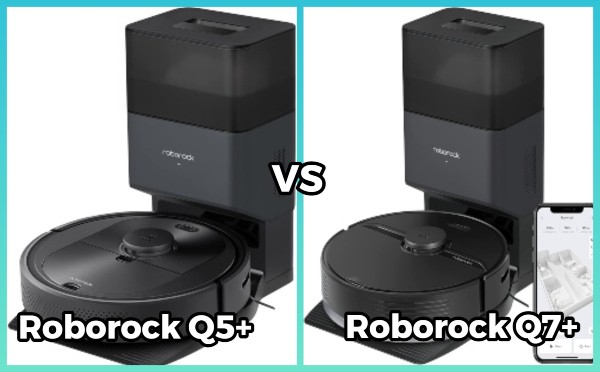 Roborock Q7+ is for people who want both operations (vacuuming and mopping) with a single device.
Roborock Q5+ is for individuals where mopping functionality is not on the needed list.