Updated: March 10, 2021.
Roborock E4 alone has two models: one which mops (Roborock E4 Mop and Vacuum) and doesn't (Roborock E4 Vacuum). That's the only difference.
Roborock S4 just vacuums. No mopping functionality (Oh, we covered one of the main differences). Let's compare in detail.
Before that, for short readers, here is the summary with key differences:
| | |
| --- | --- |
| Roborock E4 | Roborock S4 |
| | |
| Mops?: Yes (With Mopping E4 Model); No (With E4 Vacuum Model) | Mops?: No (Can't mop) |
| Navigation System: Optical Eye + Dual Gyroscope | Navigation System: Advanced LDS |
| Battery Life: 200 mins | Battery Life: 180 mins |
| Multiple Maps Saving: No | Multiple Maps Saving: Yes(Up to 4 Maps) |
| Dirt bin Size: 640ml | Dirt bin Size: 450ml |
| Selective Room Cleaning: No | Selective Room Cleaning: Yes |
| Zone Cleaning: No | Zone Cleaning: Yes |
| No Go Zones: No | No Go Zones: Yes |
| Carpet Boost: Yes | Carpet Boost: No |
| Check On Amazon (E4 Vacuum & Mop Model) and (E4 Vacuum Model) | Check On Amazon |
BottomLine: IF you are looking for a good performing nearly advanced mop+vacuum model, Roborock E4 Mop Vacuum is the one for you.

Otherwise, S4 is the best to-go choice at this affordable price tag equipped with high-end features.
Roborock E4 VS Roborock S4 – Comparison Chart (Differences, Similarities)
Here is the side-by-side comparison chart, which covers every difference and common feature of these models.
| | | |
| --- | --- | --- |
| | Roborock E4 | Roborock S4 |
| Colors | Black | Black |
| Suction Power | 2000 Pa | 2000 Pa |
| Navigation System | OpticEye + Dual Gyroscope | LDS Navigation |
| Selective Room Cleaning | No | Yes |
| Mopping | Yes (With vac+mop model), No (With vac model) | No |
| Multiple Floors (Maps Saving) | No | Yes (Can Save 4 Maps) |
| Height & Weight | 9.07 cm & 3.7 kg | 9.65 cm & 3.5 kg |
| Battery Life | 200 mins | 180 mins |
| Dustbin Size | 640 | 450 |
| Water Tank Capacity | Optimal | No Mopping |
| Washable HEPA filter | Yes | Yes |
| Zone Cleaning | No | Yes |
| No Go Zones | No | Yes |
| Auto Recharge | Yes | Yes |
| Auto Resume | Yes | Yes |
| Carpet Boost | Yes | No |
| Cleaning Modes | 4 | 4 |
| Amazon Alexa | Yes | Yes |
| Google Assistant | Yes | Yes |
| App functionality | Yes | Yes |
| Wifi Connected | Yes | Yes |
| Release Date | April 2020 | September 2019 |
| Price | Check on Amazon (E4 Vacuum+Mop Model) and (E4 Vacuum Model) | Check on Amazon |
Comparing the Roborock S4 and E4 Models
How well are their Vacuuming Competencies? (Suction Power)
E4 – 2000 Pa Pressure
Roborock E4 effectively cleans your home with its incredible suction power reaching up to 2000 Pa. The pure pressure formed under the robot removes dirt so easily on hard surfaces and carpets without needing to make a second pass.
When working on carpets, the tremendous suction power of Roborock E4 allows it to deeply drag lodged dirt and debris while traversing seamlessly on them.
Coupled with superior airflow engineering and streamlined ducts, the suction pressure of the E4 does not compromise and maintains at maximum level. 
S4 – Also 2000 Pa Pressure
Like the E4, Roborock S4's intense suction transforms your grimy floors to clean and sparkly surfaces in a few hours.
The formidable 2000 Pa of pressure derived from a high-functioning fan and innovative vacuum duct, creates a static force that gets everything on its path.
Forget about layered dirt and tangled hair around furniture, Roborock S4 receives all of them.
Even when traveling on medium-pile carpets, the S4 does extraordinarily well to remove food crumbs without leaving behind a messy trail.
How much can they clean in a single charge? (Battery Life & Charging Time)
On a single charge, the battery in Roborock E4 supplies enough power for 200 minutes on uninterrupted cleaning. A small to medium-sized home can be easily dusted and cleaned within the single charge of the E4.
Meanwhile, Roborock S4 offers 180 minutes of continuous cleaning without needing to recharge in between. When three hours have elapsed, and the S4 is still cleaning, the robot smartly recognizes it needs to recharge.
After automatically docking and charging itself, Roborock S4 will return to the exact position where it had left off and completes the job successfully.
Both the batteries came up with Roborock E4, and S4 is of size 5200 mAh.
Who Mops? Who Doesn't? (Mopping Feature)
The E4 mops as good as it vacuums, but only with the mop + vacuum model.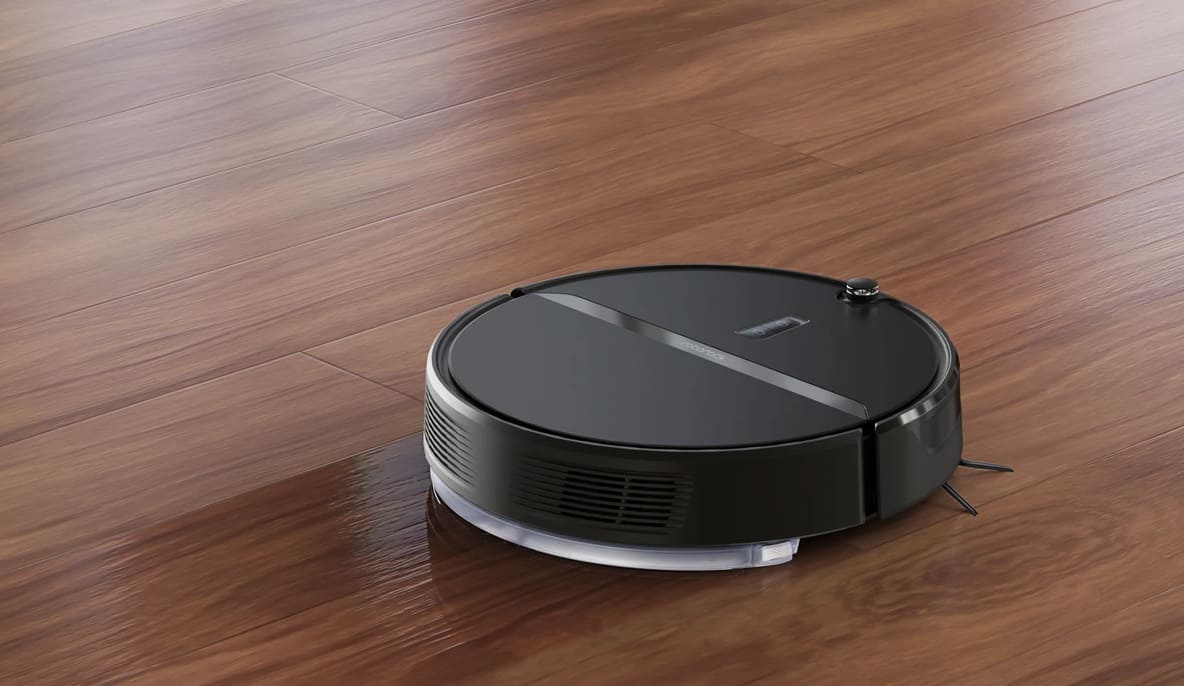 Roborock E4 is featured with mopping capabilities to make your floor shine – but only with the mop & vac model.
Upon installation, forget about fine particles and thin dust layers that get stuck on your feet when walking.
With the E4 gliding methodically around your house, while it mops, no dirt will remain etched to the floor.
S4 doesn't mop. Only vacuums.
Roborock S4, on the other hand, does not feature mopping abilities like its counterpart – even as an external attachment.
The robot vacuum's sole purposes are to sweep and vacuum your home. Be it hard surfaces or carpeted floors, the S4 will get to every corner of your home and cleans thoroughly.
Water Tank Capacities
As Roborock S4 is not for mopping, there is no point in talking about its water tank capacity. And Roborock E4's mopping model is with the optimal tank capacity. You need not worry about the water replacement if you are in small to medium-sized homes.
Navigation Comparison
OpticEye motion tracking for Roborock E4
A new system is adopted with Roborock E4. The OpticEye algorithm uses a small laser and LED-based motion tracking to record the traveled distance of the E4 the moment it moves.
When combined with the dual gyroscopes, inertial mapping technology is achieved. This way, the gyroscopes and motion tracking data are united to produce an internal map that will be used to prepare logical cleaning paths.
Although a complicated process, Roborock E4's mapping method is novel and works effectively.
Precise Laser Navigation for Roborock S4
Not so similar to the E4, Roborock S4 relies on laser technology to map your house. Precise laser scans collect information from the rooms, and the S4 draws a full-fledged map of your home as it travels along with corners and wall edges.
Using advanced mapping and navigation, Roborock S4 can come out from obstacles and situations where it gets trapped. In short, you could say the S4 cleans your house and releases itself if it gets trapped.
Technological Differences
Roborock E4's Dual Gyroscope & Inertial Navigation
Dual gyroscopes are integrated into Roborock E4 that supervise the robot cleaner's changes in the angle of motion and recognize if the E4 is flipped.
This minute-to-minute monitoring keeps the E4 at its toes (read wheels) to stay in constant contact with any hard surface or carpet.
Moreover, the gyroscopes track the robot's movement when it glides across your home and knows where it has been.
Furthermore, it plans ahead of the travel path from its position using real-time information. Since it moves faster this way, cleaning is completed quicker than usual.
S4's LDS
Unlike the E4, Roborock S4 deploys a laser distancing sensor (LDS) system to capture the shape and size of your rooms and, eventually, your whole house using laser technology.
Precise mapping is achieved using accurate laser pulses that fire from the top of the S4.
The lasers double as anti-collision sensors and act as guidance for the robot to squeeze through low-clearance furniture.
What is more interesting, a highly precise map is generated once the mapping is, and you can access it for further control using the Roborock HOME App.
BottomLine: Roborock S4 is with advanced navigation system like the higher-end models compared to the E4 model.
Virtual Boundaries – Zone Cleaning?
Roborock E4 does not support Zone Cleaning as the S4 does. Therefore, if you need to block off a certain area in your house, you have to install magnetic strips that act as barriers to prevent the E4 from entering those zones.
And with Roborock S4, you may drop unlimited virtual walls to restrict the robot's movement, all by using the Roborock HOME App. No extra effort.
Have a clear view of what zone cleaning is here (From Roborock).
If you have spare magnetic strips, you can still use them with the S4 as how you would with Roborock E4.
Cleaning Modes
Both Roborock E4 and Roborock S4 offer multiple cleaning modes like silent, standard, strong, and max.
However, zoned cleaning and scheduling by room is not possible with Roborock E4 but easily doable with Roborock S4 using the app.
Mopping efficiency & Carpet Detection (Carpet Boost)
Roborock E4 mops that is missing in Roborock S4.
And oppositely, the carpet detection feature that is present in Roborock E4 is unavailable in the S4.
With the added mopping functionality, you can be sure of sparkly floors every time the E4 completes its mopping schedule.
How good are their brushes?
Anti-tangle Main Brush & Side Brushes on the E4
On Roborock E4, a new anti-tangle main brush agitates violently on the floor's surface to remove dirt, dust, and hair. Even dried mud print, toddler crumbs, and food spills are scrubbed without a trace by the durable main brush.
What is more interesting is the design of the main brush that is built to repel the tangling of hair.
Moreover, the side brushes on the E4 sweep dust effectively on wall edges and corners. Together, the main brush and side brushes provide comprehensive cleaning of your home while you lay back and rest.
Adaptive Brushes on Roborock S4
Similar to the E4, the main brush on Roborock S4 also features anti-tangle characteristics.
It allows the robot vacuum to work longer without interruptions. Moreover, the main brush is easily detachable and washable.
Designed to be floating, the adaptive main brush of the S4 can easily adjust its height depending on floor types.
When running on hard floors, the main brush is close to the ground. In contrast, when traversing on carpets, the S4's main brush rises a little for better agitation and thorough cleaning.
Selective Room Cleaning
What if you want to have a separate schedule or cleaning pattern for a selected room in your house? It's possible with the Roborock.
But not with all models.
Roborock S4 is capable of room recognition by saving a separate map where the Roborock E4 is not capable of selective room cleaning.
Climbing Ability Comparison
Roborock E4 is quite capable of crossing small bumps or obstacles as tall as 20 mm.
Doorsills and thick rugs are negotiated easily by the E4.
On the other hand, Roborock S4 only manages to cross barriers as high as 15 mm. The tendencies of getting stuck on denser carpets are high with the Roborock S4 model.
Differentiating their Filters – HEPA Filters?
E4's E11 & HEPA Filter
On Roborock E4, an integrated E11 filter traps allergens up to 0.3 microns and almost 95% of airborne pollutants.
You can be sure of a dust-free and pure environment each time after the robotic cleaner finishes its duty. What is more interesting is unlike conventional robot vacuums, the Roborock E4's filter is entirely washable.
It only means maintenance is never going to be a headache, plus you can prolong the filter's life ensuing more cleaning.
On top of that, Roborock E4 is also featured with a HEPA filter. With this, extra protection to your home is achieved from clean air that is free from pollutants.
S4's HEPA Filter
The case with Roborock S4 is slightly different. The robotic cleaner only uses a HEPA filter compared to its counterpart.
Although it does the job pretty well, the HEPA filter on Roborock S4 is not as effective as the E11 filter in Roborock E4.
Albeit, the HEPA filter is washable, and after a series of continuous usage, you can easily clean the filter by placing it under tap water. After it has dried, just fit it back to the S4 and watch it perform efficiently again.
Dustbin Capacities Differences
Speaking of the dustbin size difference, Roborock E4 wins in this aspect. It came up with a 640ml big-sized dirt bin where the Roborock S4 is with the medium-sized 450ml bin.
But to say for the majority of the households 450ml size is more than enough unless it's a home with massive traffic and heavy shedding pets.
Maintenance
There are very few robot vacuum makers in the industry that cares about the user experience. In good time Roborock is one of them. In Roborock models, all the parts like debris extractors, dirt bins, filters, water tanks are easy to remove and rearrange.
You need not worry a lot about the maintenance if you are buying a roborock model.
But to say, there is something which is undeniable if there is a mopping function additional to vacuuming; supervision and extra effort are required.
And speaking of the HEPA filters, they are washable ones, which makes your life much easier compared to the replacement ones.
No worrying about the replacement accessories and also saves your hard-earned money.
Wifi / App Functionality
Mi Home for E4
Using the Mi Home App, you can swiftly set cleaning schedules, monitor cleaning activities, view the statuses of the brushes and filters, and much more.
Scheduling is convenient when you use the Mi Home App. Just select the appropriate cleaning mode and watch Roborock E4 do its chores.
Mi Home or Roborock Home App for S4
The S4, on the other hand, is manageable using either the Mi Home App or Roborock's own Home App.
You have two options, but it is preferable to use the Roborock Home App because of its intuitiveness and simple interface. The app allows all scheduling and other features similar to the E4.
However, with the S4, you can launch zone cleaning, draw virtual walls, and do scheduling-by-room almost effortlessly.
Google Assistant and Amazon Alexa – Voice Commands
Both Roborock E4 and Roborock S4 are intelligent robotic cleaners. That means they can be controlled using voice-based commands. Connect either to Google Assistant or Amazon Alexa to control your bots hands-free and watch them clean your house with simple instructions.
FAQs
Why E4 came up with two models?
One year back (As of 2021), Roborock released the E4 model, which vacuums and capable of mopping functionality. At that time, one needs to purchase the mopping attachment separately.
And now we don't know what's the actual reason, but we think that they released two models for customers convenience.
If one wants a mop & vac combined e4 model, they can get it without searching for attachments.
How to connect my Roborock model to the app?
It's simple. All you have to do is install the Roborock app from the google play store (if android) or the app store (if IOS) and register using your phone number. Here is the step-wise process that helps.
What about these Roborocks performance on plush carpets?
Both these models, roborocks e4 and roborock s4 are base-level ones, making their performance difficult working on plush carpets.
Comparing the both, E4 stands a bit front in traversing from hardwoods to plush carpets without any difficulty.
Conclusion – What is the BEST?
So far, Irobot ruled the robot vacuum market. After Roborock's entry, the most advanced, efficient cleaning robot vacuums became quite affordable. But what is the ideal one for you? Keep reading.
Need Mopping functionality? Undoubtedly E4 is the one for you.
For Carpets, Pet Hair and Hardwood Floors
Roborock S4 lacks a bit when carpet and pet hair cleaning is more concerned. S4 is not with the carpet pressurization (carpet boost) option, which makes it unable to boost the suction power when a carpet is detected.
And fortunately, at this affordable price tag, Roborock E4 holds the top feature carpet boost option. So for households where there are carpets that need to clean more aggressively, the E4 is the better choice compared to the S4 model.
For hardwood floors, both the models show the same performance as they are with similar suction power.
For Multiple Floors and Large houses? (Roborock E4 or S4)
Roborock S4 can save up to 3 maps where Roborock E4 can't. It simply navigates using its (dual gyroscope + opticeye) navigation system without saving any maps. It clearly says that Roborock E4 is not for households with multiple floors (two-story houses).
And for large house cleaning, Roborock S4 stands a bit ahead because of the long battery life and multi-floor cleaning support.