Roomba 675 and Roborock E4.
Both are affordable models. Both are the best-selling models.
NOW:
What is the best model for your house? The significant differences? Which robot mops and which doesn't? Is it smart to go for affordable models?
Let's find out. (Starting with the comparison chart)
Roborock E4 VS Roomba 675 – Comparison Chart
| | | |
| --- | --- | --- |
| | Roborock E4 | Roomba 675 |
| Suction Power | 2000 Pa | 600 Pa |
| Height & Weight | 9.07 cm & 3.7kg | 9.1 cm & 3.6 kg |
| Navigation System | OpticEye + Dual Gyroscope | Yes |
| Battery Life | 150 mins | 90 mins |
| Auto recharge | Yes | Yes |
| Dustbin Size | 640 ml | 300 ml |
| Mopping Capability | Yes (Separate addon) | No |
| Selective Room Cleaning | No | No |
| Zone Cleaning | No | No |
| Recharge & Resume | Yes | Yes |
| Washable HEPA filter | Yes | Yes |
| Mapping | Yes | Yes |
| Carpet Boost option | Yes | No |
| Keep Out Zones | No | Yes |
| Water tank Capacity | 180 ml | No Mopping |
| Noise level (dbs) | 69 dB | 62 dB |
| App / Wifi functionality | Yes | Yes |
| Voice commands (Amazon Alexa, Google Assistant Support) | Yes | Yes |
| Price | Check on Amazon | Check on Amazon |
Roomba 675 VS Roborock E4 – Similarities, Differences
Suction Power – Who has better?
When Roborock E4 is working, you don't need to worry about dirt or dust anymore. Equipped with a suction force of 2000 Pa, the strong vacuum pressure of the E4 pulls dirt completely off hard floors and carpets. The E4 effectively removes even tangled pet hair and the stubborn stain between your floorboards.
The Roomba 675, on the other hand, offers a maximum of 600 Pa of suction pressure when operating. Dust and hair, including those stuck on your rugs, are lifted by the Roomba with decent suction power. On hard floors, Roomba 675 cleans 99% of dust, leaving you to walk freely without having dust or dirt sticking on your feet.
Mopping efficiency? Which one is better?
Mopping as an external attachment – Roborock E4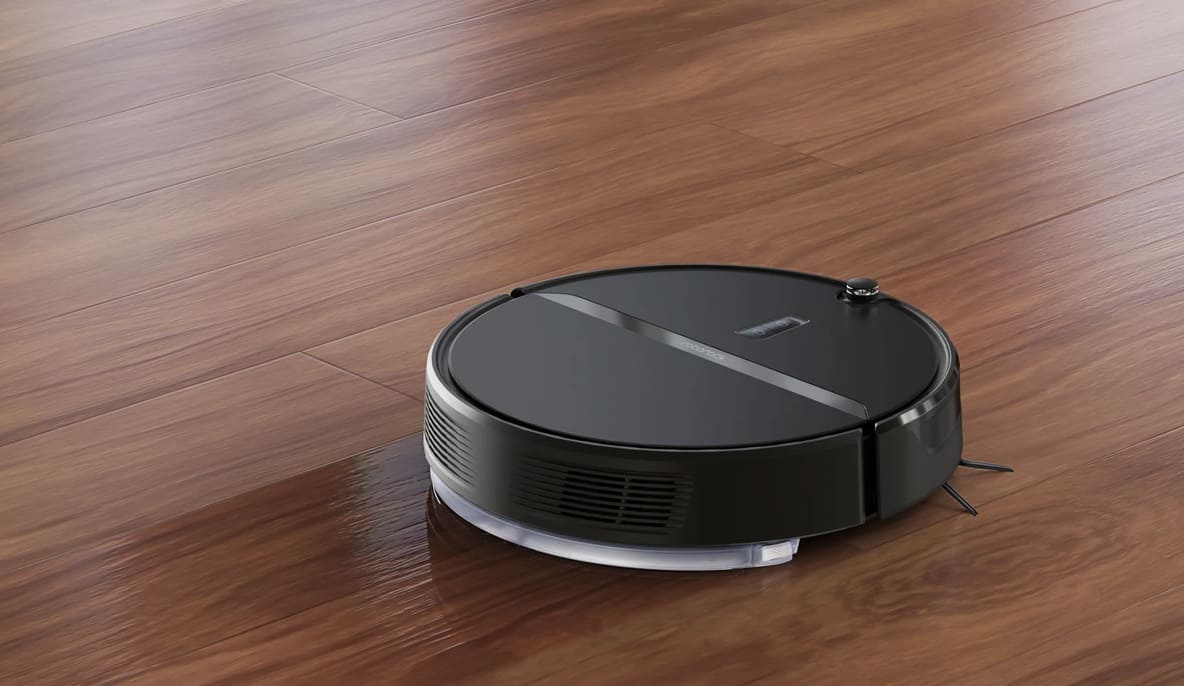 Mopping is only an optional feature on Roborock E4. You may purchase the separate mopping attachment and fit it to the E4 if you need to mop your house. By installing the water tank and mopping pad, you are good to go as the E4 will easily mop your home. In addition to vacuuming, your house will be mopped by the Roborock E4 for extra cleanliness. Carpets are detected involuntary, so you do not need to worry about the E4 going over them while mopping. Furthermore, you can regulate the wetness of the mopping cloth using the Roborock App.
Roomba 675 does not mop
Roomba 675, albeit an excellent robotic vacuum cleaner, offers no mopping functionalities. Furthermore, there is no external attachment for mopping for 675, unlike Roborock E4.
What about No-Mop zones?
The No-mop zone mode featured in most robotic cleaners is not available in Roborock E4. It is most likely because the E4 is not able to save a map and, therefore, impossible to place the no-mop zones before cleaning sessions start. The no-mop zone feature is not included in Roomba 675 as it only vacuums and sweeps.
Battery features
Robot runtime and battery capacity differences
With a 5200-mAh battery capacity, Roborock E4 can run for 150 minutes when Silent Mode is activated. On the other hand, the battery capacity in Roomba 675 is 1800 mAh, and it operates for 90 minutes before running low on battery.
Are auto-recharge and resume supported?
When the battery becomes low, Roborock E4 and Roomba 675 will stop cleaning and return to their bases for recharging. After that, they will automatically traverse to the same spot they had left and resume cleaning. Once the cleaning session is completed, Roborock E4 and Roomba 675 will alert you.
Technological features comparison
Motion with dual electronic compasses in Roborock E4
A pair of electronic compasses continuously monitor the operating condition of Roborock E4. Every minute, this system detects if the robot is upright and always knows the direction it is facing. Besides, the dual compasses help to pave an improved cleaning route for Roborock E4 that is suited to your home.
Roomba 675 – Integrated sensors
Surrounding Roomba 675 is a full suite of integrated sensors to guide the robot while it navigates your home. Unlike the E4, Roomba 675 doesn't feature mapping of any sort. Still, it travels your home in an arbitrary pattern when cleaning is underway. The capable sensors assist the Roomba while it moves around your furniture and prevents the robot from knocking on obstacles.
How do they map?
Using OpticEye motion tracking and dual gyroscopes, the E4 maps your home with high precision. While navigating your home, the E4 captures rapid images to construct an internal map used to recognize where the robot had been and its future path. Roomba 675, on the other hand, relies only on integrated sensors without any mapping capability. The precise sensors tell the 675 how to move around your house.
Is map storing available?
You cannot save maps in both Roborock E4 and Roomba 675 because neither of them has developed maps accessible through the app.
How good is their navigation?
Inertial navigation of Roborock E4
With the help of dual-gyroscopes and compasses, Roborock E4 deploys the Inertial Navigation technology while it cruises your house. Additionally, the E4 is aided by the OpticEye motion tracking system when moving along a cleaning path. This way, the robot knows where it had been and never travels to the same cleaning spot twice.
Roomba 675's array of sensors
The Roomba 675 solely relies on a collection of precise sensors integrated around its body. The sensors govern the motion of the robot and its navigation. There is no definite way the Roomba traverses as compared to the E4. Still, furniture and obstacles are avoided when the 675 navigates your home while cleaning.
Are front camera and object recognition featured?
A front camera with object recognition is only featured in Roborock E4. The OpticEye motion tracking system is responsible for detecting obstacles on the E4's path and informing the robot to take counter-measures. Even small things like a toy and sock are seen by Roborock E4 in real-time and automatically reroutes their way without affecting the cleaning operation.
Restricting the robot's movement – virtually
Placing virtual walls is not possible with Roborock E4 and Roomba 675. You have to use magnetic strips that must be separately purchased to cordon off a zone or two in your home. The reason a virtual barrier is not supported in Roborock E4 and Roomba 675 is that no map is saved and cannot be referred to when using the apps.
Comprehensive cleaning – who does it better?
Variances in cleaning modes
The four cleaning modes in Roborock E4 provide you with more options when you need to tidy up your house. They are Silent, Standard, Strong, and Max. The Silent mode outputs the lowest pressure, whereas the Max mode can be used for areas requiring a maximum suction force. In contrast, Roomba 675 does not have any cleaning modes with different pressure configurations.
Is carpet boost supported?
The Carpet Boost feature is available in Roborock E4. Once a mat or thick rug is detected, the E4 increases its suction force to a maximum level to thoroughly clean the carpet. Unlike Roborock E4, Carpet Boost is not offered in Roomba 675.
Climbing obstacles
Roomba 675 can cross small obstacles with a maximum height of 16 mm. Otherwise, Roborock E4 can climb over barriers up to 2 cm. Going over thick rugs or doorsills is more convenient for the E4 compared to the 675.
Can they perform zone cleaning?
Administering zone cleaning to Roborock E4 and Roomba 675 is a futile attempt as both robots do not have a stored map. Each time you have to restrict a specific zone using magnetic strips if you do not want the robots to go near them.
Dustbin & water tank properties
How big is the dustbin?
A 640-ml dustbin comes when you purchase Roborock E4, whereas Roomba 675 equips a 300-ml dustbin. You do not need to empty the bin every few days with the E4 as compared to Roomba 675, and that makes cleaning a little more convenient with the Roborock.
Reservoir volume abnormalities
When you have the mopping attachment on, Roborock E4 stores up to 180 ml of water in its tank, and since Roomba 675 does not mop, there is no water tank affixed to the robot.
Are their brushes adept?
Roborock E4's anti-tangle main brush
The versatile design of the main brush underneath Roborock E4 picks up hair, dirt, and tiny fabric without trouble. Because of the brush's anti-tangle design, efficient brushing of the carpet and scrubbing of the hard floor is possible with the E4. Moreover, the side brushes on Roborock E4 sweep dirt off wall edges virtually and do a comprehensive cleaning of your home.
Dual multi-surface brushes on Roomba 675
In Roomba 675, two brushes team up to remove dirt from your house. When traversing your home, the auto-adjust cleaning adopts its height according to your floor type, which ensures constant contact. Then, the first brush loosens and lifts the dirt. In contrast, the second bigger brush accelerates the debris into the suction chamber resulting in wholesome cleaning of your home. Moreover, the 675's side brush cleans the corners of the wall quite capably and ensures every inch of the floor is covered.
Who has a better filter? (HEPA filters)
Roborock E4's E11 and HEPA Filters
Two filters are included in the E4 to ensure your home is pollutant-free. A washable HEPA filter and an E11 filter work in unison to capture fine dust and allergens of 0.3 microns when Roborock E4 is cleaning your home.
AeroVac Filter in Roomba 675
A unique AeroVac filter is attached to the Roomba 675 for filtering dust and micro-particles when cleaning your home. The AeroVac filter is as efficient as a HEPA filter found in most robot vacuums.
Their designated application
Mi Home or Roborock Home App for the E4
There is a choice of opting for the Mi Home App or the Roborock Home App for users of Roborock E4. Using the application, you can set schedules, monitor cleaning, and view maintenance dues of Roborock E4.
iRobot Home App for Roomba 675
You must download the iRobot Home App to use the Roomba 675. Scheduling cleaning sessions and viewing the sensors' status are features of the app. Moreover, you can know if the battery is low and if the filters must be cleaned from the iRobot Home App.
Is Google Assistant or Amazon Alexa supported?
Roborock E4 and Roomba 675 both can be connected to smart home components like Amazon Alexa and Google Assistant. Now, you can easily send instructions using nothing but your voice. Watch the robots receive your commands and start to clean.
Are they noisy when operating?
Roborock E4 operates at a loudness of 69 dB and sometimes be intrusive when you are having a conversation. Roomba 675, on the other hand, caps around 62 dB while working and does not seem to affect the typical ambiance of your environment.
Maintenance
You do not need to worry about when to replace the filters or if it is time to clean the brushes because Roborock Home App and iRobot Home App will keep you informed on time. On Roborock E4, cleaning the water tank is simple as you can detach it, give it a quick rinse and reattach the filled tank to the robot. Furthermore, there is a hair removal tool provided with the E4 to remove tangled hair from the brushes.
On Roomba 675, the iRobot Home App will tell you if you need to replace the filters or when the sensors need a wipe. If the main brush appears to have dust attached between the bristles, you can easily give it a rinse and fix it back to the Roomba 675.
Conclusion – Roborock E4 OR Roomba 675?
Both the models stood in the same line of easily affordable price tags. Advanced and veteran companies made these robots stay on the best sellers list.
But considering various advanced features with E4, not with Roomba 675 like carpet boost, powerful suction (2000 Pa), mopping addon makes E4 our recommended choice compared to the Roomba 675. E4's best option for small to medium-sized homes works like a pro on all surfaces, including carpets.
Go for Roomba 675 only if mopping is not necessary and pet hair, carpets cleaning is not a problem in your home.