Roborock E4 and E35 are in the list of very few affordable roborock models that mop as well.
There are very few considerable differences between these models, which are compiled below in short (comparison table) and in brief as well.
Without further ado, let's find what the better worthy choice for you is.
Roborock E4 VS Roborock E35 – Comparison Table
Here is the quick to read comparison chart.
Roborock E4
Roborock E35
Colors
Black
Black
Height & Weight
8.9 cm & 5 kg
9.1 cm & 3.2 kg
Suction Power
2000 Pa
2000 Pa
Battery Life; Capacity
150 mins; 5200 mAh
150 mins; 5200 mAh
Auto recharge;
Recharge & Resume
Yes
Yes
Mopping
Yes (Seperate
available addon to purchase)
Yes
Carpet Boost option
Yes
Yes
Mapping
Yes
Yes
Navigation System
OpticEye + Dual Gyroscope
Dual Gyroscope
Dustbin Size
640 ml
640 ml
Water tank Capacity
Optimal
140 ml
Cleaning Modes
Yes
Yes
Washable HEPA filter
Yes
Yes
Multiple maps saving
No
No
Selective Room Cleaning
No
No
Zone Cleaning
No
No
No go zones
No
No
Voice commands
(Amazon alexa, Google assistant Support)
Yes
Yes
App / Wifi functionality
Yes
Yes
Price
Check on Amazon
Check on Amazon
Roborock E35 VS E4 – In Detail
Use the quick navigation below.
Dimensions
Weight
At 5 kg, Roborock E4 is about 2 kilograms heavier than Roborock E35, which measures 3.2 kilograms on the weighing scale. It makes lifting the E35 when it is stuck or carrying it to another room or floor is more manageable than Roborock E4.
Height
Roborock E4 measures 8.9 cm in height where else Roborock E35 is 9.1 cm tall. Given their heights, both robotic cleaners conveniently glides under low-clearance furniture like your sofas and floor-level coffee tables pretty easily. Dust, which is not accessible during conventional cleaning, is dutifully removed by both robots.
Differentiating their Suction Power
Roborock E4's 2000 Pa
To remove tough stains and dirt off floor and carpet, Roborock E4 adopts an incredible 2000 Pa vacuum system. With 11% more suction power than previous models, Roborock has incorporated a resilient fan that spins vigorously to generate the relentless pressure which cleans deep within carpets and hard surfaces. On top of that, remarkable airflow engineering coupled with intelligently designed vacuum ducts creates a high static pressure zone within to maintain relentless pressure throughout cleaning your house. In case you require less power, just access the app and turn down the pressure without even contacting the robot.
Same 2000 Pa on Roborock E35
Roborock E35 works wonderfully on carpets and hard floors by running over them with an extraordinary 2000 Pa of force, similar to the E4. Specks of dirt are removed, and every piece of debris from carpet fibers is dislodged when the E35 makes a pass. Just pour yourself a glass while you wait for the efficient Roborock E35 pull out every bit of dirt without you touching the vacuum cleaner and mop.
Carpet Boost. Who has it?
The Carpet Boost feature allows Roborock E4 to ramp up to maximum pressure when it detects a carpet when navigating your home, resulting in a cleaner environment. A Carpet Mode is useable for similar purposes on Roborock E35 and can be accessed from the Mi Home App.
Which one mops better?
E4 ? Optional Mopping System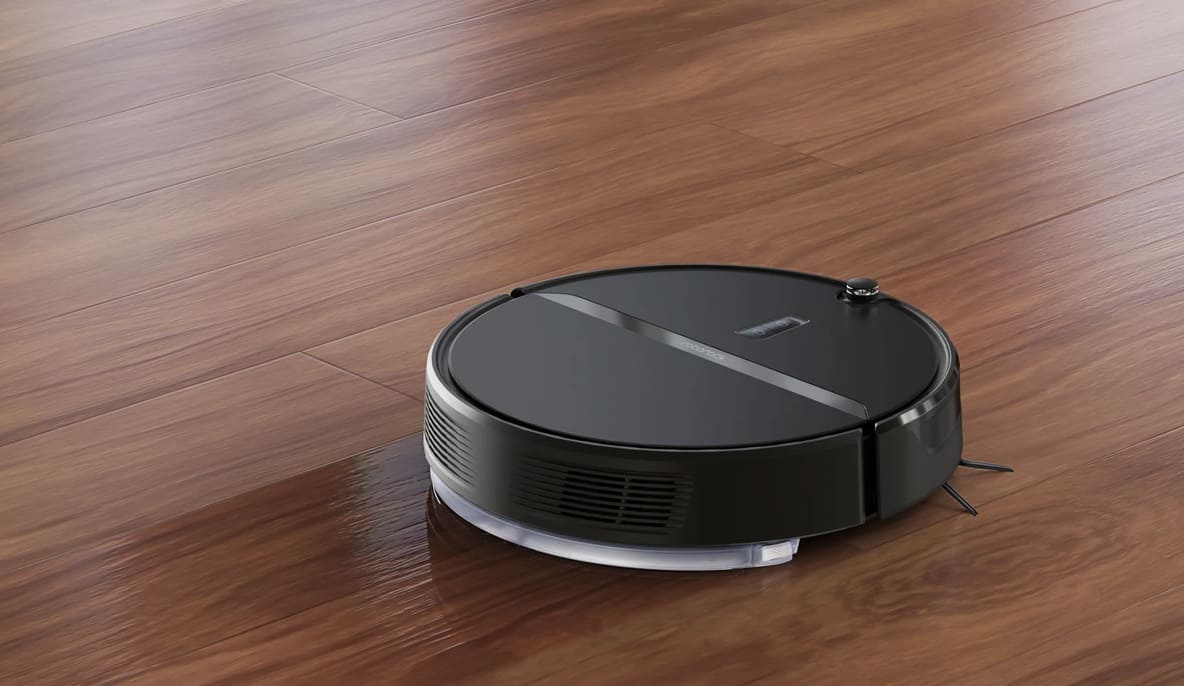 The E4 is a durable vacuum cleaner that tidies your home with a spotless floor and cleaner air. You can easily purchase a mopping attachment and add on a mopping feature on your existing Roborock E4. The mopping system removes dirt effectively on multiple hard surfaces and ensures a hygienic surrounding once it is done. Moreover, because of its optional mopping attachment, more weight can be carried by Roborock E4. An advantage is water regulation to the mopping cloth, which can be controlled using new hydraulics featured in the E4. You need not worry about patchy mopping because precise wetness levels can be set using the mopping attachment of Roborock E4.
Roborock E35 ? Gentle Mopping
The E35 mops simultaneously as it vacuums your hard floors. When a carpet is sensed, the mopping activity is disengaged instantly, and the robot retracts to avoid the rug. Another smart addition is after mopping the floors; leftover water is sucked in, ensuring no water puddles are left. Moreover, the E35 glides, while mopping and vacuuming to make sure a trail of sparkling floors is left behind.
Their Cleaning Brushes
The main brush on the E4 and E35 is quite similar and feature an anti-tangle design. Dirt and dust are scrubbed off hard surfaces and from carpets ensuring comprehensive cleaning. Moreover, the side brushes sweep dust off the wall edges into the suction path, allowing an all-around cleaning when the robots operate.
Roborock E4's Rapid Technology with Gyroscopes & OpticEye
Roborock E4 comprises dual gyroscopes that are integrated into the robot to supervise minute changes in the angle of motion that subsequently identifies if the E4 had overturned. All these, including a laser and LED-based OpticEye motion tracking module, produce an accurate analysis of travel distance of the E4. The result: a superior navigational skill that allows the robot to negotiate your home in a methodical and precise route.
E35's Dual Gyroscopes & Dual-Optical Motion Tracing
Like Roborock E4, the E35 also features dual-gyroscopes that monitor the alterations in motion angle every minute to check if the robot is traveling in a balanced place. On top of that, the E35 equips dual-optical motion tracking sensors that contribute primarily to its navigational prowess. Also, the advanced mapping and planning system decides the route the E35 has to take for the most efficient cleaning.
Taking care of your furniture
Roborock E4 and Roborock E35 are smart cleaners that do not mindlessly move in random lines. Instead, they track their path and "see" where they go. Because of their OpticEye technology, the robots recognize furniture and other obstacles in their way and automatically slow down to avoid a collision. Forget scratches.
Dustbin & Water Tank Capacities
Dustbin
The dustbins in Roborock E4 and Roborock E35 measure the same at 640 ml. They have higher volume than conventional robot cleaners, which allows them to clean longer and get to more areas within a single cleaning cycle.
Water Tank
The mopping attachment is an additional entity for the E4, but on Roborock E35, it is included. Water from the 140 ml tank is dispensed to the mopping cloth attached to the bottom of the robotic cleaner for gentle mopping. Typically, a full water tank is enough to mop a moderate house once thoroughly.
How good are the filters? (Washable)
Roborock E4 is featured with a washable E11 filter that traps fine dust particles and allergens as small as 0.3 microns. Meanwhile, the same type of filter is found in Roborock E35. The durable filters in both robot vacuums have a longer life than conventional filters and do the job better.
Cleaning Area Comparison
Both Roborock E4 and Roborock E35 cleans close to 200 m2, depending on the size and shape of the space. Roborock's cleaners ensure that your homes are entirely free from dust from the word go without recharging. Not only that, but you can also opt for the mopping attachment in Roborock E4 to enable mopping features like the E35.
Differences when crossing barriers
Obstacles as tall as Roborock E4 and Roborock E35 easily negotiate 20 mm. You do not need to worry about doorsills at room entrances and thick rug in the common room ? both E4 and E35 would cross them seamlessly when cleaning your house.
Single Charge Runtime
Their operating duration
Roborock E4 and Roborock E35 operate the same duration of 150 minutes before they need to be recharged. In a single cycle, both robots will clean your house dutifully for 2.5 hours before their batteries become low. When a low battery is detected midway cleaning, the robotic cleaners automatically return to their respective bases and recharge immediately. When completed, the E4 and E35 will return to where they had left off to resume cleaning.
Battery Capacity
The batteries in Roborock E4 and Roborock E35 are identical and at 5,200 mAh. The durable lithium polymer battery holds enough charge for the robotic cleaners to complete one cleaning cycle in a single charge. Without the mopping attachment, Roborock E4 will do about two cycles per charge than its mopping counterpart.
Comparing their Tech
Electric Eye & Dual Gyroscopes of the E4
The OpticEye technology and assistance from a pair of gyroscopes make up the mapping and navigation dexterities of Roborock E4. Precise sensors around the robot monitor movement of the robot. In addition to that, the E4 refers to an internal map to identify where it had been. The technology within the E4 allows it to move 10% faster than older robot vacuums.
Effective Cleaning Path using Dual-optical Motion Tracking Sensors
The E35 works very well using its dual-optical motion tracking sensors to navigate your home. It cleans by deploying a methodical movement pattern. The robot does not move randomly but follows a pre-planned route analyzed by the gyroscopes and motion tracking sensors. This efficient cleaning path permits Roborock E35 to work 35% more efficient than usual robot vacuums
Anti-Entrapment System
Because they know where they had been, Roborock E4 and Roborock E35 seldom get stuck. In the worst case, they move back and forth in a tricky zone. The navigation technology will reverse the movements until the robots get released from the situation.
Sensing Variances (Cliff sensors)
Both Roborock E4 and Roborock E35 are designed with a suite of high-precision sensors for guided navigation, cliff-sensing, and anti-collision purpose. The array of sensors in both robotic cleaners allows the robots to negotiate furniture, perform spot cleaning and retract when nearing a staircase.
Connectivity using Voice Commands
You can effortlessly connect both Roborock E4 and Roborock E35 to Google Assistant and Amazon Alexa for hands-free operation. From setting cleaning schedules to directing where to go and clean, you are the master of commands, and you only need to speak out the instructions. The E4 and E35 will analyze the orders and act accordingly.
Maintenance Differences
Roborock E4 is with an easy brush design where you can remove tangled hair or fiber attached to the end of the main brush. Using the same method, you can clean the main brush on the E35 too. Moreover, the E11 filters found in Roborock E4 and Roborock E35 are washable and have a long life. Forget about a replacement for a year, at least.
Their Application Comparison (Mobile App Connectivity)
The Roborock HOME App is used for the E4, and Mi Home App controls the E35. Setting up cleaning schedules, monitoring previous cleaning sessions, and connecting to Google Assistant or Amazon Alexa is easy with both the apps. You can even set suction pressure strength for Roborock E4 and swap between different cleaning modes for Roborock E35 by accessing their respective app.
Conclusion – Roborock E4 OR E35?
It's tough. When there are a few differences between, it isn't easy to make a call about the best choice.
But don't worry. Speaking of the differences, improved navigation, and different mopping functionality makes everything clear. Navigation is not a point for discussion as both the robots are outstanding cleaning efficiently without leaving any dust here and there.
The only considerable difference is mopping functionality. Roborock E35 is like a complete package automatically (can change in settings) mops after completing the vacuum cycle. For Roborock E4, the mopping setup is not a built-in feature. You have to purchase it separately (which makes the overall cost near the E35 model). So E35 is our recommended choice.
And only if you don't need a mopping functionality go for Roborock E4.