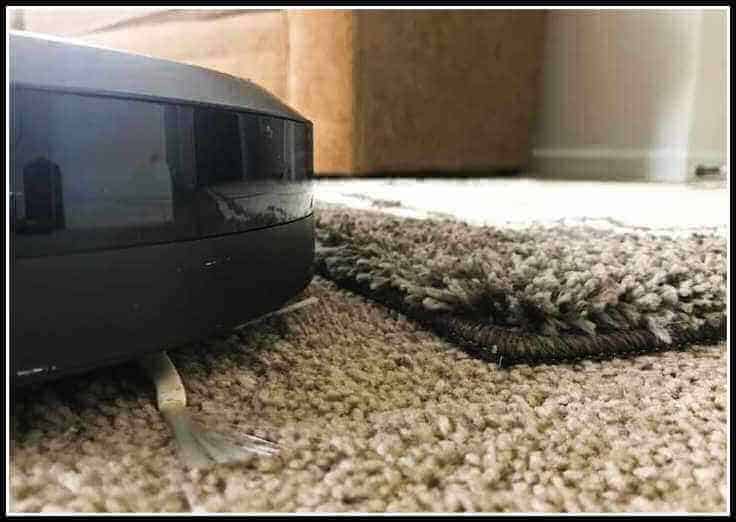 Last Updated: Jan 15, 2021.
We All Know:
Thick high pile carpets are ultra-plush and ultra-soft making your home warm and incredibly comfortable.
Well, there is a PROBLEM.
High pile carpets require extra care to keep them clean and to maintain their beauty.
A normal cleaning way can damage both the carpets and the vacuums.
What about the robot vacuum for thick carpets?:
Does Robot Vacuums Work on High Pile Thick Carpets? Can Robot Vacuums go over the thick carpets?
YES! BUT NOT ALL ROBOTS.
Most of the present market robot vacuums are designed to work on low, medium pile carpets. Not on thick carpets. There are very few advanced high pile carpet cleaning robot vacuums out there.
Here is the Quick Summary:
Note: Both the above robot vacuums are with the most advanced features capable of cleaning all types of floors and surfaces.
First, It is important to know the key features a robot vacuum cleaner should have as not all work on thick shag carpets:
What to Look for in a Robot Vacuum for Thick Carpet?
Key Features:
Powerful Suction: The major problem with high pile plush rugs is the debris that gets on the rug can reach down to the rug's base. So, to grab that dust out, we recommend picking the robot vacuum with strong suction or adjustable suction feature.
Air Filters (HEPA): An air filter is necessary to prevent those microscopic allergic particles from escaping back into the air. Choose the robot vacuum with air filters especially HEPA (High-efficiency particulate air) filters that make your home and you allergic-free.
Larger wheels: The most important feature. The larger wheels (came up with advanced robots mentioned in this article) auto-adjusts the height of the vacuum helps the robot move easily from floors to the thick shag carpets. Pick the one which goes over the rugs without any issue. Robot vacuums with smaller wheels can face problems moving on thick carpets.
Tangle Free Dust Extractors: Never opt for the robot vacuum with brushed rolls, not even a roller bar with bristles. Because they can pull out the fibers making your carpets looks ugly and reducing the age. So, it is highly recommended to choose robot vacuums with brushless tangle-free dust extractors.
Why Only Roomba's?
After spending hours in research, considering the features needed and the customer reviews from various sources, we compiled this list. These robot vacuums are with all the required features: Powerful suction, Rubber rollers (tangle-free extractors), Larger wheels, and HEPA filters.
---
Roomba i3 – Best for Thick High Pile Carpets (All round robot vacuum)
Roomba I3 (newly released) is from the veteran company Irobot.
Its super-slim profile makes it low enough to get fit underneath any furniture edges and under cabinets.
Its larger wheels (auto adjustable height) and lightweight structure make the Roomba move between the rugs and normal floors effortlessly. So carpet height is not a problem for this Roomba. And the advanced reactive sensor technology equipped with I3 makes it less stuck.
The key aspect that makes it great for cleaning thick high pile carpets is that it offers ten times the powerful suction compared to the normal robot vacuums, strong enough to grab the dust and pet hair effectively from deep inside the carpet depending on how fluffy your carpet is though.
And like every present robot vacuums, Roomba I3 is smart came up with the Wi-Fi connectivity app which is so useful in letting you do everything that a robot vacuum can.
Another important feature to talk about, is the cleaning modes, especially the spot cleaning mode which is so beneficial. By setting it, you can get it to one particular area rather than doing the whole room. Great for cleaning plush carpets where extra care is needed.
The only disadvantage with Roomba I3 is its increased sound level while working on the carpet.
Roomba I3 has a smart navigation system which is state-of-the-art floor tracking that helps to shift from hardwood floors to carpets and vice versa effortlessly.
Roomba I3 is pet friendly, with rubber brush roll extractors (tangle-free) to prevent high pile fibers and pet hairs from tangling. No brush cleaning is necessary compared to the other robot vacuums.
Conclusion
Finally, Looking for the best value in the long run which delivers superior performance and with nearly all advanced and smart home required features, Roomba I3 is the recommended one for you, for everyone, and for everything. Works great on any floor type. Simply an all-around best robot vacuum (Affordable as well).
---
Roomba I7 – Expensive Model but the Best
Roomba I7 is another top-end model from Irobot with all the features required for cleaning thick carpets.
Roomba I7 is nearly the same as I3 with a few major upgrades:
Roomba I3 is a bit cheaper and lacks a few advanced features of the i7 like "cleaning or schedule by room", "Multiple floors plan storage", "Onboard cameras" and "keep out zones".
Roomba I7 has an advanced feature, the Visual mapping feature. The camera and sensors armed with will map out your home so that the robot knows exactly where it is in relation to the dock and the areas it is already covered.
I7 has an advanced navigation system that lets it vacuum more efficiently.
All everything is the same. High the powerful suction (10X) makes it the top one for cleaning high pile carpets.
What about the Roomba I7+?
Roomba I7+ came up with a self-emptying dirt feature where I7 does not.
IF you are looking for the least supervision while cleaning and want to keep the allergens away from you then I7+ is the best for you.
Conclusion
What we deduce from this is that the Roomba i7 is a way better option than the Roomba I3 in this case. If you are looking at powerful cleaning with all high-end features equipped, and money is not a problem then Roomba i7 is the one for you. But for the majority of households, I3 stands out. (Sometimes it is an intelligent money-saving way to go for what we want, better than "with everything")
---
Roomba E5 – Works on Thick High pile Carpets (Budget Pick)
Powerful suction (5X), larger wheels, brushless rubber rollers. This is the only affordable Roomba model from Irobot with all these advanced features.
Designed keeping all floor types and surfaces in mind.
Taking out the advanced features like Independent line-to-line navigation system, Recharge – resume, Imprint link technology (enables Irobot braava robot mops to work in sync after vacuuming), E5 is almost identical to the Roomba I3 model.
Mainly Recharge – Resume and less powerful suction are the reasons that back this robot to the third position in this list. For small to medium-sized homes, it might not be a problem.
Conclusion:
If you are on a tight budget and a proud owner of small to medium-sized homes then Roomba E5 is a good option for you, doesn't disappoint you. But to say, We recommend Roomba I3 as it came up with more advanced features and the price difference with E5 is not that apart.
---
Here is the Quick Navigation:
How to Vacuum a Long Pile Carpet (Step By Step Guide)
The truth is:
Thick, deep pile carpets are not like the medium, low pile ones. You have to be attentive and follow some steps to make your carpets ultra clean and also to extend their lifespan.
Here are the things you need to do:
Ensure your dirt bin is empty before the robot vacuum is ready to go (for better performance).
Replace any obstacles like toys, cables, chairs, furniture, or anything that's on the carpets for avoiding the robot vacuum getting stuck up.
Also, pick up the large pieces of debris (or) food items sort of like that as the robot vacuum movement might make stains on the carpet.
Ensure your robot vacuum is fully charged. (Optional, as the robot vacuums listed above has recharge and resume feature, human supervision is not needed for plugin and plug-outs). If the task is done or the battery gets low, it will automatically go back to the docking station.
Run the robot vacuum. Let it clean for you.
Select the mode you need. only a few robot vacuums offer modes. The most useful one is the spot cleaning mode useful for cleaning the dirt spots that needed to be cleaned more.
If you think the rugs need some more cleaning, you can run it twice or thrice. Usually, to say, Robot vacuums we recommended in this guide have dirt detect technology. So it doesn't give a chance (to you) to point a finger at.
How Often Should We Clean?
It depends. If you are in a house with children and pets (or) in a high traffic home, these carpets should be cleaned daily. Schedule the robot vacuum to vacuum daily.
---
Thick Carpets Maintenace Tips:
Empty the robot vacuum's dirt bin as often as needed.
Replace HEPA filter every three months. If you are an allergy sufferer or in the home with allergy sufferers, this is highly recommended.
Do not use any brushes or the robot vacuum with a brushed roll on your thick rugs as you don't want to age your rug before its lifetime.
Based on the dust, wear and tear, and the kind of traffic going in your home, apply steam cleaning at least once a month. The reason steam cleaning is the most effective and efficient method is that it removes the dirt and the stains flawlessly.
Set the robot vacuum to run more often. Deep cleaning is necessary to make your carpet looks new and allergic-free.
If the odor is the issue, try sprinkling the mixture of cloves, cinnamon on the rug before vacuuming.
And don't follow carpet cleaning tips you find online as a whole, first be sure to test it on a small area of the carpet.
Finally, be clean. Avoid walking with shoes on carpets. Avoid eating on it. Keep in mind, even a small stain on the carpet makes your home "not much for looks" and also the stain cleaning process is too hard sometimes.
And we all know everything is not in our control every time. So for some reason, if your carpets get stains. Check out these shag carpet stain cleaning tips.
---
Is Robot Vacuum / Roomba worth it if you have deep pile shag carpets?
Note: For thick carpets cleaning, we don't recommend the less priced ones as they require more maintenance and can damage your carpet fibers. Forget the budget, consider the value in the long run.
Irobot is the top manufacturer with the best high-end models which handle thick deep pile carpets easily because of the powerful suction and the auto-adjustable height.
---
Conclusion
Stepping on thick carpets feels like having slushy, wooly clouds beneath our feet.
And the best perfect solution for maintaining such shag high pile carpets is to prevent dirt from accumulating by cleaning them often using these high efficient robot vacuum cleaners which saves both your effort and valuable time.
---
What is the Best Robot Vacuum for Medium Pile carpet?
Not like high pile carpets, almost every robot vacuum works on medium-pile carpets.
To keep it simple, if you are looking for the best one with all bells and whistles included and from the veteran company Irobot, then check out Roomba i7.
IF Roomba I7 seems a bit pricier to you, then I3 is the affordable model with nearly the same features as I7 which works best on medium-pile carpets.